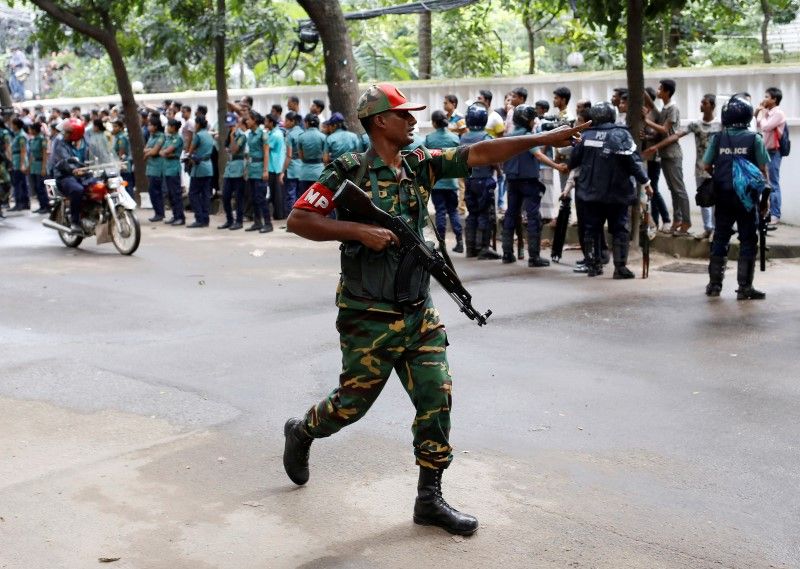 Three students at universities in the United States, including a U.S. citizen and an Indian citizen, were among those killed in a militant attack in Bangladesh, university officials, the Indian government and a source said on Saturday.
The State Department confirmed one U.S. citizen was killed, but gave no details.
"We can confirm that a U.S. citizen was also among those senselessly murdered in this attack," it said in a statement. The White House condemned the attack in the country's capital Dhaka, which it said resulted in as many as 20 deaths, including that of the American.
"We remain in contact with Bangladeshi authorities and have offered any assistance necessary," it said.
The Islamic State militant group (ISIS) claims to be responsible for one of the most brazen attacks in the South Asian nation's history, killing more than a dozen foreigners in an attack on a restaurant before security forces stormed the building and ended a 12-hour standoff on Saturday.
A State Department official said the department was not aware that any more U.S. citizens had been among the hostages.
Emory University in Atlanta, Georgia, said two of its students were killed in the attack and an Indian government official said an Indian citizen who was a student at the University of California at Berkeley was among the dead.
"The Emory community mourns this tragic and senseless loss," the university said in a statement. Undergraduate Abinta Kabir and Goizueta Business School graduate student Faraaz Hossain were the two victims from Emory, the statement said. Emory said Kabir was from Miami and Hossain was from Dhaka.
A source with knowledge of the situation said that the U.S. citizen confirmed by the State Department was one of the Emory students.
Tarushi Jain, 19, was the Berkeley student victim, India's minister of external affairs, Sushma Swaraj, wrote on Twitter.
"I have spoken to her father Shri Sanjeev Jain and conveyed our deepest condolences. The country is with them in this hour of grief," the minister wrote. "I monitored this personally the whole night."
Jain had previously graduated from the American School Dhaka, the minister tweeted.
A spokesman for the University of California at Berkeley confirmed a student was among the dead from the Dhaka attack and said the university would issue a statement later on Saturday.