U.S. Citizens Told to 'Shelter in Place' as Embassy Warns of Airport Taking Fire in Kabul
American citizens in Kabul were instructed to shelter in place on Sunday following reports the city's airport was taking fire, according to the U.S. embassy in Afghanistan.
"The security situation in Kabul is changing quickly including at the airport," the embassy said in a security alert.
American diplomats, officials, and Afghans fled to the airport to evacuate as the Taliban advanced into the capital city. The airport is the last route out of the country, as Taliban militants control every border crossing, Newsweek previously reported.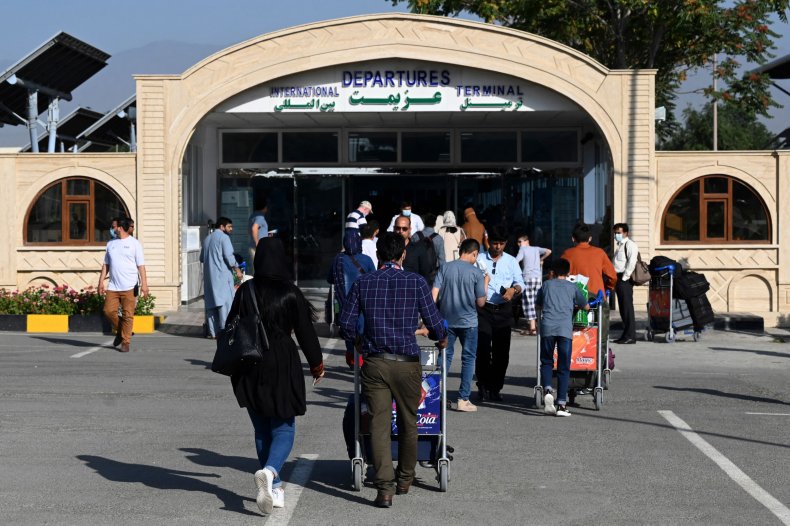 The Taliban entered Kabul early Sunday and said it would soon announce the Islamic Emirate of Afghanistan from the presidential palace, the Associated Press reported. The city had been "gripped by panic," with helicopters flying overhead seeking to evacuate U.S. personnel.
Reuters reported Sunday that all commercial flights from Kabul had been suspended, with only military aircraft being allowed to operate.
"We have a small batch of people leaving now as we speak, a majority of the staff are ready to leave," one official told Reuters Sunday. "The embassy continues to function."
Video posted to Twitter on Sunday appears to show people boarding a plane at the airport with apparent gunfire in the distance.
On Sunday, Taliban militants entered the outskirts of Kabul "from all sides," Afghan officials told Reuters.
Smoke had been seen near the former U.S. embassy, which had been moved to the airport. Staff destroyed important documents, and the American flag had been lowered. Other Western missions have also prepared to remove personnel, according to the AP.
Afghans have also rushed to leave the nation, as they fear the Taliban could reinstate brutal rule and essentially eliminate women's rights in the nation. Many poor Afghans had fled to Kabul—home to about 4 million people—for presumed safety, the AP reported.
Power will be handed over to the Taliban peacefully, acting Afghan Interior Minister Abdul Sattar Mirzakwal has said. The militants had pledged to not take Kabul by force.
U.S. President Joe Biden authorized 5,000 troops to be sent to Kabul to ensure a safe evacuation of U.S. personnel and allies.
Albanian Prime Minister Edi Rama said the Biden administration asked Albania to serve as a transit place for Afghan political emigrants fleeing to the United States, Newsweek previously reported.
Afghan President Ashraf Ghani reportedly fled to Tajikistan on Sunday.
"The former president of Afghanistan left Afghanistan, leaving the country in this difficult situation. God should hold him accountable," Abdullah Abdullah, a top political figure and chairman of Afghanistan's High Council for National Reconciliation, said in a Facebook video.
In just over one week, the Taliban has seized control of nearly the entire nation—facing little resistance—following the withdrawal of the U.S. and its allies.
This is a breaking news story and will be updated as more information becomes available.