FBI Rules Out Cuba 'Sonic Weapon' But U.S. Fears Embassy Staff May Have Been Infected With Virus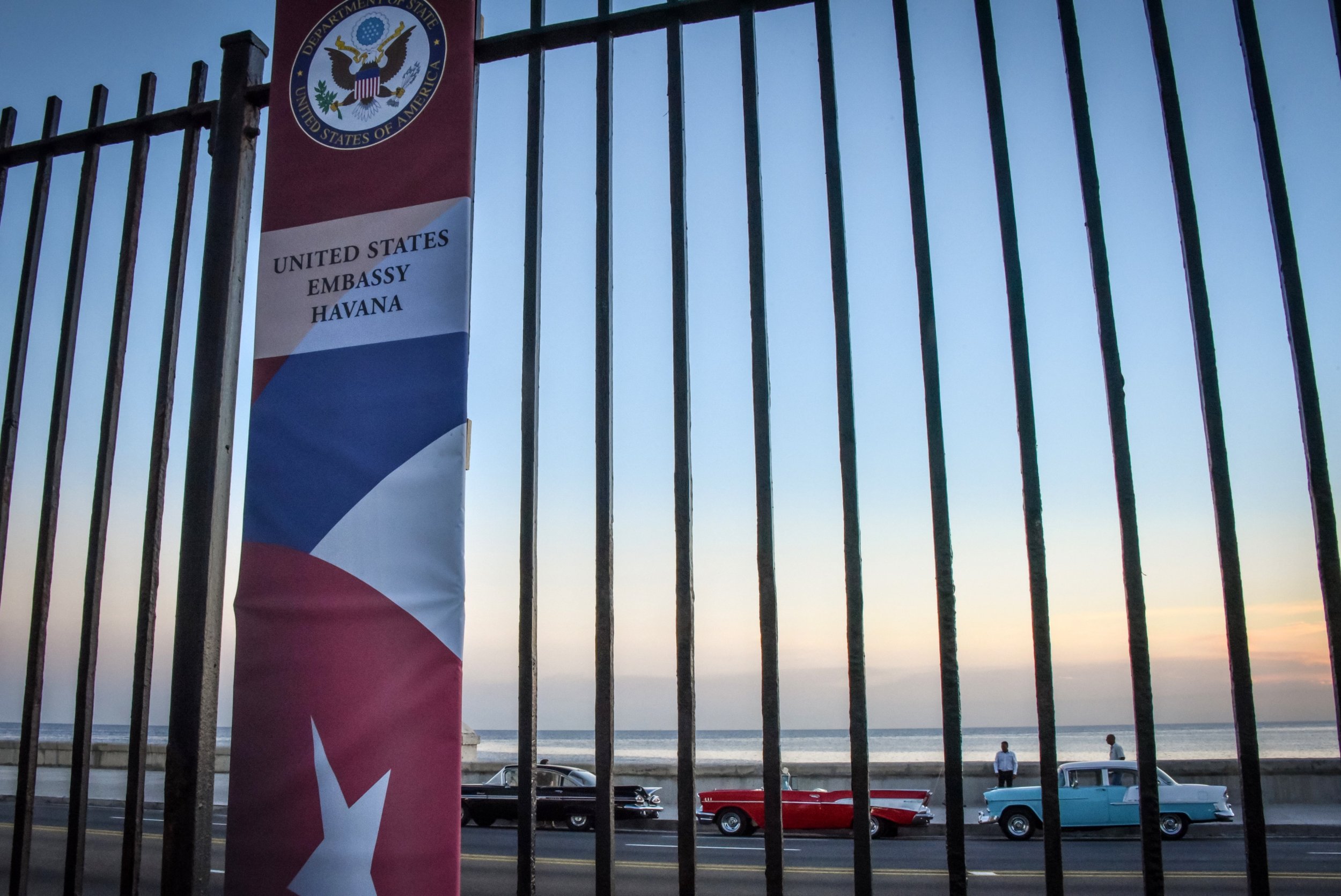 The United States is standing behind its claim that personnel in Cuba were deliberately attacked, with the Trump administration raising the possibility on Tuesday that a virus could have been used to infect workers despite lawmakers and the FBI questioning the theory of "sonic attacks."
It has been more than a year since the mysterious attacks supposedly took place, with 24 American staff members and several Canadian diplomats at the American Embassy in Havana reporting hearing loss, cognitive issues and difficulty sleeping.
The symptoms often followed unexplained "high-pitched chirping" sounds allegedly heard in diplomats' homes, which led U.S. investigators to suspect that a futuristic sonic weapon could be behind the supposed attacks.
Brain abnormalities were later discovered in patients, but because they had not been tested prior to visiting Cuba, experts questioned whether the findings could be used to support the U.S. claims.
The lack of answers around what caused the symptoms has emboldened critics to argue that the U.S. cannot be certain they were the result of deliberate attacks.
And a new report from from the FBI, revealed by the Associated Press on Monday, has further fueled skepticism around the U.S. claims, alleging that there has been no evidence to support the theory of sonic waves being used to harm Americans in Havana.
The report is the clearest sign of the U.S. ruling out the sonic weapon theory to date. It states that the FBI tested the hypothesis of air pressure waves via audible sound, infrasound or ultrasound being used to hurt Americans in Cuba and found no evidence that this could have been the case.
Read more: Trump administration says Americans could still face attacks in Cuba, even though FBI doubts they ever happened
Still top State Department officials testifying before the Senate Foreign Relations Committee have maintained that even if it wasn't a "sonic attack," they felt certain it was an attack of some kind.
Officials told Congress there are a number of theories that have yet to be ruled out, including the possibility of a virus being used to intentionally infect workers. However, no evidence was presented for why a virus to could be to blame.
Officials briefed on the investigation have also told AP previously that the possibility of a virus or other pathogen being behind the alleged attacks had never been high on their list of theories on what caused the incident.
"We are not much further ahead than we were in finding out why this occurred," Undersecretary of State Steve Goldstein said after the hearing. But he insisted that President Raul Castro's government "knows what occurred" and is simply refusing to tell the U.S.
Cuba has repeatedly and vehemently denied any involvement in the incident and says it has no information on might have caused the strange symptoms.
Cuban Ambassador to the U.S. Jose Ramon Cabanas took to Twitter after the hearing to say: "Basically no sonic attacks in #Cuba, no particular diagnosis on health issues reported and no known treatment."
The country's top diplomat for U.S. affairs, Josefina Vidal, branded Tuesday's hearing an irresponsible effort to advance an anti-Cuban political agenda, adding: "Months of investigation have shown that there has been no attack of any sort."
"The biggest victim of today's hearing was the truth," she told reporters.
Dr. Charles Rosenfarb from the State Department's medical unit has said that while what caused the symptoms may be a mystery, medical tests suggest this is "not an episode of mass hysteria."
He said there are "exact findings" on medical tests that couldn't be easily faked, with 16 of 80 embassy workers and spouses tested between February and April of 2017 showing symptoms and "medically verifiable clinical findings" consistent with mild traumatic brain injury.
"At this time we are unable to state whether or not the injuries may result in adverse long-term consequences to the individuals' future health or functional abilities," Rosenfarb said.
Of the patients who reported symptoms, 10 have returned to work at least part-time, Rosenfarb added. The rest are still in treatment.