U.S. Coalition Admits to Killing More Civilians in Iraq and Syria, but Activists Say Numbers Still Don't Add Up
Four years after the U.S. and a number of allied nations unleashed a devastating air campaign against the Islamic State militant group (ISIS) in Iraq and Syria, the fog of war continues to cloud the true number of civilians killed in the crossfire. The release of a new report by the U.S.-led coalition on Thursday contained an admission of errors and oversights revealed in large part due to the efforts of international conflict monitors.
Chris Woods, an investigative journalist who leads London-based civilian casualty counter Airwars, told Newsweek last month that there was "an enormous disparity" in the figures released by the coalition for once-ISIS held cities of Mosul in Iraq and Raqqa in northern Syria. He said "civilian harm allegations for Mosul were about 10 times more likely to be classified as credible." With mounting evidence vindicating Woods and other investigators, the coalition admitted to a further 78 deaths in Raqqa in its latest monthly civilian casualties report that brought the official toll for the four-year campaign to over 1,000 for the first time.
The mission to remove ISIS from two major cities was started by one administration and finished by another. In early 2017, President Donald Trump inherited the most violent phases of a conflict began by his predecessor Barack Obama. As Trump was sworn in, the U.S.-led coalition was already bombing Iraq's second city of Mosul in support of Iraqi troops conducting the final stages of an operation to reclaim the northern hub from jihadi control. Coalition aircraft and artillery were at the same time operating in support of a mostly Kurdish faction known as the Syrian Democratic Forces, who were advancing on Raqqa, ISIS's de facto capital.
ISIS was declared defeated in Mosul in July 2017 and in Raqqa in October 2017. Both campaigns saw displays of overwhelming coalition air power and were accompanied by accusations that the coalition had killed scores of civilians. Prior to Thursday's report, the coalition took responsibility for 352 civilian deaths in Mosul and only 23 in Raqqa, a number that Airwars said fell short by well over 1,000.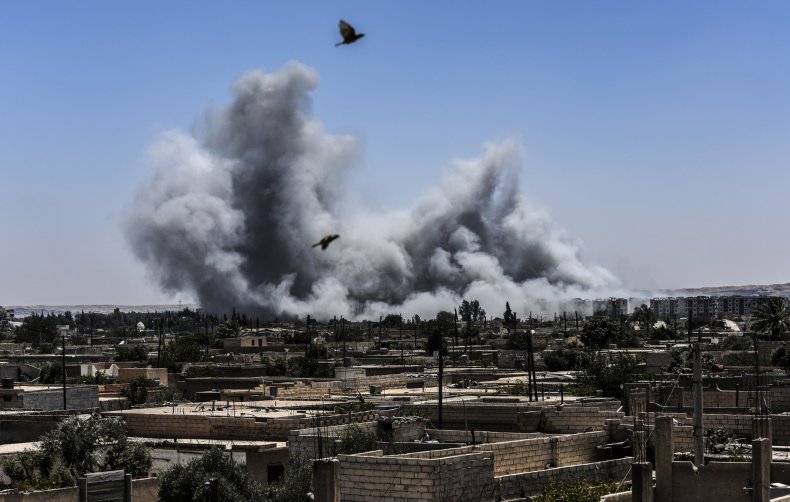 "The Coalition conducted a total of 29,826 strikes between August 2014 and end of June 2018. During this period, based on information available, CJTF-OIR [Combined Joint Task Force - Operation Inherent Resolve] assesses at least 1,059 civilians have been unintentionally killed by Coalition strikes since the start of Operation Inherent Resolve," the coalition wrote in a press release. "This month's civilian casualty total reflects the re-addition of 15 casualties from a credible report carried in the April 2018 reports that was mistakenly left out of the May 2018 report.
"In the month of June, CJTF-OIR carried over 314 open reports from previous months and received 45 new reports. The assessment of 125 civilian casualty reports has been completed. Sixteen reports were determined to be credible, resulting in 105 unintentional civilian deaths, while three were assessed to be duplicate and 106 were assessed to be non-credible. A total of 234 reports are still open," it added.
In a follow-up conversation, Woods told Newsweek on Thursday that "the coalition's July 26th admission of a further 78 civilian deaths from its actions at Raqqa—cases which were highlighted recently by Amnesty International following a major field investigation—are a step forward in the U.S.-led alliance properly admitting to the scale of recent civilian harm from its own actions."
Still, even the new figure falls short of what Airwars believes to be the true extent of civilian harm caused by the U.S.-led coalition. Airwars estimates that the coalition is actually responsible for up to 1,579 civilian deaths in Mosul and 1,400 in Raqqa, and that these are conservative estimates.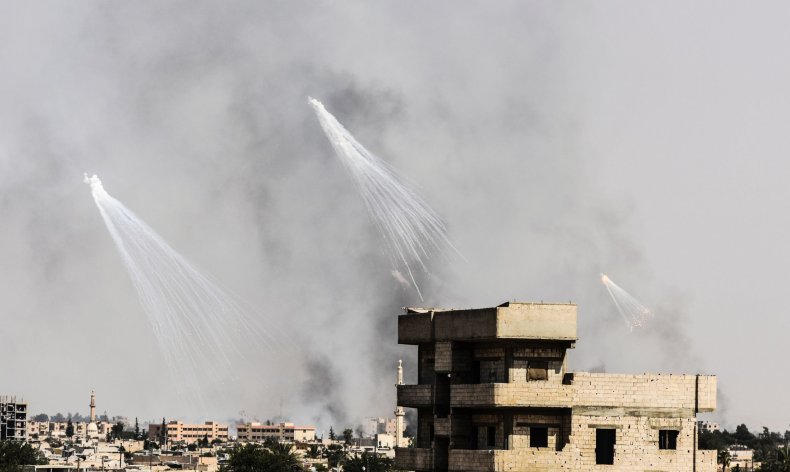 Woods said that "there was nothing we can distinguish in the reporting" that would account for such a significant drop between what the coalition would admit to between the two campaigns. Furthermore, he said the complexity of the battle for Mosul made it a far more difficult venue to assign responsibility for civilian casualties. Coalition and Iraqi warplanes were both hammering the jihadi-held city that was once home to some 2 million people, while ISIS deployed some 750 vehicle-borne IEDs and fired heavy artillery.
About two months after Iraq declared victory, Newsweek reported in August on how Airwars' figures showed that Trump's seven-month tenure had already accumulated more civilian casualties than Obama's in the three years he presided over Operation Inherent Resolve. Airwars emphasized, however, that the increasingly urban nature of the conflict meant such a spike in civilian casualties was a likelihood for anyone continuing the anti-ISIS campaign begun by the Democratic leader.
In a statement sent to Newsweek back in August, the coalition said, "not since World War II has there been an urban assault on a city like Mosul" and defended its own civilian casualty count in Iraq and Syria. At that time, the battle for Raqqa was beginning to seriously heat up as the Syrian Democratic Forces seized the northern city and prepared to engage in vicious street battles.
Unlike in the Mosul campaign, the U.S. was virtually the only entity conducting airstrikes in Raqqa and the coalition had all of the heavy artillery. Iran-backed militias were also not involved as they had been during the fight for Mosul. These mostly Shiite Musim fighters of local and foreign nationalities were instead fighting alongside the Syrian military—supported by the Russian airforce and other pro-government formations—waging their own cross-country war against ISIS in eastern Raqqa province. The coalition does not work with the Syrian government, so the militias, along with allied Syrian and Russian aircraft, avoided the city.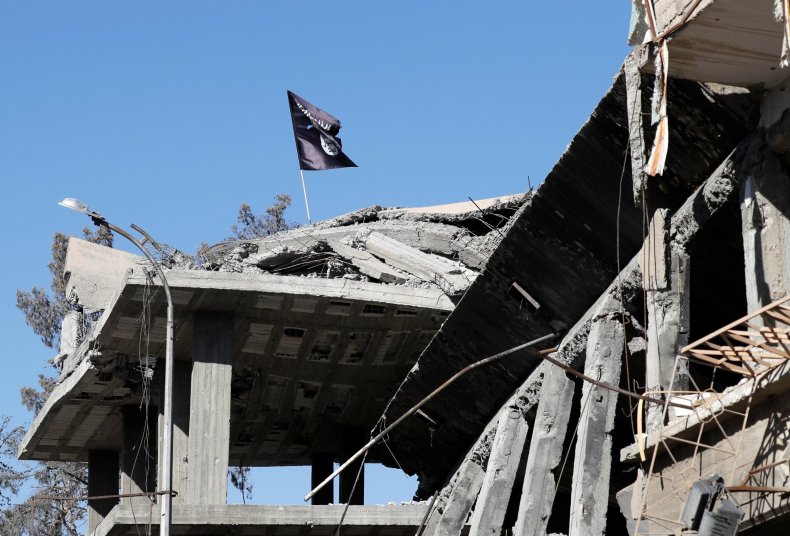 The Syrian Democratic Forces edged their way into Raqqa block by block. As the U.S.-supported force pushed ISIS back, activists began to report mounting deaths by the gruesome execution techniques practiced by the jihadis, but by airstrikes almost certainly conducted by the U.S. military. The reports did not originate only in Syrian or Russian state media—grassroots, pro-opposition organizations spoke out, including the Syrian Observatory for Human Rights, Raqqa is Being Slaughtered Silently and the Syrian Network for Human Rights.
The U.K.-based, pro-opposition Syrian Network for Human Rights released a report in December 2017, in which the organization detailed the coalition battle for Raqqa dating back to November 2016, when the fight was mostly limited to the rural outskirts of the province. According to the report, the U.S.-led coalition was responsible for 1,321 civilian deaths, while the Syrian Democratic Forces were behind the killing of 309 civilians and ISIS was blamed for 639 civilian casualties in Raqqa.
The report also found the Russian-Syrian alliance to have killed about 48 civilians in its own campaign to defeat ISIS in eastern Raqqa province. Like many other activist monitors, the Syrian Network for Human Rights overwhelmingly assigns responsibility for civilian casualties to the Syrian government and its allies. These parties routinely deny such accusations and charge such organizations with being tied to the U.S., Saudi Arabia or other foreign powers that helped back the 2011 insurgency against Syrian President Bashar al-Assad.
The U.S.-led coalition's own propensity to deny civilian casualties, in Raqqa especially, led Amnesty International to conduct a comprehensive investigation that led to Thursday's revelation of an extra 78 casualties. A 70-page report was released last month on the one-year anniversary of the beginning of the battle for the city. It found that the coalition, of which the U.S. itself conducted about 90 percent of the airstrikes in Raqqa, was likely responsible for hundreds of civilian deaths. These include four families who between them "lost 90 relatives and neighbours—39 from a single family—almost all of them killed by Coalition air strikes."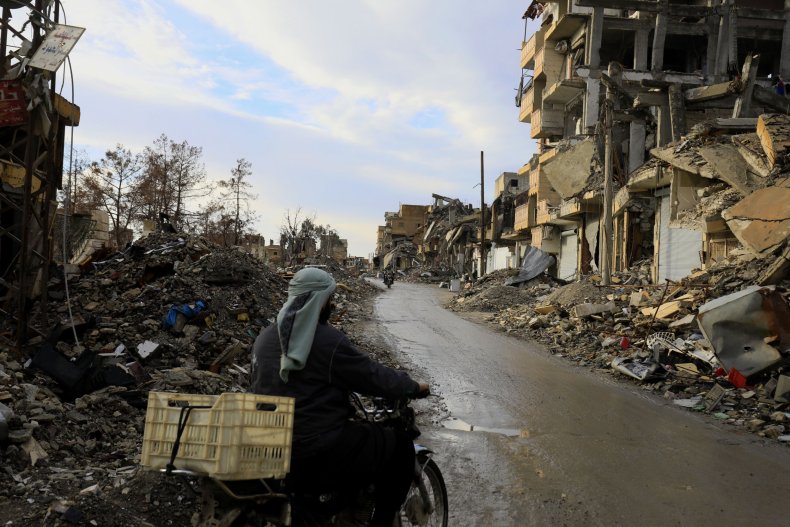 In a statement released earlier this month, Amnesty International senior crisis adviser Donatella Rovera said the "blustery denials we've repeatedly seen and heard from senior Coalition officials are contradicted by the lived reality of the hundreds of civilians we've interviewed for our investigations in Raqqa and Mosul," saying "they're even contradicted by their own partners on the ground."
"We are asking the Coalition to live up to their own standards when it comes to reporting on civilian casualties in conflict, to investigate allegations of violations and offer redress to victims and their families. We very much hope that the announcement to evaluate our findings marks the first step towards this," she added.
When reached for comments, the coalition highlighted its use of the phrasing "at least" in front of its official civilian casualty count. "We are not claiming to provide exact numbers, but saying based on the best available evidence, we are acknowledging 'at least' a certain number of civilian casualties caused by Coalition strikes," the coalition told Newsweek.
"We do not know how other organizations are getting their numbers, but our numbers are based on the best available evidence, gleaned from various forms of intelligence and reconnaissance, as well as strike videos and photographs, crew debriefings, eyewitness accounts, and any other credible evidence," the statement added.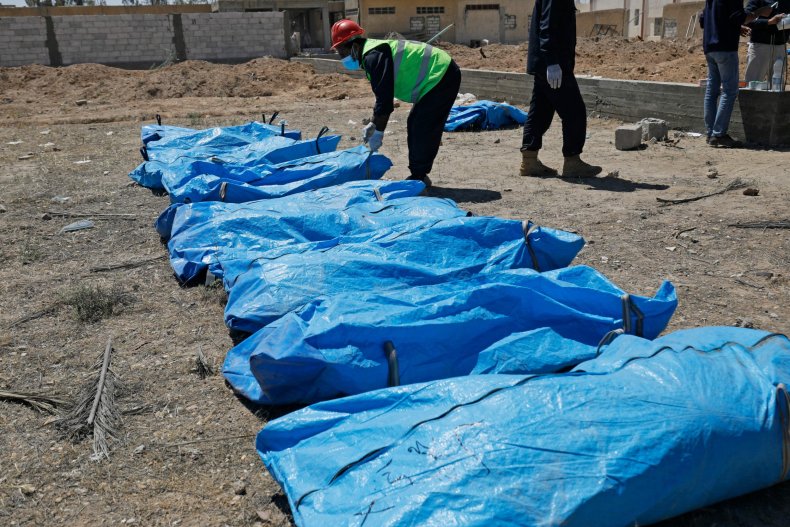 The new official coalition count of "at least 1,059" is still seen as incredibly low by many activists on the ground and abroad. Airwars placed the total number of civilians killed by the coalition at 6,321 in Iraq and Syria. As of March, the Syrian Observatory for Human Rights estimated 2,967 and the Syrian Network for Human Rights reported 2,673, both in Syria alone.
The latest report may, however, represent a step in the right direction as evidenced by the new language in a usually heavily standardized monthly message. For the first time, the coalition asserted, "We are willing to work with all who bring allegations of civilian casualties to us, and we seek new or additional information or evidence through public sources, eyewitness accounts or self-reports. We have demonstrated willingness to re-assess past cases in the face of new or compelling evidence."
"Airwars is keen to see the Coalition act on that statement," Woods told Newsweek, "And further bridge the very wide gap between public and military estimates of civilian harm in the war against ISIS."