"The defendant is a domestic terrorist bent on committing acts dangerous to human life."
That was the first sentence in the case of United States of America v. Christopher Paul Hasson, a U.S. Coast Guard lieutenant accused of being inspired by Norwegian far-right Norwegian mass murderer Anders Breivik and "bent on committing acts dangerous to human life that are intended to affect government conduct."
The U.S. Coast Guard lieutenant was silently serving a darker cause as a "domestic terrorist" for telegraphing biological attacks against the homeland and keeping a hit list featuring notable Democratic politicians and media figures, court documents show.
Christopher Hasson was posted as an Acquisitions Officer for at the U.S. Coast Guard's Headquarters in Washington D.C. On Feb. 15, he was taken into custody at his Silver Spring, Maryland home by agents from the FBI's Baltimore Field Office and the Coast Guard Investigative Service, a U.S. Attorney's Office in the District of Maryland confirmed to Newsweek.
Hasson faces possessing opioid drugs and weapons charges.
The seeds of his extremist beliefs were spelled out in a draft email dated on June 2, 2017, floating in an almost feverish dream a plan to carry out "biological attacks" to eradicate civilization.
"I am dreaming of a way to kill almost every last person on earth," the email reads, according to a motion for detention pending trial. "I think a plague would be the most successful but how do I acquire the needed / Spanish [sic] flu, botulism, anthrax; [sic] not sure yet but will find something."
Apparently, some of the doomsday notions he was espousing were fueled by partaking from his supply of "at least 100 pills" of the opioid Tramadol or TDL.
"Need to come off TDL [Tramadol], to clear my head," he wrote in the letter.
Agents also found a bag containing "suspected Tramadol" that Hasson carried at the moment when he was placed under arrest.
Aside from the drugs, Hasson's home allegedly featured a cache of weapons, including 15 firearms and more than 1,000 rounds of ammunition.
A locked case filled with 30 bottles of Human Growth Hormone or HGH, was found and after it was pried open, the agents inventoried the stash as evidence by federal agents, according to the documents.
Months later, and the documents say that in Sept. 2017, Hasson revisited his warpath and allegedly penned another letter. The feds say he sent it to a "known" American Neo-Nazi (he also purportedly mailed a copy to himself "roughly seven weeks after the Charlottesville" rally).
Hasson's letter is focused on bragging about his devotion to the country by serving in "three branches" and reaching officer status despite having "never attended college."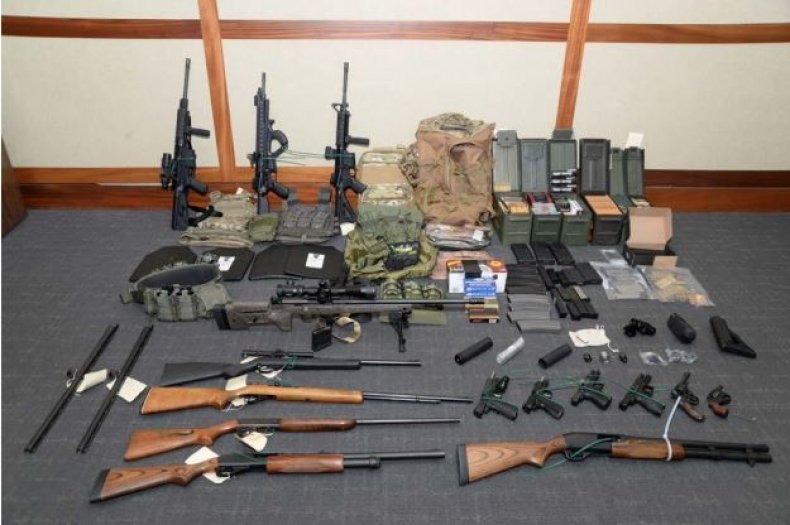 While touting his skinhead past and White Nationalist present Hasson also declared himself to be a "man of action" — and seemed to advance in a more aggressive tenor his commitment to launch an offensive on the homeland; laying out his plans to sacrifice everything to establish a homeland for the white race.
"We need a white homeland as Europe seems lost," the letter reads.
The letter accused the American government of eroding the White Nationalist movement by having "expertly infiltrated and destroyed from within most [sic] if not all Pro-White [sic] organizations," he wrote.
For the past two years since, federal prosecutors claim Hasson has been indoctrinating himself with propaganda by making "thousands of visits for pro-Russian, neo-fascist and neo-Nazi literature," the papers say. That's when he wasn't making purchases of synthetic urine which the feds believe Hasson was securing to use "in the event he was randomly selected for a drug screening..."
One of the most frequent subjects for Hasson was Anders Breivik, who back in 2011 slaughtered 77 Norwegians and left behind a lengthy manifesto preaching against the "Islamization" of Europe.
Since 2017, Hasson, according to the court documents, "routinely perused portions of the Breivik manifesto" and "performed thousands of visits to websites selling firearms and tactical gear... researched United States military technical manuals on improvised munitions and tactical handbooks."
The searches appeared to have taken more direct aim at possible human targets.
The documents show that Hasson looked up curious phrases like "most liberal senators"; "where do most senators live in dc"; do senators have ss [secret service ] protection"; and "are supreme court justices protected."
A list of names that appeared in a two column spreadsheet included a slew of politicians' names like presidential candidates Sen. Cory Booker (D-NJ) who is listed simply as "booker", Sen. Kamala Harris (D-CA) "harris", Sen. Elizabeth Warren "poca warren", House Speaker Nancy Pelosi (D-CA) "pelosi."
In Naming Sen. Richard Blumenthal (D-CT), Hasson allegedly listed him as "Sen blumen jew."
The list also included media personalities like Chris Hayes ("Chris hayes"), Joe Scarborough ("JOEY")as well as former Democratic presidential candidate Hillary Clinton's campaign chairman John Podesta ("podesta").
Hasson is expected to formally appear before a federal judge on Thursday afternoon for a detention hearing in Greenbelt, Maryland.