U.S. Coast Guard Seizes 18,000 Pounds of Cocaine During Months-Long Operation in the Eastern Pacific
Authorities seized 18,000 pounds of cocaine in the Eastern Pacific in a months-long investigation, according to the Drug Enforcement Administration (DEA) and the U.S. Coast Guard.
The drugs are worth up to $312 million, officials said on Wednesday, but that could be an overestimate given the load has yet to be tested for purity. They were interdicted between October and early December off the coast of South and Central America.
The cocaine offload is from seven separate operations, but represents just a fraction of what the U.S. Coast Guard sees on an annual basis, according to Linda Fagan, Vice Admiral of the U.S. Coast Guard.
"We use our unique capabilities and authorities as a military service and a law enforcement agency to secure our nation's borders," Fagan said at a press conference. "We disrupt illegal activities and dangerous cartels far from our shores to help ensure that we keep Americans safe."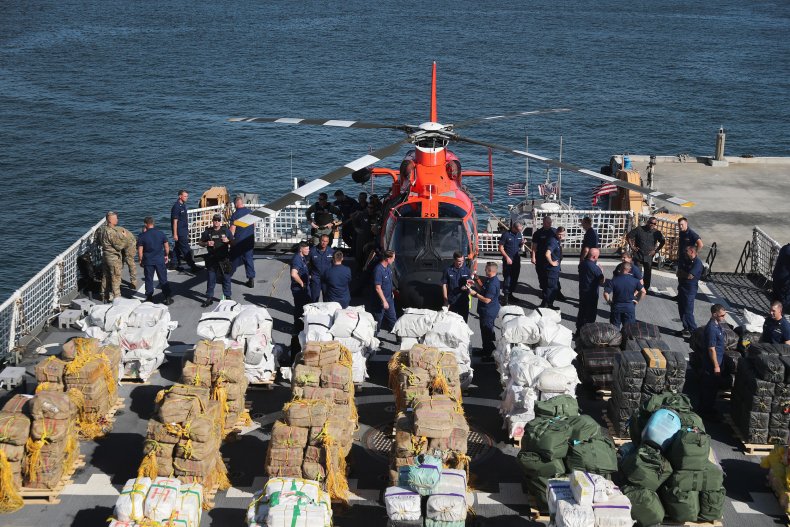 According to the DEA's 2018 national drug threat assessment, cocaine availability in the U.S. has rebounded since its temporary decline in the early 2000s, driven in part by more formidable production in Colombia and the Dominican Republic.
It's also become more dangerous as fentanyl, a synthetic opioid, is now commonly mixed with cocaine samples without the drug consumer's knowledge.
"Massive profits from cocaine trafficking allow cartels to diversify and fund other illicit activities: trafficking of opioid synthetics and methamphetamines [sic]. Attacking the cartels' profit source in the maritime Transit Zone is part of a holistic approach to mitigate their influence," Fagan added.
It's not clear to public health experts whether the same cartels that produce cocaine are mixing it with fentanyl intentionally. Given fentanyl's high potency in extremely small doses, cocaine packages could become contaminated with it later down the supply chain due to sanitation issues, researchers say.
Meanwhile, cocaine's renewed availability on U.S. streets doesn't automatically coincide with renewed use, according to the Brookings Institute.
According to the analysis, cocaine-related deaths and "prevalence," meaning the number of people who report having used the drug over the past year or month, have increased since 2010. But overdose deaths from cocaine where other illicit opioids were not involved are trending downward, Brookings reported. So are positive workplace drug tests and treatment admissions.
According to the DEA, Colombian dealers produced about 93 percent of cocaine seized in 2017. Its average purity was 84.4 percent, a significant increase from years prior, but large shipments of the drug headed towards U.S. borders are rare.