U.S. Coin Shortage, Like COVID-19, Depends on Your Location
"Brother, can you spare a dime?"
That question became famous in the Great Depression.
In 2020, with the pandemic raging, the answer could be, "Maybe, but they're hard to find."
Localized temporary scarcity of coins, known as "spot coin shortages," an unintended consequence of the economic lockdown intended to curb spread of the coronavirus, are again turning up in some regions of the nation. But the shortages aren't as severe as last summer's coin crunch, as more merchants and individuals recirculate pennies, nickels, dimes and quarters.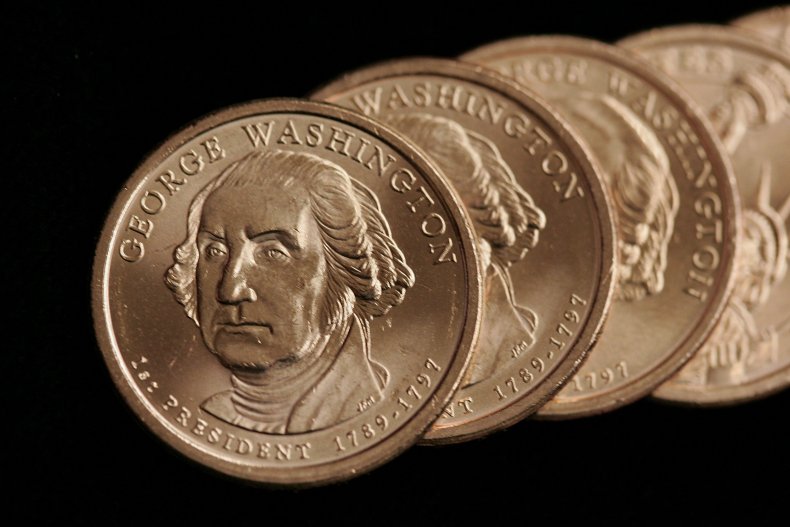 Steve Kenneally, senior vice president for payments at the American Bankers Association in Washington, said spot coin shortages have been reported in the Midwest and a few major cities, including Detroit, Philadelphia and Atlanta.
Individual retailers can sometimes run out of coins, but the current shortage doesn't appear to be chronic.
"I think we're far from where we were last summer," he told Newsweek. "There's concern, but it's not an issue yet. There are some hot spots, but things are much better."
Unlike last summer, he said stores in and around Washington haven't posted signs urging customers to use exact change. This is anecdotal, but suggests an adequate supply of coins.
He said coins valued at about $40 billion are in circulation.
"The (U.S) Mint can't out-produce the problem," Kenneally said. "We need to get the coins out there moving. More people need to find, spend, and make (bank) deposits to get coins back in circulation."
Jim Dudlicek, spokesman for the National Grocers Association in Arlington, Virginia, a trade group representing independent retailers and wholesalers, said members haven't reported severe coin shortages.
"Our members haven't reported this being a problem since the spring," he said in an emailed response to Newsweek. "As stay-at-home orders started to relax, more folks turned coins into their banks and in-store counting services such as Coinstar."
But others continue to encounter shortages.
"While coin circulation is improving, our members are still experiencing lingering challenges in getting a full coin supply into their stores," Melaina Lewis, spokeswoman for the Food Industry Association, a Arlington, Virginia-based trade group, said in an emailed response to Newsweek.
"For the grocery industry, this disruption affects a grocer's ability to complete cash transactions, because they lack sufficient coin to make change at check out," she said. "Millions of Americans have no choice but to pay only in cash, and the coin circulation challenge is affecting these community neighbors the most."
This summer, the economic lockdown disrupted the flow of coins between individuals, merchants and banks.
"What's happened is, with the partial closure of the economy, the flow of coins through the economy has kind of stopped," Federal Reserve Chairman Jerome Powell testified last summer before the House Financial Services Committee.
"The places where you'd go to give your coins and get credit-those have not been working," he said. " So, a whole system has kind of come to a stop. As the economy reopens, we're seeing coins begin to move around again."
Restaurants, convenience stores and other cash businesses typically deposit receipts at local banks at the close of each business day. In normal times, that routine and the regular flow of new coins from the U.S. Mint keeps banks supplied with change needed to meet demand.
But these are not normal times.
The state-ordered shutdown of many businesses disrupted the cycle and the daily influx of coins from merchants lagged. The result: spot shortages.
The U.S. Mint determines yearly coin production, and the Federal Reserve develops a 12-month rolling order forecast. The Mint transports the coins from production facilities in Philadelphia and Denver to all Federal Reserve banks, which distribute them to about 8,400 commercial banks, savings and loans and credit unions nationwide.
Despite a decline in production in the first half of this year due to the coronavirus pandemic, the U.S. Mint expects to produce about 12.9 billion coins this year, up from 11.9 billion added last year.
In general, coins last about 30 years. But even with previous production, shortages arose last summer and may pop up again if there's a second lockdown comparable to the first.
But there is no shortage of bills.
In April, the Federal Reserve increased its order for bills to 6.2 billion from 5.2 billion, an increase of 19.23%. The total value of the increased order of $1s, $5s, $10s, $20s, $50s and $100s is $185.7 billion.
Federal reserve notes valued at $2.01 trillion were in circulation on November 11, the nation's central bank said.
The coin shortage is expected to slowly resolve itself as customers return to stores and cash transactions increase, but severe shortages could develop as some states and cities again hunker down as the number of new coronavirus infections increases.
Lockdowns as part of the effort to curb spread of coronavirus have pummeled the U.S. economy, forcing some major retailers into bankruptcy, cutting demand for air travel, sending oil prices to historic lows and forcing the Federal Reserve to pump trillions into the economy to ensure the continued operation of credit markets.
The unemployment rate peaked at 14.7% in April. It was 3.5% prior to the pandemic.
Until vaccines are widely available and the pandemic abates, economic disruptions, or at least inconveniences, are likely to continue. Here are basic steps individuals can take to get coins back in circulation:
Turn that box of loose change into bills at your bank.
Lacking that, run the pile of coins through a counting machine at your supermarket.
Use as many coins as possible to pay the exact amount when shopping.
The coin shortage answers an unasked question in the digital age: Who uses coins in the age of debit cards and contactless payment?
The answer: Millions of people.