U.S. Coin Shortage: These Stores Are Going Contactless, Not Giving Change
The U.S. is facing a coin shortage amid the coronavirus crisis, due to businesses being closed during the lockdown and the U.S. Mint slowing its production for safety reasons. But stores are holding on to the few coins they have by going contactless or not giving change.
U.S. Federal Reserve Chair Jerome Powell said in June: "What's happened is that with the partial closure of the economy, the flow of coins through the economy has... kind of stopped.
"The places where you go to give your coins and get credit, cash... those have not been working. Stores have been closed. So the whole system of flow has kind of come to a stop. We're well aware of this."
Now, stores are getting creative in their strategies to get their hands on more coins, and to reduce the number they are giving away as change.
Shopping at stores like Walmart and Kroger may already be a little different than before the coronavirus crisis hit, but shoppers can expect more changes until the coin shortage is over.
Major stores are beginning to only accept contactless payment or refuse to give change, and instead, they are rounding up purchases and add the excess to loyalty cards, or donating the change to charity.
Walmart
Walmart is encouraging customers not to use cash, especially if they don't have the correct change. Walmart spokesperson Avani Dudhia told KXTV in a statement: "Like most retailers, we're experiencing the effects of the nation-wide coin shortage. We're asking customers to pay with card or use correct change when possible if they need to pay with cash."
There are reports of some Walmart locations accepting bills, as long as the purchase is rounded up to the nearest dollar, and some self-checkout counters at Walmart stores are only accepting card payments.
Kroger
Kroger is accepting cash but is not giving out change. Instead, purchases will be rounded up and customers can choose between donating their change to Zero Hunger | Zero Waste Foundation, or having the coin value added to a loyalty card, which they can use on their next transaction.
Kroger said in a statement: "We know this is an inconvenience for our customers and we appreciate their patience. The Treasury Department expects the shortage to diminish as more regions of the country reopen."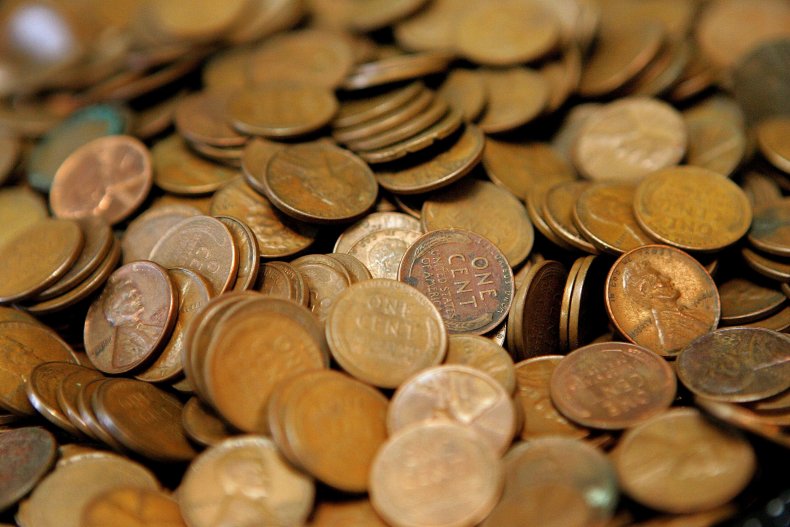 H-E-B
Texas-based H-E-B has launched a Change for Charity campaign in response to the U.S. coin shortage, allowing customers to donate their change to local food banks and non-profits. In a statement, H-E-B said: "H-E-B is testing several strategies to buy and conserve coins so we can serve all of our customers in the way they want to shop and pay for their purchases.
"The public can help improve coin circulation by taking coins to their local banks or Coinstar kiosks and when paying with cash, using exact change. We have also launched a Change for Charity campaign where customers can donate their coins at the register to benefit Texas Food Banks and other local non-profits responding to the coronavirus pandemic."
CVS
CVS is encouraging its customers to use a card payment, check, or exact change and said in a statement: "We're working with our bank partners to minimize impact to our customers and are monitoring the situation closely."
Wawa
Wawa is asking its customers to use a card payment, the exact cash, or to round up cash purchases to the nearest dollar, with the change going to the Wawa Foundation: "Like many other businesses around the country, Wawa stores have been affected by the shortage of coins nationwide, as reported by the Federal Reserve," a Wawa spokesperson said in a statement to CBS MoneyWatch.
While these are temporary measures, as more stores are asking customers to use contactless payment during the coin shortage, it could become a more popular way to pay even when not required.
Ted Rossman, an industry analyst at CreditCards.com, said: "Contactless cards are very popular abroad but still in their infancy in the U.S. I think they'll catch on here because most retailers can now accept them and most card issuers are delivering contactless cards to their customers.
"Once people see how easy it is to pay with a tap, I think they'll do the same at grocery stores, fast food restaurants, pharmacies, and other places people like to get in and out quickly."