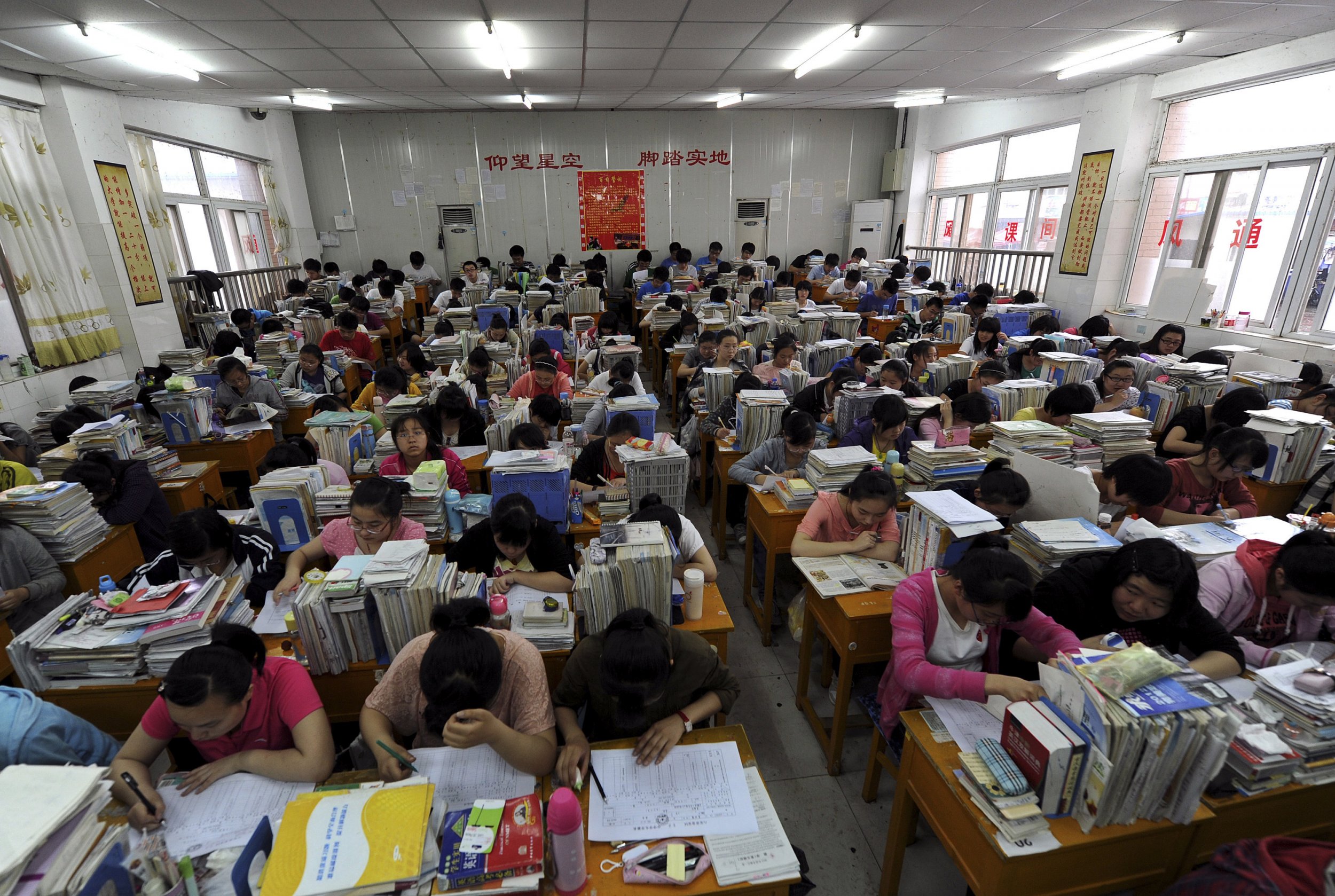 Universities in the U.S. have expelled thousands of Chinese students in the past three years, according to WholeRen Education, which provides academic services to Chinese students.
A 54-page report released this week says that schools in the United States have expelled 1,657 Chinese since the 2012-2013 school year, mainly for "academic dishonesty or low academic performances," but a company representative now says the number might be as high as 8,000 students. "A lot of students tend to keep silent or go back to their country," says Andrew Chen, chief development officer at WholeRen.
The report states that nearly half a million Chinese students study overseas, citing figures from China's Ministry of Education. In the 2013-2014 school year, the U.S. hosted 886,052 foreign students, 31 percent of whom were from China, according to the Institute of International Education.
"There are several universities that are very, very aggressively recruiting [Chinese] students," Chen says. "But in terms of how to manage them, how to have them be successful, it's not as aggressive. Let me say it that way."
The U.S. has been attracting greater numbers of students from Asia, as well as from North Africa and the Middle East, in the past decade and a half, while the numbers of students from other parts of the world have stayed relatively stable. The most popular area of study for Chinese students is business and management.
That influx of Chinese students hasn't been an accident. Admissions teams have ramped up efforts in China, higher education experts say, and schools have been teaming up with programs that enable foreign students to live on campus and gain credits toward degrees while still working on English proficiency. Such programs include Global Pathways, which is run by Kaplan International, and INTO.
One school that hosts a Global Pathways program is Northeastern University. The program is "designed to help academically qualified students increase their English proficiency, as well as develop the skills necessary to be successful in an American classroom environment," a university spokeswoman said last year. Most of the students in the program are from China, she added.
There is a reason American schools want students from China and other foreign countries: Because those students are ineligible for U.S. financial aid, many pay full tuition, higher education experts say.
"Initially, it was about having a diverse class," Michael Bastedo, director of the Center for the Study of Higher and Postsecondary Education at the University of Michigan, says about foreign recruitment efforts. "A number of these students were pretty strong academically…. But then you also just have the question of revenue. For many institutions who are looking to balance their budgets, increasing the number of students from countries where they're willing to pay full tuition is a strategy."
Further, some schools, including Northeastern, do not require students from international high schools to submit SAT scores with their applications, and therefore those students do not factor into the schools' college rankings reports.
"I have no idea what the caliber of international students is," Bob Lowndes, who recently retired as vice provost for global relations at Northeastern, said last year. "It's a revenue generator. We don't have to give financial aid. They're paying full freight, so some of that revenue can be used to help domestic students." (A school representative did not respond to a request for comment.)
WholeRen published its report two days before the U.S. Department of Justice announced that a grand jury had indicted 15 individuals from China who allegedly attempted to gain admission to U.S. schools for the purpose of obtaining visas. Some allegedly used phony passports to take the SAT and GRE exams. One such individual reportedly sent a fraudulent test score to Northeastern. "These students were not only cheating their way into the university, they were also cheating their way through our nation's immigration system," Special Agent in Charge John Kelleghan said in a statement.
WholeRen is based in Pittsburgh and provides various academic services for Chinese students studying in the U.S. Other companies, such as Taurus Education and AIC Education, also provide similar assistance.
The problem, Chen says, is that the schools leave the Chinese students underprepared. Years ago, older students came to the U.S. for graduate programs, he says. But now younger students are coming as undergraduates and even as high schoolers. "The new group is actually average students. Average in terms of their study ability and their life skill and their understanding of the American education system," he says. "These students, they are at a disadvantage in terms of their culture shock, their language barrier and their learning ability. The [U.S.] education system is totally different from China."