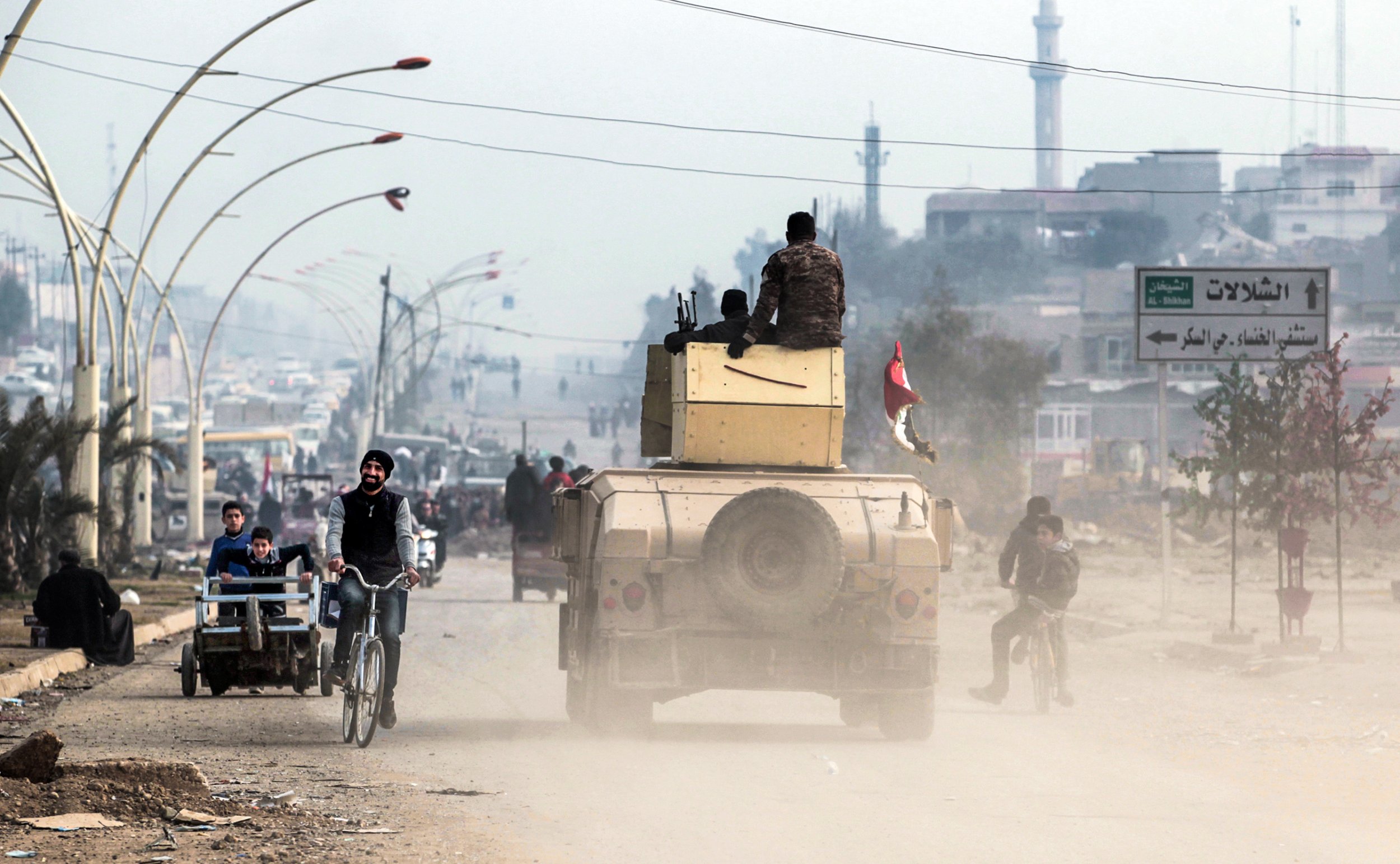 America's top commander leading the fight against the Islamic State militant group (ISIS) in Iraq has estimated that Washington and allied forces will recapture its two remaining strongholds within six months, his spokesman said Wednesday.
U.S. Army Lieutenant General Stephen Townsend said that within months the eastern Syrian city of Raqqa, which ISIS captured in January 2014, and the northern Iraqi city of Mosul, which the group overran in June 2014, will fall.
Townsend told the Associated Press that "within the next six months I think we will see both [the Mosul and Raqqa military offensives] conclude." His spokesperson Air Force Colonel John Dorrian confirmed his comments.
Read more: What Will Trump Do About Iraq's Displaced Millions?
A coalition of Iraqi forces, which consists of government troops, Shia paramilitaries and Kurdish peshmerga, is waging a months-long offensive against ISIS in Mosul. They have liberated the whole of eastern Mosul, but ISIS has slowed the progress of the offensive with booby traps, snipers and suicide bombs.
In Raqqa, ISIS retains control of the entire city where it has implemented its brutal brand of ultra-conservative Islam. Kurdish and Arab fighters, known as the Syrian Democratic Forces, or SDF, are advancing on the stronghold. Turkish President Recep Tayyip Erdogan and his newly-elected American counterpart Donald Trump have agreed to conduct joint action on Raqqa, signalling that the operation to recapture the city could be accelerated.
Washington maintains a troop presence in both countries of around 6,000 in order to support the ground operations against ISIS, while supporting allied forces with airpower alongside other coalition nations from Europe, North America and the Middle East. With Trump and the coalition's comments pointing to a major push for both cities, American troop numbers in the region may increase.
Trump has ordered his top military aides to prepare a plan to defeat ISIS and eradicate the group's self-styled caliphate. The plan is due later this month. As well as its two grand prizes in Iraq and Syria, ISIS maintains control of most of Deir-Ezzor province, the town of al-Bab in Aleppo province and the ancient Syrian city of Palmyra, which it retook from regime forces in December.
The group has executed American hostages, including the journalists James Foley and Steven Sotloff, and has inspired attacks on U.S. soil, the deadliest being the Orlando nightclub attack in which Omar Mateen entered LGBT hotspot Pulse with an automatic weapon, shooting and killing 49 people.