U.S. Condemns Myanmar Coup as Suu Kyi Detention Triggers First Biden Crisis
The United States has condemned the military coup carried out Monday morning by the Myanmar military against top officials in that country's government. Suu Kyi, who's the top elected leader, was detained early Monday morning along with President Win Myint and other senior officials.
The Myanmar military, known as the Tatmadaw, has disputed election results from November, saying their party should be in power. The pro-military party says there was widespread fraud in the election, yet they had no proof.
The early-morning coup Monday is certainly the first major foreign policy crisis for American President Joe Biden, who was inaugurated less than two weeks ago.
After news broke Sunday night in the states, White House Press Secretary Jen Psaki issued a statement that said the U.S. opposes the Myanmar military impeding the country's "democratic transition," and that the Biden administration "will take action" if the Myanmar army doesn't reverse its course.
"The United States opposes any attempt to alter the outcome of recent elections or impede Myanmar's democratic transition, and will take action against those responsible if these steps are not reversed," Psaki said.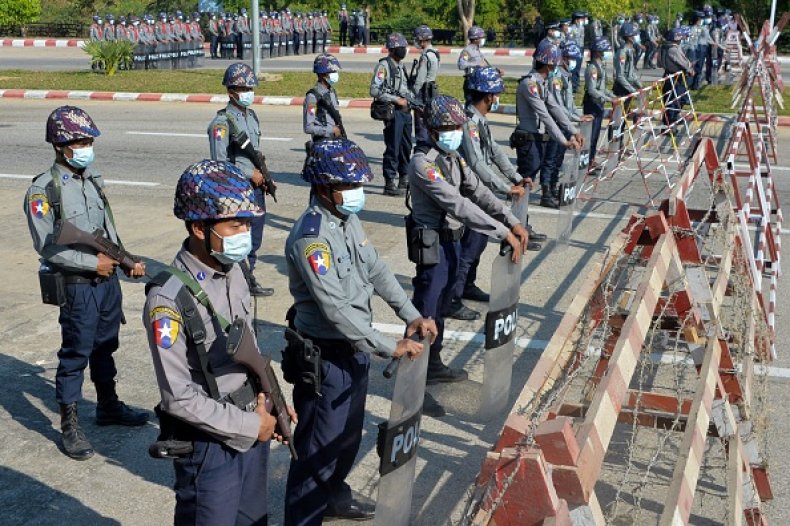 Myanmar's democracy has been a work in progress over the years, and Monday's coup is certainly a setback to democracy in the region.
"If true, this is a huge setback—not only for democracy in Myanmar, but for U.S. interests. It's yet another reminder that the extended absence of credible and steady U.S. engagement in the region has emboldened anti-democratic forces," said Daniel Russel, who was the top U.S. diplomat for East Asia under President Barack Obama.
Australia's government called for the release of Suu Kyi and other leaders, and said it was "deeply concerned at reports the Myanmar military is once again seeking to seize control of Myanmar," according to a Reuters report.
Meanwhile in Japan, leaders in Tokyo said it was monitoring the situation in Myanmar but didn't have immediate plans to repatriate Japanese nationals who are in Myanmar.
This comes as lawmakers were set to meet Monday for the first time since last November's election whose results have been disputed by the opposing pro-military party. There were comments made that sounded like a coup would happen, but the army supposedly quelled those rumors on Saturday, saying they would abide by the law and protect the constitution.
The military has seemingly reneged their intentions, stating it will "do everything possible to adhere to the democratic norms of free and fair elections." They strategically placed tanks around some streets, and there were pro-military demonstrations.
Then, early Monday, top leaders were detained from the country's ruling party—the National League for Democracy (NLD).
"I want to tell our people not to respond rashly and I want them to act according to the law," said NLD spokesman Myo Nyunt, who told Reuters he has expectations that he, too, would be arrested.
Tensions have risen after recent elections that Myanmar's army called fraudulent, Reuters reported. That has created fears of a coup.
Phone lines have been down in the state capital of Naypyitaw, and the state-run TV station (MRTV) can't broadcast because of technical issues, according to MRTV's Facebook page. Internet is also reportedly out in the state capital, according to an Associated Press report.
Suu Kyi, 75, was a 1991 Nobel Peace Prize laureate, and her popularity led her to a landslide victory in 2015. She also gained international notoriety for being on house arrest for several decades in a major struggle for democracy in the country.
Supporters of the NLD were confident she handily won another election last November, soundly defeating the pro-military party.
The military said just last weekend it would defend the country's constitution and act lawfully despite rising fears of a coup.
The military has alleged there was widespread voter fraud, but the country's election commission dismissed them as unfounded, saying there were too few errors in the election. The military, known as the Tatmadaw, could not provide proof of any fraud.
According to AP results, Suu Kyi won 396 of the 476 seats in Parliament, which is comprised of upper and lower houses.
The country's constitution states that the military holds 25 percent of the country's Parliament seats, per the military-drafted constitution from 2008.