U.S. Conducts 'Successful' Raid on ISIS in Syria, Civilians Die in Battle
The U.S. military has conducted a nighttime raid against the head of the Islamic State militant group (ISIS) in Syria's insurgent-held northwestern province of Idlib. While no U.S. casualties were reported, a number of civilians died as well as a result of what President Joe Biden's administration has said was a suicide blast by the ISIS leader.
Newsweek was among the first outlets tracking reports of an operation that began midnight, local time, including reports of high-intensity hours-long battle taking place near the border between Syria and Turkey.
"U.S. Special Operations forces under the control of U.S. Central Command conducted a counterterrorism mission this evening in northwest Syria," Pentagon Press Secretary John Kirby said in a statement early Thursday, confirming the news. "The mission was successful. There were no U.S. casualties. More information will be provided as it becomes available."
Hours later, President Joe Biden confirmed that the target was ISIS leader Abu Ibrahim al-Hashimi al-Qurayshi, also known as Hajji Abdullah.
"Last night at my direction, U.S. military forces in northwest Syria successfully undertook a counterterrorism operation to protect the American people and our Allies, and make the world a safer place," Biden said. "Thanks to the skill and bravery of our Armed Forces, we have taken off the battlefield Abu Ibrahim al-Hashimi al-Qurayshi—the leader of ISIS. All Americans have returned safely from the operation. I will deliver remarks to the American people later this morning. May God protect our troops."
The news came after hours of speculation prompted by local reports, some of which suggested civilians had been killed.
An initial report issued during the raid by the Syrian Observatory for Human Rights, a United Kingdom-based office tied to Syria's exiled opposition, reported that the U.S.-led coalition helicopters conducted bombings in an area between Idlib and Aleppo provinces west of Deir Ballut village. The helicopters also dropped off personnel, who called for the evacuation of women and children from nearby homes before storming them, it added. Citing unnamed sources, the observatory said violent clashes took place as part of an operation targeting a non-Syrian jihadi figure.
The activist network reported that the operation began around midnight and bore similarities to the October 2019 raid in Idlib that ended in the death of Qurayshi's predecessor and ISIS founder Abu Bakr al-Baghdadi, including the takeoff of aircraft from the nearby "Khurab Ashek" base in the northern Syrian town of Kobani, also known as Ayn al-Arab. Echoing other reports of those following the operation, the observatory identified the target location specifically as a two-story building with a basement in the village of Atmeh.
It also reported on the death of nine people, two of whom were children and one a woman.
Videos shared across social media showed hectic scenes including the voice of a man calling for civilians to leave in what appeared to be a U.S. or foreign accent. Other clips showed a member of the White Helmets rescue group, officially known as the Syrian Civil Defense, rescuing a young child in the wake of the operation. Still others showed gruesome scenes of slain individuals.
As events wound down, the group confirmed to Newsweek that a team of personnel was active in the area.
In a follow-up statement, White Helmets spokesperson Mohammad al-Shebli described a harrowing scene in Atmeh, where rescue workers were unable to enter the scene for around three hours due to the ongoing clashes. Responders were said to have come across a two-story building that had been partially destroyed.
"Our teams rescued an injured girl, all her family members were killed in the airdrop, and another person who was injured in the clash was approaching the landing site to see what was happening," Shebli told Newsweek. "Our teams recovered the bodies of at least 13 people who were killed in shelling and clashes that took place after the landing operation, including 6 children and 4 women, and our teams handed over two bodies to the forensic medicine in Idlib city."
Shebli did not identify the victims nor did he attribute their deaths directly to the U.S. forces involved in the operation.
The state-run Syrian Arab News Agency also later issued a report counting 13 dead, six of them women and three children, citing local sources.
And while some reports attributed or assumed their cause of death to be by U.S. fire, a senior administration official speaking to reporters following Biden's initial announcement said it was Qurayshi that killed them, just as Baghdadi was said to have done during his last stand.
"Unfortunately, ISIS once again revealed its barbarity and, in a final act of cowardice and disregard for human life, Hajji Abdullah detonated a blast, a significant blast killing himself and several others, including his wife and children," the senior administration official said.
The blast was so large, the official said, that bodies were flung outside of the building, producing the chaotic scenes captured by witnesses.
"All casualties at the site were due to the acts of ISIS terrorists and inside the residence, including Hajji Abdullah, who set off his charge, destroying much of the third floor," the senior administration official said. "An associate of Hajji Abdullah, another ISIS terrorist and ISIS lieutenant, barricaded himself and members of his own family in the second floor. He and his wife engaged the assault force. They were killed in the course of the operation."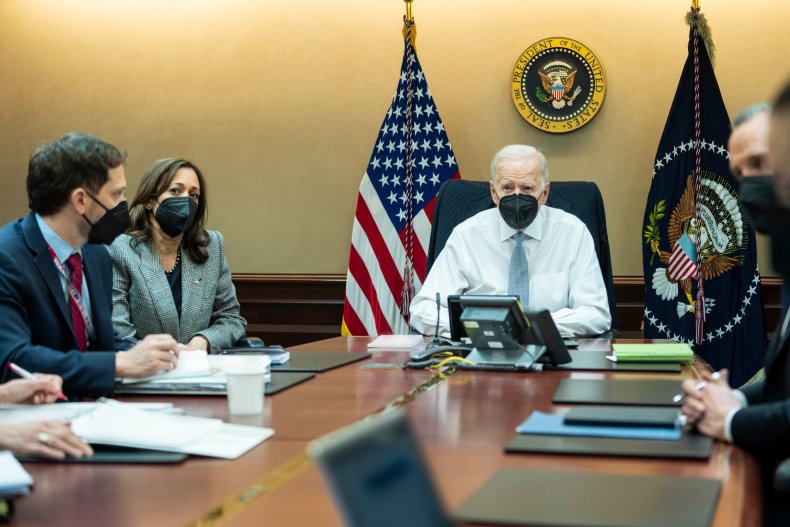 Idlib is the last province mostly held by the rebels and jihadis that rose up against Syrian President Bashar al-Assad after a crackdown on widespread protests in 2011 devolved into a civil war still ongoing to this day. The U.S. and a number of Western and regional partners backed the rebellion, but in 2015 the Pentagon shifted support to another, Kurdish-led faction known as the Syrian Democratic Forces and in control of Syria's northeast.
The senior administration official expressed gratitude to the Syrian Democratic Forces
"whose support was essential to the mission success and with whom we will continue to relentlessly pursue remnants of ISIS and its leadership."
During the raid itself, Syrian Democratic Forces spokesperson Farhad Shami referred Newsweek to the U.S.-led coalition for comment, which did not immediately respond.
As the incident transpired, however, a flight monitor followed by Newsweek, showed several unidentified aircraft believed to be those of U.S. forces circling the area near where the operation was purported to have taken place.
Pro-opposition outlet Shaam News Network first reported that at least nine bodies were discovered in the aftermath of the mayhem, including women and children. Similar reports were broadcast by other journalists and organizations such as the Almohrar Media Network. An Al Jazeera Arabic correspondent on the ground then placed the death toll at 10, among whom seven were children.
More details would come to light with an influx of media outlets to the scene of the operation but it wasn't until Biden's announcement that Qurayshi was named as the target.
Groups operating in Idlib include Turkey-backed rebels and an array of jihadi groups such as Hayat Tahrir al-Sham, formerly known as Nusra Front, and the Al-Qaeda-tied Huras al-Din, which has been occasionally targeted in U.S. drone strikes. Though these militants are opposed to ISIS, the group that once held large swaths of Syria and neighboring Iraq have also operated here as evidenced by Baghdadi and Qurayshi's hideouts.
Little is known of Qurayshi, other than it is believed that, like Baghdadi, he originally hails from Iraq. Al-Qaeda's leader, Ayman al-Zawahiri, is from Egypt and he is most widely believed to be residing somewhere between Afghanistan and Pakistan.
The senior administration official said Qurayshi "coordinated the group's global terror operations to include directing operations that pose a direct threat to the American people and partners around the world."
"He was the driving force behind the genocide of the Yazidi religious minority in northwestern Iraq in 2014 and the enslavement of thousands of young Yazidi girls using rape as a weapon of war," the senior administration official added. "He oversaw the network that included ISIS branches around the world from Africa to Afghanistan. He was directly overseeing activities of ISIS across Iraq and Syria."
A second senior administration official said other militants were also among the dead.
"There was hostile action from local forces, I think is important to keep in mind that this area is controlled by many cases Hayat Tahrir al-Sham, which is by our estimate a group that is a terrorist group, it certainly had an Al-Qaeda affiliation," the second senior administration official said. "At least some of those individuals engaged one of our helicopters and we took action that resulted in, as we know at this point, at least two enemies killed in action."
U.S. raids involving aircraft and ground forces in this part of Syria are extremely rare and the last known instance of an attack on this scale here was the operation to kill Baghdadi, a story that Newsweek broke at the time.
Warplanes of the Syrian government and its ally, Russia, have also regularly struck the area and activists have also accused Damascus and Moscow of killing civilians. The U.S. has continued to oppose Assad and has imposed tight sanctions against his government, further strangling an economy ravaged by war and a financial crisis in neighboring Lebanon.
Turkish warplanes and drones have also been regularly active across northern Syria, at times targeting positions of the Syrian Democratic Forces further east, raising humanitarian concerns among those on the ground and abroad as well.
While a recent report by Newsweek showed that fewer civilian deaths were recorded in President Joe Biden's first year in office than in the same period of time under his three predecessors, the administration has been under particular scrutiny after a drone strike in the Afghan capital killed up to 10 civilians. The target was said to be an operative of ISIS' local Khorasan affiliate but instead an aid worker and up to nine members of his family were slain.
The Pentagon vowed to conduct a review of the incident, though it said no individuals would face discipline. Another incident occurred in December, however, in Idlib itself when a drone strike that killed a senior Al-Qaeda leader also injured a family traveling in a car nearby.
Idlib has become densely populated as a result of internal displacement wrought on by Syria's civil war. Various estimates place the population between two to four million people, up to one million of whom are refugees whose suffering has been compounded by cold weather for which sprawling camps have proven unsuitable.
U.N. special envoy for Syria Geir Pederson referenced the humanitarian crisis in this part of Syria and others during a press conference last week. Among the country's other tragedies he mentioned were "airstrikes in Idlib, reportedly killing civilians and damaging civilian infrastructure."
A day later, Defense Secretary Lloyd Austin unveiled a shakeup of the U.S. military's policy toward assessing civilian harm with a plan to unveil a new framework within 90 days. He also said there would be "immediate steps, including the establishment of a civilian harm center of excellence, reporting to me, that will compel us to learn from our mistakes and to make changes in stride."
"I know personally how hard we work to avoid civilian harm and to abide by the law of armed conflict but I've also said that we need to do better, and we will," Austin said at the time. "This is a priority for me and we will ensure that we are transparent as we continue this important work."
This story has been updated to include a statement by White Helmets spokesperson Mohammad al-Shebli regarding civilian casualties, President Joe Biden's announcement that ISIS leader Abu Ibrahim al-Hashimi al-Qurayshi was the target of the operation and comments from senior administration officials on the details of the raid.