U.S. Considers Removing Sudan from List of Terrorist Sponsors, Says State Department Official
Sudan, which has been on the U.S. government's list of state sponsors of terrorism since 1993, is now being considered for removal from that list.
"It's not an event, it's not flipping a light switch," said Assistant Secretary of State for African Affairs Tibor Nagy in a November 15 briefing. "It's a process and we are heavily, continuously engaged with our Sudanese interlocutors on how we can go about doing that."
Congressional approval after a review period of six months is needed to remove Sudan from the list.
Former President Omar al-Bashir took power in 1993, the same year the U.S. placed Sudan on the terrorism sponsor list. His Islamist government was accused of trying to wipe out rebels in Darfur. In 2008, charges were filed against al-Bashir for genocide and war crimes against the people of Darfur.
After a year of protests, al-Bashir stepped down as chairman of the National Congress Party in March 2019. Barely over a month later, he was arrested in a military coup.
Currently, al-Bashir has been indicted for corruption having allegedly received $25 million from Saudi Arabia Crown Prince Mohammed bin Salman.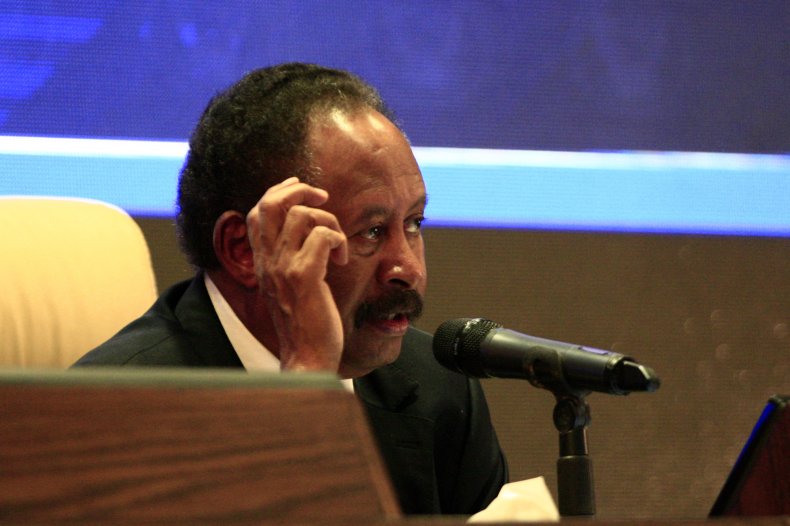 With al-Bashir out of power, the new leaders are anxious for Sudan to no longer be seen as sponsors of terrorism. Interim Prime Minister of Sudan's transitional civilian government Abdalla Hamdok believes his country's economy would be helped by its removal from the list.
"It was the former regime that supported terrorism and the Sudanese people revolted against it," Hamdok said. "These sanctions have caused tremendous suffering to our people."
"Therefore," Hamdok added, "we call on the United States to remove Sudan from the list of state sponsors of terrorism and to stop punishing the people of Sudan for crimes committed by the former regime."
While the U.S. lifted most economic and trade sanctions against Sudan in 2017, some sanctions related to the country's alleged connections to the genocide in Darfur are still in place. Nagy said the U.S. is not committed to removing those sanctions.
"There are conditions to such an event," Nagy said. "Everybody is hoping that it will happen, everybody is hoping that it happens as quickly as possible, we all understand the hardships that it is causing."
Economically, Sudan has yet to recover from U.S. financial restrictions. Currently, Sudan's inflation rate is nearly 50 percent. The country's presence on the U.S. list makes Sudan ineligible for debt relief from the International Monetary Fund or World Bank.
Hamdok met with U.S. officials in September 2019, saying he hoped the two governments would "be able to conclude very soon an agreement that would allow Sudan to be delisted," according to Al Jazeera.
"The new Sudan that is upholding governance and democracy is not a threat to any nation in the world," Hamdok added.