U.S. Constitution Framers Would've Been 'Diametrically Opposed' to Today's Filibuster: Senator
Senator Angus King, a Maine independent, said the framers of the U.S. Constitution would be "diametrically opposed" to the modern-day legislative filibuster in the Senate, suggesting that it needs to be reformed.
Most Democrats in Congress have voiced support for ending the filibuster or reforming the legislative maneuver, which prevents most legislation from moving forward unless it's backed by at least 60 senators. In an evenly split Senate, Democrats' ability to convince 10 Republican colleagues to join them on legislation often seems nearly impossible.
"I'm not really ready to say, 'Let's get rid of it altogether,' because I think there are circumstances where it makes sense. So I'd prefer some alternative to what the present rule is," King, who caucuses with the Democrats, explained during a Sunday interview with NBC News' Meet the Press.
"I'd like to restore the Senate to what it was, where we actually had debates and people had to hold the floor. And so I think some kind of talking filibuster, perhaps a rule that instead of having to have 60 votes to pass something, you'd have to have 41 votes to stop it. That way, the minority would at least have to show up. So we've got to do something about this, at least when it comes to something as crucial as democracy itself, as voting rights," he said.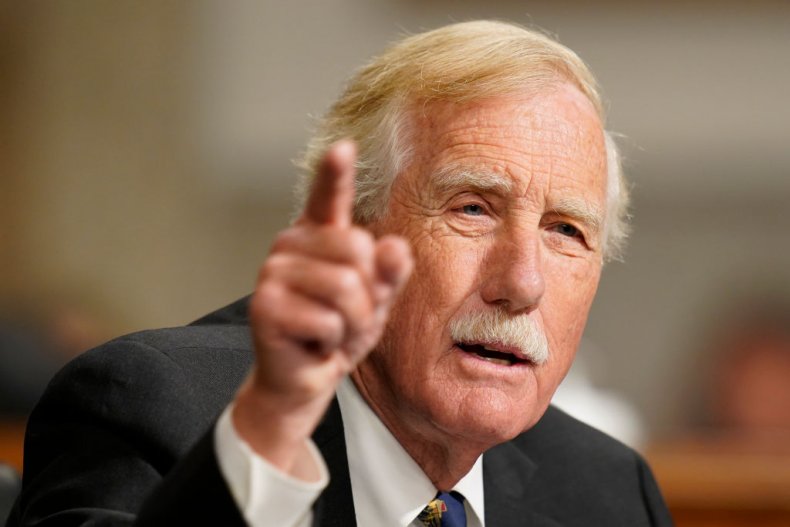 King asserted that the filibuster is not in the Constitution, and said that the framers of America's guiding document would have been "diametrically opposed" to how the legislative maneuver is used today. He noted that the current Constitution was adopted after the initial Articles of Confederation failed due to "supermajority" requirements to move forward with policies.
The talking filibuster, which President Joe Biden has also suggested he supports, would require senators to actually hold the floor of the legislative chamber when they object to bills moving forward. This was how the legislative procedure used to be implemented, but now the maneuver is simply implemented by a vote.
Moderate Senators Joe Manchin of West Virginia and Kyrsten Sinema of Arizona have expressed opposition to ending the filibuster, drawing frustration from many Democrats who see it as a major hurdle preventing them from passing much of Biden's Build Back Better agenda. Manchin has expressed an openness to filibuster reform, however.
"When it comes to democracy, I think Joe and Kyrsten will listen. Joe Manchin's a former secretary of state. He believes in people's right to vote, " King said on Sunday.
"I think Joe might be ready to listen to, not an abolition of the filibuster, but some modification to make it—to allow us to move forward, to give the minority all the rights in the world to speak, to debate, to make their points. But at some point, we've got to be able to make decisions," he added.
The independent senator's remarks came after Biden on Thursday suggested the filibuster should be reformed. The president expressed support for the talking filibuster coming back to the Senate.
"It used to be, you had to stand on the floor and exhaust everything you had," Biden said during a CNN town hall event. He explained that "when you gave up the floor, and someone else sought the floor, they had to talk until they finished. You're only allowed to do it a second time. After that, it's over. You vote. Somebody moved for the vote."
"I propose we bring that back now, immediately," he said.
Back in March, Manchin suggested he was open to making the filibuster more difficult.
"If you want to make it a little bit more painful, make him stand there and talk, I'm willing to look at any way we can," the West Virginia moderate told Meet the Press at the time. "But I'm not willing to take away the involvement of the minority."
Democrats argue that Republicans have abused the filibuster to block key legislation, even when it is backed by a majority of lawmakers and supported by the American public. GOP lawmakers counter that the filibuster has become an important tool in the Senate, touting a need to build consensus between the majority and minority parties in the legislative chamber.
Democrats and independents opposed to simply ending the filibuster altogether often raise concerns that Republicans would ram through legislation Democrats find objectionable when they return to power.
When reached for comment by Newsweek, King's spokesperson highlighted the independent senator's remarks on the Senate floor last week ahead of a vote on voting rights legislation. Republicans filibustered that bill, which all 50 members of the Senate's Democratic Caucus supported.
"Yes, democracy is an anomaly in world history and what we have is fragile; it rests upon the Constitution and laws to be sure, but it rests even more so on the trust our people place in our democratic system—and in us," King said on Tuesday.