U.S. Consumer Confidence at Lowest Point Since June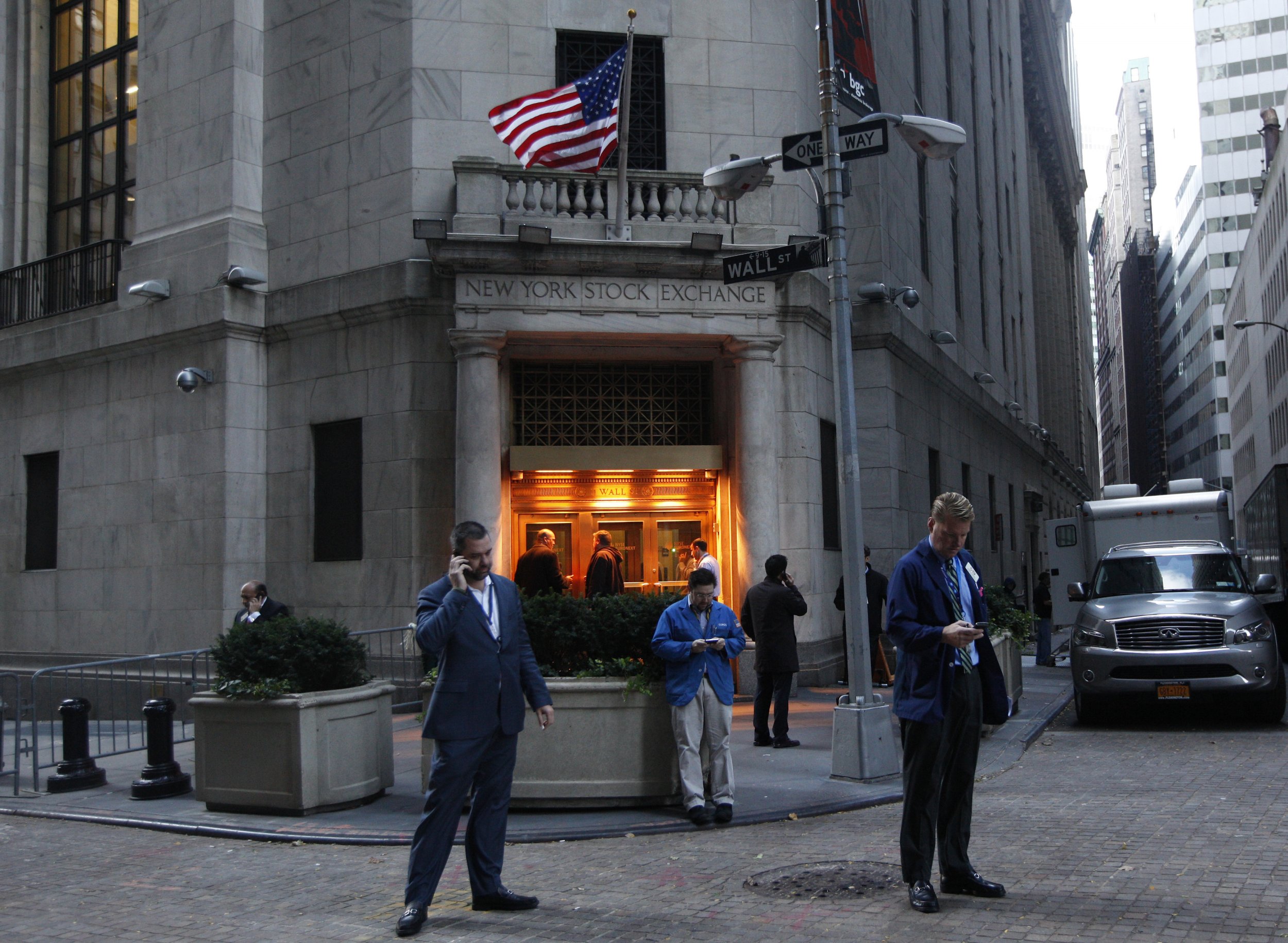 (Reuters) - A surprising upward revision in U.S. third-quarter economic growth set off an early rally on Wall Street on Tuesday only to see prices knocked back by the lowest U.S. consumer confidence data since June, dragging down the U.S. dollar in the process.
Earlier bets on more support from the European Central Bank and People's Bank of China continued to help lift European shares to a two-month high and pushed the region's bond yields to record lows. Chinese stocks rose to their highest since 2011.
"It was a nice U.S. opening to new highs and then you ended up with consumer confidence giving people an excuse to take profits. That said, you do have continuing support for the bulls from the ECB's Draghi and China, which are both following the BOJ's lead which is following the U.S.'s lead for the last six years," said Mike Holland, chairman of fund company Holland & Co in New York.
On Nov. 21, ECB President Mario Draghi said if there was no improvement on inflation in coming months, the ECB would pump more money into the euro bloc if current measures fell short.
The dollar index .DXY, which tracks the greenback versus a basket of six currencies, fell 0.3 percent to 87.911.
Oil prices LCOc1 fell below $79 a barrel ahead of an OPEC meeting on Thursday where this year's market rout is raising questions over potential production cuts to boost prices.
Falling prices have helped energy-importing countries but are proving counterproductive to nations like Japan, which is seeking to boost inflation and bust a cycle of deflationary pressures.
U.S. third-quarter gross domestic product growth was revised up to a 3.9 percent annual pace from the 3.5 percent reported last month, but the Conference Board, a private sector industry group, said its U.S. November consumer confidence index dropped to 88.7 versus forecasts for a reading of 96.0.
Benchmark 10-year U.S. Treasuries were up 2/32 of a point in price, pushing the yield down to 2.29 percent.
In mid-morning U.S. trade, U.S. stocks were mixed, with the Dow Jones industrial average down 13.26 points, or 0.07 percent, to 17,804.64, and the S&P 500 off 2.18 points, or 0.11 percent, to 2,067.23. The Nasdaq Composite was up 3.18 points, or 0.07 percent, to 4,758.07.
Shares of Apple Inc. rose 0.67 percent to $119.39, pushing its market capitalization above $700 billion for the first time.
While the Shanghai Composite Index gained 1.4 percent, shares across Asia were down slightly. MSCI's broadest index of Asia-Pacific shares outside Japan fell 0.4 percent.
European shares prices turned mixed, with Britain's FTSE 100 nearly flat. However, Germany's DAX index was up 0.8 percent after reaching its highest since July while France's CAC 40 held a gain of 0.3 percent after reaching its highest point since late September.
"There are real risks of recession and deflation, but there are also reasons to believe that 2015 will be a better year for the euro zone than this year has been," said Kerry Craig, a global markets strategist at JP Morgan, noting central bank easing policies that are driving market sentiment.
Euro zone government bond yields also held at record lows on Draghi. The euro however advanced on the greenback after the disappointing U.S. consumer confidence data, gaining 0.32 percent to $1.2483.
German data showed a rise in private consumption helped its economy, Europe's biggest, avoid recession last quarter, while France saw a better-than-expected rise in business sentiment.
Gold nudged up $1.90 to $1,199 an ounce.