U.S. Coronavirus Cases Surpass 3 Million as States Pull Back on Reopening
Coronavirus cases in America surpassed 3 million on Wednesday as the nation's disturbingly high number of new infections is prompting clampdowns on states' reopening plans.
More than 350,000 new cases were reported nationwide over the past week, a nearly 2.5-fold increase from the same time last month. Three of the seven days were record highs for new cases, and Dr. Anthony Fauci, America's top epidemiologist, warned if the outbreak isn't controlled, new cases could skyrocket.
"We are now having 40-plus thousand cases a day. I would not be surprised if we go up to 100,000 a day if this does not turn around," Fauci told a Senate Committee on June 30.
On Wednesday, America recorded a total of 3,009,611 cases of the new coronavirus, according to a Johns Hopkins University tracker. The 3 million case threshold was crossed one day after America set a record high of 60,000 new cases.
Fauci, the director of the National Institute of Allergy and Infectious Diseases, said during the Senate Committee hearing it's not enough to focus on the places that are seeing a surge. A spike in cases anywhere puts the "entire country at risk," according to Fauci, and America is headed down a "very disturbing" path.
Florida, Texas, California and Arizona took a step back on their reopening plans by closing bars and other establishments amid large increases in new cases. Florida and Texas both saw record-high new cases over the holiday weekend, with 11,433 and 8,258, respectively, on this past Friday and Saturday.
Officials put the blame for the surge in cases on states reopening too quickly. Texas Governor Greg Abbott told news station KVIA if he could go back in time and redo anything, he would wait before allowing bars to reopen. Although cases were stagnant immediately following the reopening, data showed bars allowed the virus to spread, and Abbott closed them down again on June 26.
"A bar setting in reality just doesn't work with a pandemic," Abbott said. "People go to bars to get close and to drink and to socialize, and that's the kind of thing that stokes the spread of the coronavirus."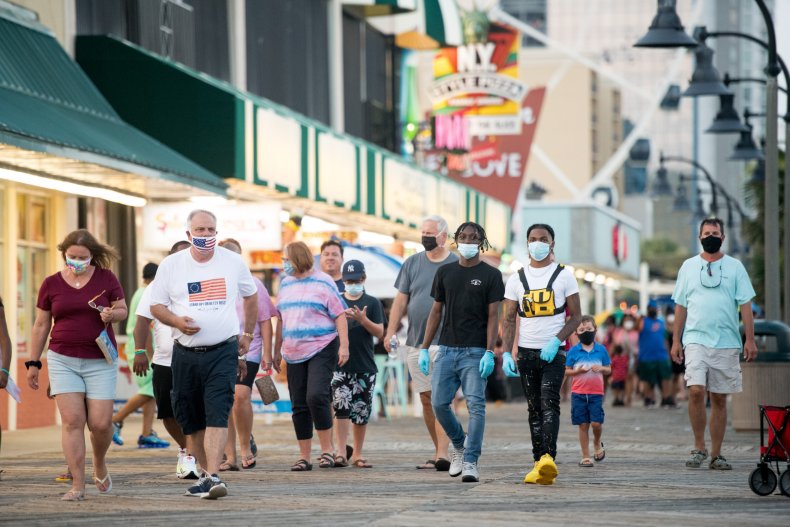 Governors are also pumping the brakes on reopening plans even in states where there aren't spikes in cases. Once the epicenter of the outbreak, New York is now reporting a 1.16 percent positivity rate in its testing, and Governor Andrew Cuomo and New York City Mayor Bill de Blasio have earned Fauci's praise for not reopening until guidelines indicated it was safe to do so.
Although New York City meets all the metrics to reopen for indoor dining, Cuomo said last week he wouldn't give the green light, in part because of what other states are experiencing. As a major travel hub, New York isn't immune to the virus's spread from other regions of the country.
Cuomo also criticized the lack of citizen compliance with mitigation measures and local governments for failing to enforce social distancing. The present numbers were "still great," the governor said July 1 but added, "I feel there are storm clouds on the horizon."
It's largely young people who are driving the outbreaks, and although they may be at a lower risk of developing a serious disease or dying from the virus, it has happened. The death toll is declining, according to the U.S. Centers for Disease Control and Prevention (CDC), but Fauci said young people who think they are invincible can easily spread the virus to someone who is considered high risk.
Newsweek reached out to the CDC for comment but did not hear back in time for publication.
Not helping the situation is President Donald Trump, according to Cuomo. Just as the buck stops on Cuomo's desk with regard to the outbreak in his state, Cuomo said the national outbreak falls on Trump. He criticized the president for downplaying the outbreak, not setting a good example by wearing a mask and denying "the reality of this situation from day one."
"Come clean with the American people, admit the threat of this virus," Cuomo said. "And send a message to this nation that we have to mobilize our citizens, we have to mobilize our government, and we have to start doing something about this."
Trump has championed his response to the outbreak, saying that cases are rising because testing is increasing. While he has a point that the number of tests being conducted can change the number of cases that are found, data indicate a larger portion of the population is testing positive.
The nation is seeing a positivity rate of about 7.5 percent among those tested, according to Johns Hopkins University. That's about a 2.5 percentage point increase from the same time last month, although down about 5 percentage points from the height of the outbreak in April.
"I think it's pretty obvious that we are not going in the right direction," Fauci told JAMA (formerly The Journal of the American Medical Association) in a July 2 interview.