U.S. Coronavirus Cases Will Rapidly Accelerate in the Next Week, Says Leading Health Expert
A leading health expert expects new coronavirus infections to increase rapidly across the country over the next week, while also predicting that deaths from COVID-19 will jump in the coming weeks.
New COVID-19 infections are growing higher or remain elevated in 31 states, according to the New York Times tracker. Meanwhile, new cases remain low in just seven states—Delaware, Maryland, California, New York, Hawaii, Maine and Vermont. Nationwide, the U.S. reported 60,598 new infections and 929 deaths from COVID-19 on Tuesday, bringing the totals for the pandemic to more than 8.3 million cases and nearly 221,000 deaths.
"If you look at states, you know, particularly throughout the midwest and plains, we're seeing record cases almost everyday," Dr. Jonathan Reiner, a professor of Medicine at the George Washington University Medical Center, told CNN on Wednesday morning. Reiner pointed out that the seven-day average of new cases is now about 60,000 per day. "But it's on the rise. Soon it will be 70,000 cases," he said.
"Obviously the major implication of this dramatic rise in cases will be in two weeks—a dramatic rise in deaths," Reiner said. He predicted that the U.S. will start to see "closer to 2,000 deaths per day" within the coming weeks as infections surge.
"Really a horrifying turn of events," the doctor said.
Newsweek reached out to the White House to ask for comment from the Coronavirus Task Force, but there was no immediate response.
Dr. Scott Gottlieb, who served as commissioner of the Food and Drug Administration under President Donald Trump from 2017 to 2019, issued a similarly dire assessment of the pandemic. Speaking to CNBC's Squawk Box on Wednesday, Gottlieb first optimistically touted the better outcomes among COVID-19 patients, pointing to a study by the Centers for Disease Control and Prevention that shows in-hospital deaths from the virus have dropped by more than 50 percent from earlier this year. However, he suggested this would not prevent a significant rise in infections and deaths.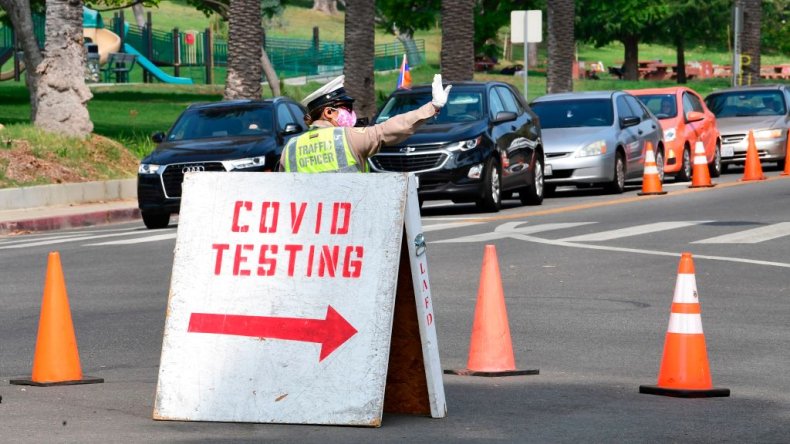 "The challenge is that we're probably going to be infecting more people. So even though we're going to reduce in-hospital mortality and save more lives, I think more people are going to end up getting infected over the coming season than we've seen infected in the first two surges of this virus," the public health expert said.
In September, Dr. Anthony Fauci, a key member of the White House Coronavirus Task Force who serves as the director of the National Institute of Allergy and Infectious Diseases, warned that the situation could get worse in the fall and winter.
"What works against you now is we're getting into a weather season where people will be spending more time indoors," Fauci told CNN on September 22. "Those are things I get concerned about as we get into October and November and December."