U.S. Coronavirus Deaths Per Day
The number of U.S. coronavirus deaths per day has been on a mostly declining trend in the past five days. The daily death toll started to plateau earlier this month, hovering between nearly 1,500 and 2,000 from April 7 to 13, according to the latest data from Johns Hopkins University as well as figures from state health departments and government websites.
The U.S. now has the highest death count in the world, with more than 40,000 fatalities, as of Friday. The U.S. death toll is nearly twice that of Italy, Spain and France, which each have nearly 20,000 fatalities.
The U.S. saw a dramatic increase in its daily death toll on April 14, when new guidelines on counting cases and deaths, issued by the U.S. Centers for Disease Control and Prevention (CDC), went into effect.
"As of April 14, 2020, CDC case counts and death counts include both confirmed and probable cases and deaths. This change was made to reflect an interim COVID-19 position statement issued by the Council for State and Territorial Epidemiologists on April 5, 2020," the CDC states on its website.
The daily U.S. death count spiked from 1,535 reported on April 13 to 6,185 on April 14, with New York reporting 3,778 additional deaths (ones classified as "probable" since March 11), following the new CDC guidelines.
The daily death toll in the U.S. then dropped for two consecutive days, reaching 2,176 on April 16, before slightly rising to 2,528 on April 17. The daily death count fell by around 26 percent on April 18, reporting around 1,867 new fatalities. It decreased further to 1,561 on April 19, decreasing by nearly 40 percent.
The number of daily casualties started to reach a plateau around April 7, when nearly 1,973 new deaths were recorded. Over seven days from April 7 to 13, the U.S. had an average daily death toll of around 1,820.
The graphic below, provided by Statista, shows the number of confirmed COVID-19 cases, the disease caused by the new strain of coronavirus, in a selection of states.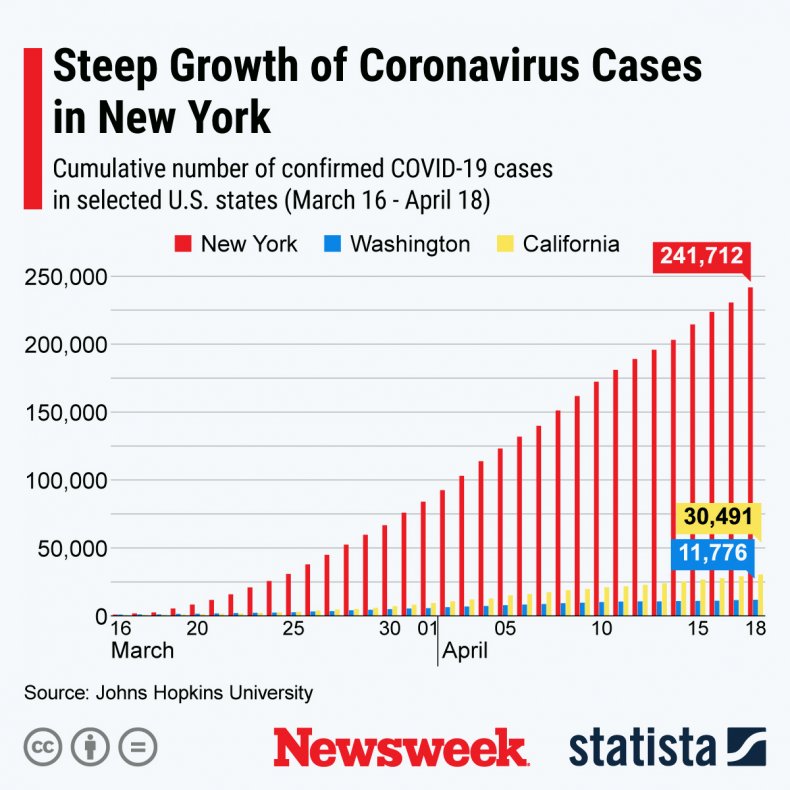 New York, the worst-hit state in the country, has seen the highest number of deaths to date, with more than 18,200 fatalities, as of Friday. The state has recently shown signs of the outbreak slowing down and New York Governor Andrew Cuomo noted the state may have passed the point of the outbreak's severity.
Cuomo confirmed on Sunday: "We believe NY is past the peak and we are now descending the other side of the mountain. The continuation of this positive trend depends on our actions. What each of us does makes all the difference," he said in a post Sunday on his official Twitter account.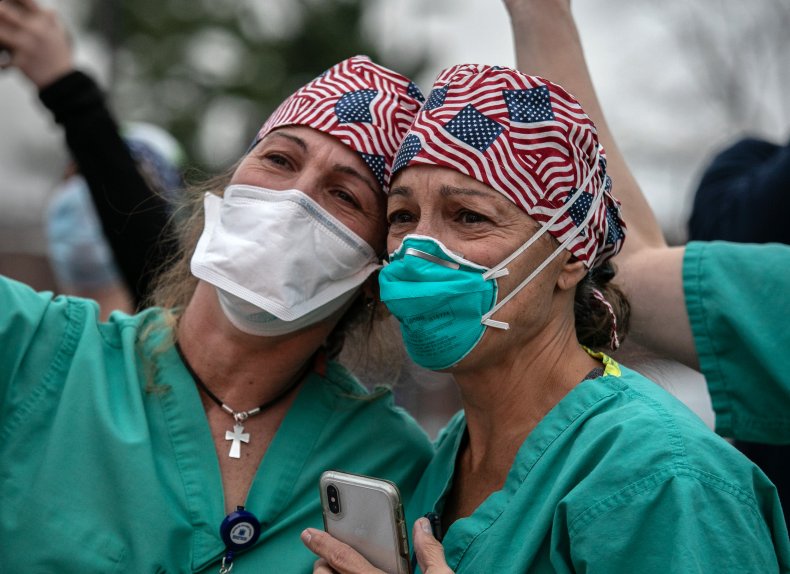 He added: "We have slowed the infection rate so that every 10 people infect about 9 people. That means that the outbreak is slowing, not growing. But it leaves very little room for error. We need [to] bring the infection rate down even more in order to safely reopen the economy," he wrote in another tweet.
The novel coronavirus has spread to more than 2.4 million people in at least 185 countries and regions. The U.S. remains the epicenter of the outbreak, with more than 760,500 confirmed cases. More than 71,000 in the U.S. have reportedly recovered from infection, as of Monday.
Daily U.S. COVID-19 deaths in April
April 1—around 1,050 new deaths
April 2—around 974 new deaths
April 3—around 1,051 new deaths
April 4—around 1,330 new deaths
April 5—around 1,167 new deaths
April 6—around 1,259 new deaths
April 7—around 1,973 new deaths
April 8—around 1,943 new deaths
April 9—around 1,901 new deaths
April 10—around 2,035 new deaths
April 11—around 1,830 new deaths
April 12—around 1,528 new deaths
April 13—around 1,535 new deaths
April 14—around 6,185 new deaths
April 15—around 2,618 new deaths
April 16—around 2,176 new deaths
April 17—around 2,528 new deaths
April 18—around 1,867 new deaths
April 19—around 1,561 new deaths
The graphic below, provided by Statista, illustrates the spread of COVID-19 across the U.S.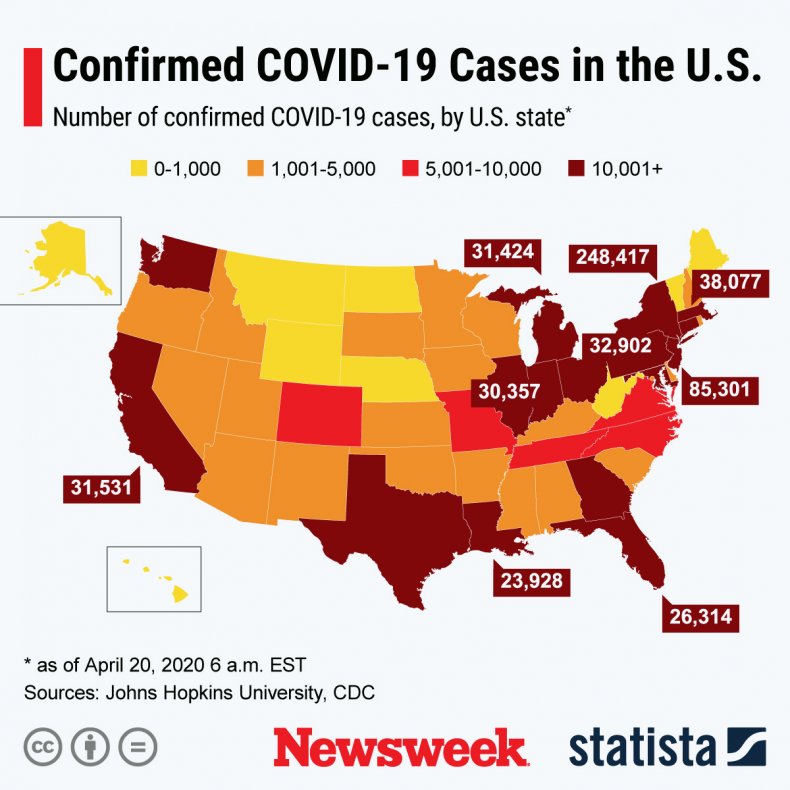 Data on COVID-19 cases is from Johns Hopkins University unless otherwise stated.
Centers for Disease Control and Prevention Advice on Using Face Coverings to Slow Spread of COVID-19
CDC recommends wearing a cloth face covering in public where social distancing measures are difficult to maintain.
A simple cloth face covering can help slow the spread of the virus by those infected and by those who do not exhibit symptoms.
Cloth face coverings can be fashioned from household items. Guides are offered by the CDC. (https://www.cdc.gov/coronavirus/2019-ncov/prevent-getting-sick/diy-cloth-face-coverings.html)
Cloth face coverings should be washed regularly. A washing machine will suffice.
Practice safe removal of face coverings by not touching eyes, nose, and mouth, and wash hands immediately after removing the covering.
World Health Organization advice for avoiding spread of coronavirus disease (COVID-19)
Hygiene advice
Clean hands frequently with soap and water, or alcohol-based hand rub.
Wash hands after coughing or sneezing; when caring for the sick; before, during and after food preparation; before eating; after using the toilet; when hands are visibly dirty; and after handling animals or waste.
Maintain at least 1 meter (3 feet) distance from anyone who is coughing or sneezing.
Avoid touching your hands, nose and mouth. Do not spit in public.
Cover your mouth and nose with a tissue or bent elbow when coughing or sneezing. Discard the tissue immediately and clean your hands.
Medical advice
Avoid close contact with others if you have any symptoms.
Stay at home if you feel unwell, even with mild symptoms such as headache and runny nose, to avoid potential spread of the disease to medical facilities and other people.
If you develop serious symptoms (fever, cough, difficulty breathing) seek medical care early and contact local health authorities in advance.
Note any recent contact with others and travel details to provide to authorities who can trace and prevent spread of the disease.
Stay up to date on COVID-19 developments issued by health authorities and follow their guidance.
Mask and glove usage
Healthy individuals only need to wear a mask if taking care of a sick person.
Wear a mask if you are coughing or sneezing.
Masks are effective when used in combination with frequent hand cleaning.
Do not touch the mask while wearing it. Clean hands if you touch the mask.
Learn how to properly put on, remove and dispose of masks. Clean hands after disposing of the mask.
Do not reuse single-use masks.
Regularly washing bare hands is more effective against catching COVID-19 than wearing rubber gloves.
The COVID-19 virus can still be picked up on rubber gloves and transmitted by touching your face.