Cases of the novel coronavirus in the U.S. have now surpassed 35,200, while the death toll has reached nearly 445. Most of the cases are within New York, Washington state and California, according to the latest figures from Johns Hopkins University.
The virus has affected more than 353,000 people globally and more than 100,000 people have recovered from infection to date, while the global death toll has climbed past 15,400.
More cases of the virus, which was first reported in China's Wuhan city of the Hubei province, have now been reported outside China than within. The country has seen nearly 81,400 people infected, more than 70,000 of whom have recovered. The country claims the outbreak has now largely been contained, having reported only one new domestic case on Sunday, its first in four days.
New York on lockdown as death toll surpasses Washington state
New York's death toll has surpassed that of Washington state, with at least 153 fatalities reported so far, while has seen 92 deaths.
The state is home to nearly half of the total confirmed cases in the country, with New York Governor Andrew Cuomo saying on Monday that 20,875 people had tested positive for COVID-19.
The state has issued a "stay at home" order mandating "100 percent of the workforce must stay home, excluding essential services," the governor's office confirmed in a statement on Sunday. The latest mandate could be in place for up to nine months, Cuomo warned.
All casinos, gyms, theaters, shopping malls, amusement parks and bowling alleys have been closed until further notice while bars and restaurants were limited to offering only takeout services.
All residents aged 70 and over and anyone with compromised immune systems must:
Remain indoors;
Can go outside for solitary exercise;
Pre-screen all visitors by taking their temperature;
Wear a mask in the company of others; and
Stay at least six feet from others.
"This is not a short-term situation. This is not a long weekend. This is not a week. The timeline, nobody can tell you, it depends on how we handle it, but 40 percent, up to 80 percent of the population will wind up getting this virus. All we're trying to do is slow the spread but it will spread. It is that contagious," Cuomo said at a press briefing on Sunday.
"The grocery stores are going to function, there is going to be food, the transportation systems are going to function, the pharmacies are going to be open, all essential services will be maintained. There's not going to be chaos, there's not going to be anarchy, order and function will be maintained.
"But I do believe that whatever this is 4 months, 6 months, 9 months—we are going to be the better for it," he added.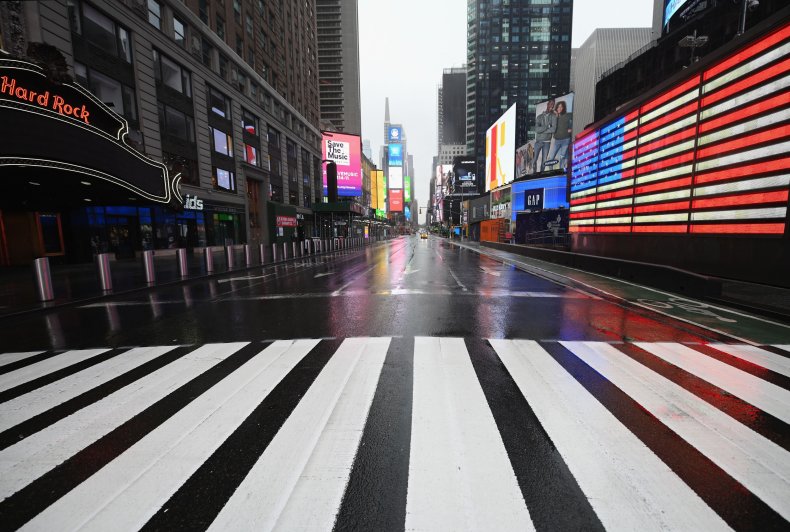 Major disaster declared in New York, Washington state, California
Major disaster declarations have been made in New York, Washington state and California. The help of the National Guard as well as the Federal Emergency Management Agency (FEMA) have been deployed across the nation.
"I directed FEMA to supply the following: Four large medical stations with 1,000 beds for New York, eight large federal medical stations with 2,000 beds for California. and three large federal medical stations and four small federal medical stations with 1,000 beds for the state of Washington," Trump announced at the White House press briefing on Sunday.
As of Saturday, 50 states, Washington, D.C., five territories and one tribe were reported to be working directly with FEMA under the nationwide emergency declaration for the virus. "In just 24 hours, we've obligated $100 million to states, territories and tribes," FEMA Administrator, Peter Gaynor, said at the press briefing.
Trump also confirmed the National Response Coordination Center response has been activated to Level 1. "That's your highest level. This is the nerve center of all of our government response to crisis and it's coordinating very closely with our nation's governors," he said at the press briefing.
"And I think we're going to change the way our country functions, medically and probably in other ways, because of what's going on right now. This will reduce the chance of infection and preserve hospital capacity," he added.
More than 195,000 Americans have been tested for the virus, and 19,343 haved positive, as of Sunday, Vice President Mike Pence confirmed at the briefing.
"But we want to remind Americans...If you don't have symptoms, don't do a test. It is another way that the American people can make sure that we are preserving the resources that our healthcare workers need to minister and to support those who are dealing with the coronavirus and other illnesses," he added.
The graphic below, provided by Statista, illustrates the spread of the COVID-19 virus across the U.S.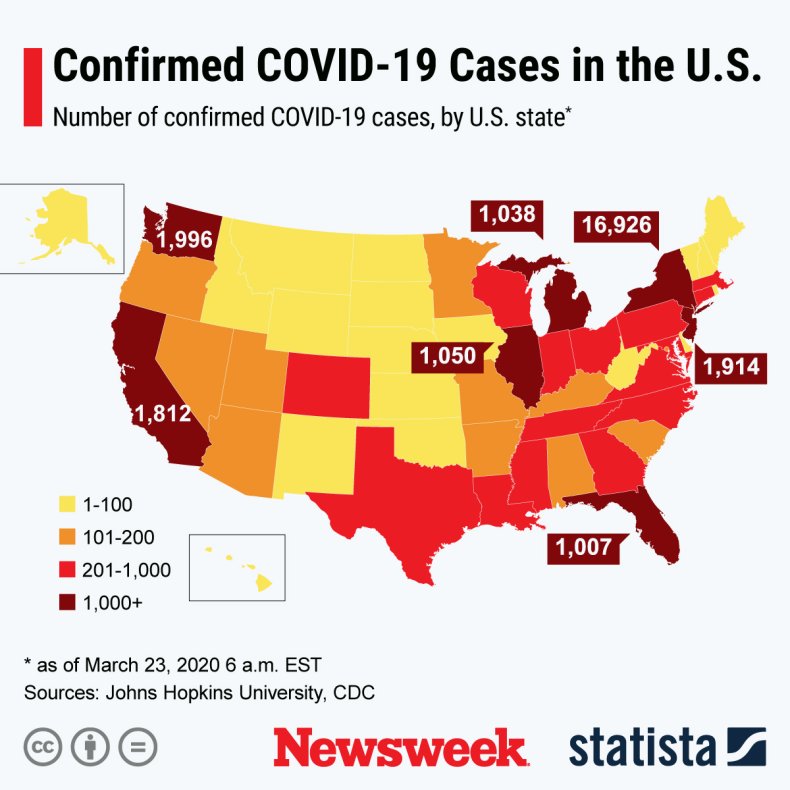 More "stay at home" orders issued across the country
Ohio, Louisiana, Massachusetts, Michigan, Delaware and Illinois are among the many states, in addition to California and New York, that have issued "stay at home" orders, requiring residents to remain at home, while non-essential businesses, including restaurants, bars, gyms and other public spaces have been shut to help reduce the spread of the virus.
Michigan Governor Gretchen Whitmer issued the state with a "stay at home" order on Monday, with it due to take effect at 12:01 am on Tuesday until April 13. "The most effective way we can slow down the virus is to stay home," Whitmer said at a news conference. "I know this will be hard, but it will be temporary. If we all come together, get serious and do our part by staying home, we can stay safe and save lives," she added.
The state has 1,232 confirmed COVID-19 cases, while the number of deaths in Michigan has risen to 15, the state's Chief Medical Executive Dr. Joneigh Khaldun confirmed.
Ohio's order will "go into effect today at 11:59 p.m. and will remain in effect until 11:59 p.m. on April 6, 2020, unless the order is rescinded or modified," the office of Ohio Governor Mike DeWine said in a statement.
From this Thursday, all child care facilities in the state must be operated under a Temporary Pandemic Child Care license featuring various guidelines including having no more than six children per class and limited use of share spaces, the statement confirmed.
The state currently reports 351 confirmed cases, including three deaths, while 83 people are hospitalized, the governor's office confirmed.
Louisiana's "stay at home" order directs "all Louisiana residents to shelter at home and limit movements outside of their homes beyond essential needs," the office of Louisiana Governor John Bel Edwards confirmed in a statement.
Louisiana has reported 837 cases and 20 deaths, according to the state's department of health.
Massachusetts Governor Charlie Baker announced a "stay at home" order for the state, which will be in effect from noon on Tuesday through April 7, he announced in a statement.
"Today [Monday] I issued an emergency order requiring all businesses and organizations that do not provide #COVID19 essential services to close their physical workplaces and facilities to workers, customers and the public," Baker confirmed in a post on his official Twitter account.
Delaware's "stay at home" order will go into effect on Tuesday, Delaware Governor John Carney confirmed on Sunday. The mandate requires "Delawareans to stay at home whenever possible and closing all non-essential businesses in Delaware to help fight the spread of COVID-19," according to a statement from the governor's office.
"The orders go into effect at 8:00 a.m. on Tuesday, March 24, 2020. They will remain in effect until May 15 or until the public health threat is eliminated," according to the statement.
Illinois has seen 1,049 confirmed cases and nine deaths and Illinois Governor J.B. Pritzker declared a disaster in the state earlier this month and issued its lockdown order on Friday.
"All individuals must stay at home, with exceptions for essential activities, essential government functions, and essential businesses and operations. All non-essential business and operations must cease," the governor's office states.
Data on COVID-19 cases is from Johns Hopkins University unless otherwise stated.
The graphic below, provided by Statista, illustrates the recovery curve compared to the infection curve of the virus.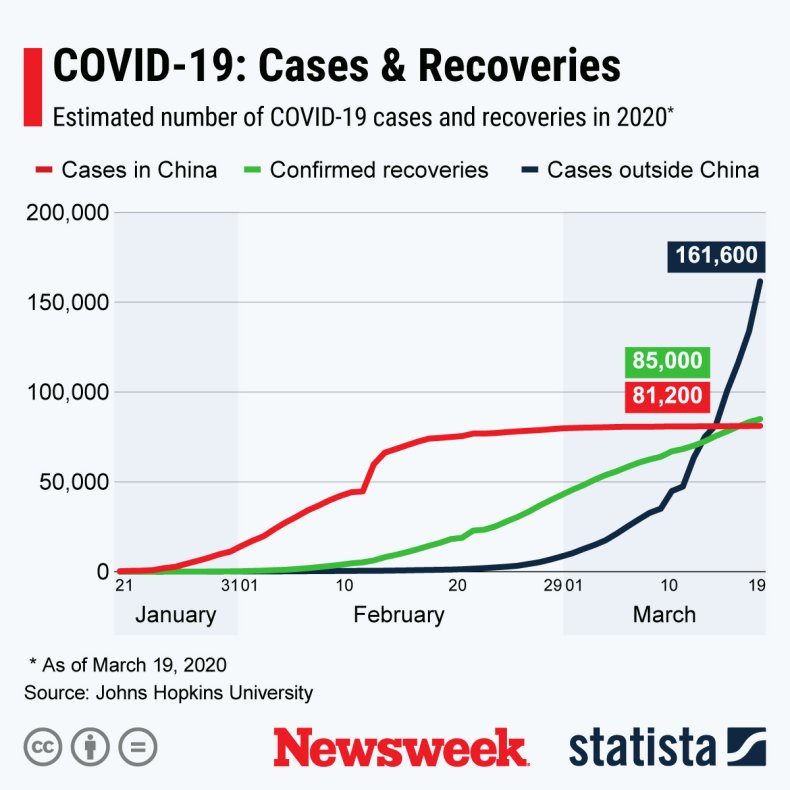 World Health Organization advice for avoiding spread of coronavirus disease (COVID-19)
Hygiene advice
Clean hands frequently with soap and water, or alcohol-based hand rub.
Wash hands after coughing or sneezing; when caring for the sick; before; during and after food preparation; before eating; after using the toilet; when hands are visibly dirty; and after handling animals or waste.
Maintain at least 1 meter (3 feet) distance from anyone who is coughing or sneezing.Avoid touching your hands, nose and mouth. Do not spit in public.
Cover your mouth and nose with a tissue or bent elbow when coughing or sneezing. Discard the tissue immediately and clean your hands.
Medical advice
If you feel unwell (fever, cough, difficulty breathing) seek medical care early and call local health authorities in advance.
Stay up to date on COVID-19 developments issued by health authorities and follow their guidance.
Mask usage
Healthy individuals only need to wear a mask if taking care of a sick person.
Wear a mask if you are coughing or sneezing. Masks are effective when used in combination with frequent hand cleaning.
Do not touch the mask while wearing it. Clean hands if you touch the mask.
Learn how to properly put on, remove and dispose of masks. Clean hands after disposing of the mask.
Do not reuse single-use masks.
About the writer
Soo Kim is a Newsweek SEO Reporter is based in London, UK. She reports on various trends and lifestyle stories, from health, fitness and travel to psychology, relationships and family issues. She is also a South Korea expert who regularly covers Korean culture/entertainment for Newsweek, including the latest K-dramas, films and K-pop news, and is the author of the book How to Live Korean, which is available in eight languages. Soo also covered the COVID-19 pandemic extensively from 2020 through 2021 after joining the general news desk of Newsweek in 2019 from the Daily Telegraph (a U.K. national newspaper) where she was a travel reporter/editor from 2010. She is a graduate of Binghamton University in New York and the journalism school of City University in London, where she earned a Masters in international journalism. Languages spoken: English and Korean.
Follow her on Twitter at @MissSooKim or Instagram at @miss.soo.kim
You can get in touch with Soo by emailing s.kim@newsweek.com