U.S. Coronavirus Update: Death Toll Hits 69, Virus Spreads to 49 States, More Deaths in New York, Washington State
The COVID-19 virus has infected more than 3,700 people in the U.S. and claimed the lives of nearly 70. The death toll includes new fatalities in several states over the weekend, including in Washington state, New York, Oregon and Louisiana, according to the latest figures from Johns Hopkins University.
The virus, which was first reported in Wuhan city in the Hubei province of China, has infected more than 169,000 people across 148 countries, with China reporting around 81,000 cases. More than 77,000 people have recovered from infection, according to Johns Hopkins University.
Several parts of the U.S. have implemented stringent measures to help fight the spread of the virus, including a string of school closures. The states hit by the ban include New York, Washington, New Jersey and Massachusetts, reportedly impacting nearly 32.5 million students in nearly 33 states.
Various restaurant and bar venues have shut or will be closed and be limited to take-out services, including in New York, Washington, Los Angeles and Las Vegas.
While President Donald Trump declared a state of national emergency in the U.S. on Friday, the country's National Security Council (NSC) has advised there is no national lockdown in place.
"Text message rumors of a national #quarantine are FAKE. There is no national lockdown. @CDCgov has and will continue to post the latest guidance on #COVID19. #coronavirus," the NSC said in a post on its official Twitter account.
More deaths in Washington, New York, Oregon, Louisiana
The death count has climbed to 69, including 42 in Washington, six in New York, six in California, five in Florida, two in New Jersey, two in Louisiana, while Oregon, Kansas, Virginia, South Dakota, Georgia and Colorado have each reported one death, according to the latest figures from Johns Hopkins University.
Washington continues to top the country with the highest number of cases as well as deaths, with two more deaths as of Sunday. The total number of cases is nearly 770, according to Washington's department of health.
New York City mayor Bill de Blasio announced three more recent deaths in the city at a press briefing on Sunday.
The latest deaths in the city include that of a 78-year-old man, a 56-year-old man and a 53-year-old woman, which in addition to the deaths of an 82-year-old woman and a 79-year-old woman, who died on Friday and Sunday respectively.
The state's total death count is at six, according to the latest figures from Johns Hopkins University, while five of those are in New York City, the mayor confirmed at the press briefing.
The total number of cases in the state is at 729 and 329 cases are in New York City, the state's department of health confirmed.
Louisiana announced another death on Sunday. "Sadly, we have lost our second Louisianan to COVID-19," Governor John Bel Edwards confirmed.
The patient was reported to be a 53-year-old resident of New Orleans with underlying medical conditions. He was treated at Touro Hospital. The latest death marked the second fatality in just a couple of days, with the first reported on Friday. The previous death was that of a 58-year-old resident of the Orleans Parish with underlying health conditions. He was treated at Touro Infirmary Hospital and Medical Center.
Oregon also reported its first death. A man in his 70s from Multnomah County with underlying health conditions passed away on Saturday, the Oregon Health Authority confirmed.
The patient, who was hospitalized at the Portland Veterans Affairs Medical Center, was said to have had no known connection to the virus, either by traveling to an affected country or by contact with an infected individual.
"This is a sobering reminder that this virus is in our community and can be serious for older people and those with underlying conditions," Dr. Jennifer Vines, the Multnomah County health officer, said.
The graphic below, provided by Statista, illustrates the recovery curve compared to the infection curve of the virus.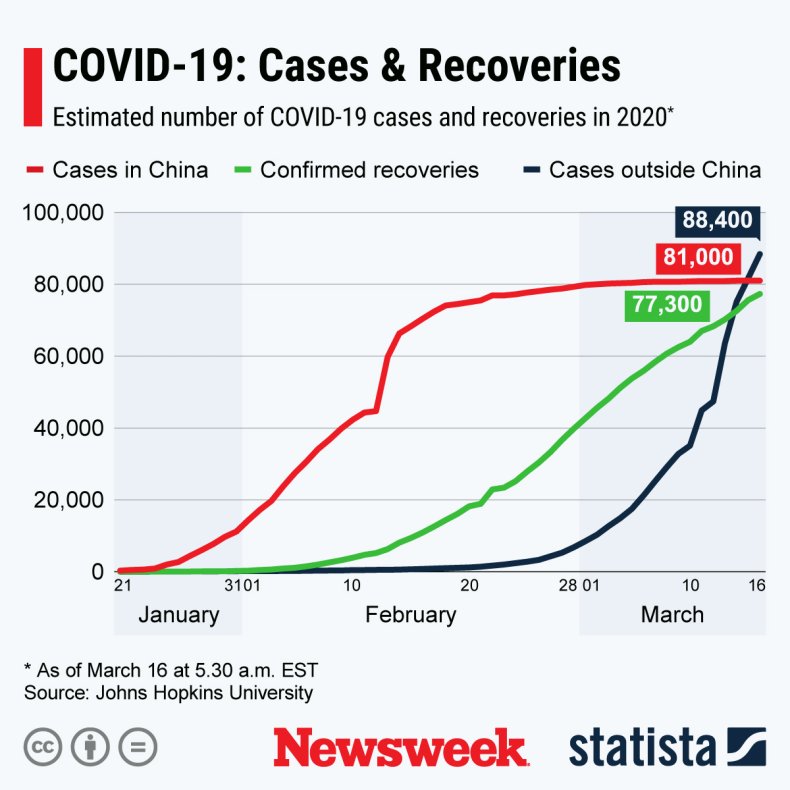 The virus has now spread to nearly every state
The virus has spread to 49 states, Vice President Mike Pence confirmed at a White House press briefing on Sunday. But U.S. health officials continue to confirm "for the American people as a whole, the risk of serious illness remains low."
"The health experts continue to confirm to us that based on the latest information, for the American people as a whole, the risk of serious illness remains low. But because the risk is heavily weighted to the most vulnerable — to people with immunodeficiencies and to people who are elderly with serious underlying chronic health conditions — our administration and, I know, state administrations will continue to focus on the most vulnerable.
"And we will continue to urge every American to be vigilant in practicing good hygiene and taking the advice of the CDC and local health experts to keep those most vulnerable safe," he said.
The U.S. Centers for Disease Control and Prevention (CDC) issued new guidelines on Sunday to help curb the spread of the virus. The new advice recommends that "for the next 8 weeks, organizers (whether groups or individuals) cancel or postpone in-person events that consist of 50 people or more throughout the United States."
"Events of any size should only be continued if they can be carried out with adherence to guidelines for protecting vulnerable populations, hand hygiene, and social distancing. When feasible, organizers could modify events to be virtual," the CDC said.
"This recommendation does not apply to the day to day operation of organizations such as schools, institutes of higher learning, or businesses. This recommendation is made in an attempt to reduce introduction of the virus into new communities and to slow the spread of infection in communities already affected by the virus. This recommendation is not intended to supersede the advice of local public health officials," it adds.
New York, New Jersey, Connecticut ban gatherings larger than 50
All three states have announced a ban on any gatherings with more than 50 people, the governors of each state confirmed on a conference call on Monday,
Casinos, movie theaters, gyms and casinos across all three states will be closed at 8 p.m. (local time), while all dining services from bars and restaurants will also close at the same time and only offer take-out services.
Washington has ordered the temporary closure of all restaurants, bars, entertainment and recreational facilities, according to a statement from State Governor Jay Inslee released Sunday.
All bars in Los Angeles have also been shut down, while all LA restaurants are limited to delivery services, the mayor of Los Angeles, Eric Garcetti, announced at a news conference on Sunday.
Caesars Entertainment also announced closures for all ticketed shows in Las Vegas through March 31, the company confirmed in a statement. MGM resorts, as well as Wynn Las Vegas and Encore in Las Vegas, are also closed.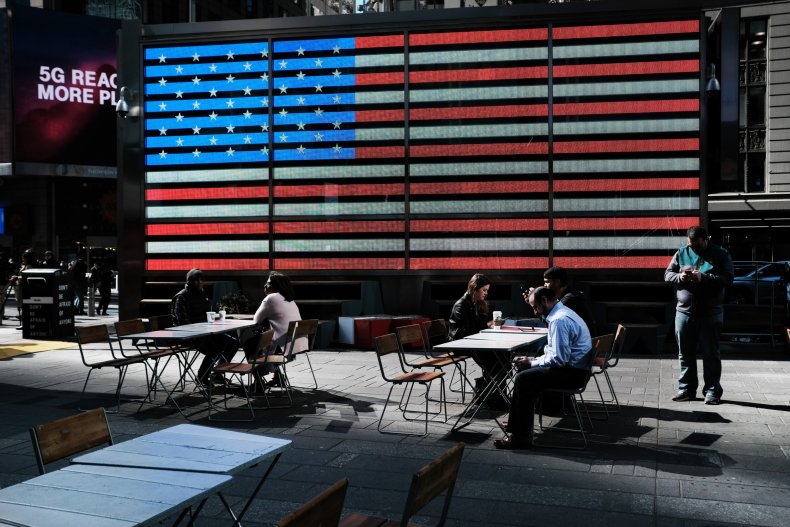 Federal Reserve drops interest rate amid outbreak
The Federal Reserve announced at a press conference Sunday it would be cutting its interest rate to nearly zero (to 0.25 percent) in a bid to offer support amid the ongoing outbreak, allowing more credit to be available to financial institutions.
The chairman of the Federal Reserve, Jerome Powell, stated: "We thought it was quite important for us to take strong measures to support proper market functioning in important markets."
Trump praised the latest move and added at the White House press briefing on Sunday: "In addition, very importantly, the Federal Reserve is the — going to be purchasing $500 billion of treasuries and $200 billion of mortgage-backed securities. And that number can increase."
When Powell was asked about the economic outlook of the country, he said: "It's very hard to say how big the effects will be or how long they will last. That's going to depend of course on how widely the virus spreads, which is something that is highly uncertain and I would say, in fact, unknowable."
Trump advises Americans to "Take it easy. Just Relax."
As fears over the virus and the panic-buying frenzy continue across the country, Trump has confirmed retail giants, including Walmart, Target and Costco, are "going to work 24 hours around the clock keeping their store[s] stocked," he noted at the White House press briefing on Sunday.
Trump advised: "...you don't have to buy so much. Take it easy. Just relax. People are going in and they're buying more. I remember — I guess, during the conversation, Doug [McMillon, chief executive officer] of Walmart said that they're buying more than they buy at Christmas. Relax. We're doing great. It all will pass.
"They're [retailers] going to meet the needs of the public. They're going around the clock, if they have to. And they're committed to the communities where they're serving..."
"There's no need for anybody in the country to hoard essential food supplies...Because there's plenty. But you don't have to [buy] the [large] quantities [people have been buying] because it's hard to refill the stores on a basis as rapid as they're refilling them," he said at the White House briefing.
He added: "And we're using the full power of the federal government to defeat the coronavirus, and we will do whatever it takes. And we're doing, I think, really, really well. A lot of good things are going to happen."
The graphic below, provided by Statista, illustrates the spread of the COVID-19 virus in the U.S., as of March 16.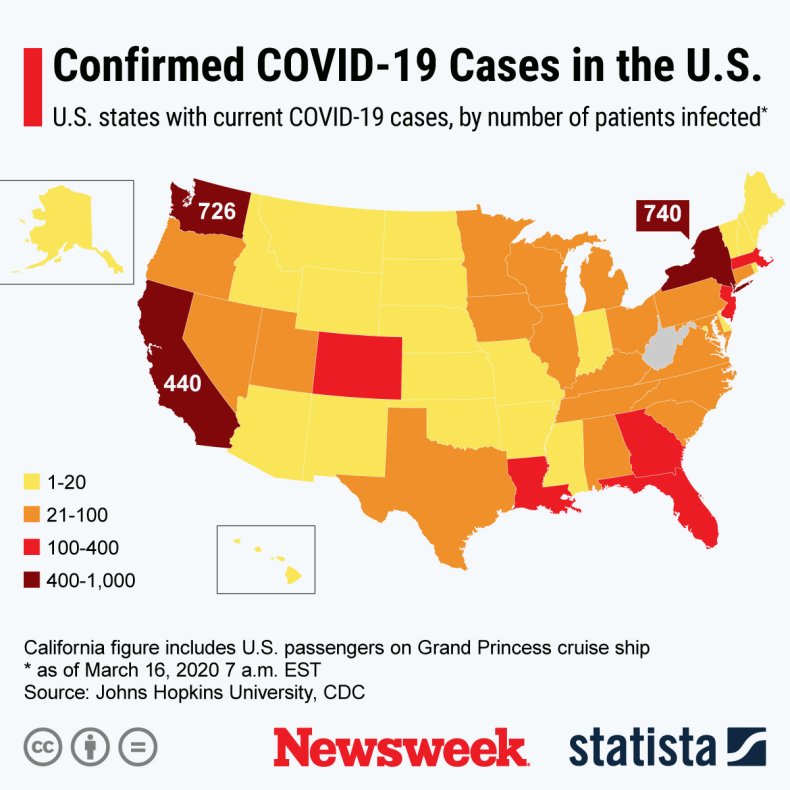 World Health Organization advice for avoiding spread of coronavirus disease (COVID-19)
Hygiene advice
Clean hands frequently with soap and water, or alcohol-based hand rub.
Wash hands after coughing or sneezing; when caring for the sick; before; during and after food preparation; before eating; after using the toilet; when hands are visibly dirty; and after handling animals or waste.
Maintain at least 1 meter (3 feet) distance from anyone who is coughing or sneezing.
Avoid touching your hands, nose and mouth. Do not spit in public.
Cover your mouth and nose with a tissue or bent elbow when coughing or sneezing. Discard the tissue immediately and clean your hands.
Medical advice
If you feel unwell (fever, cough, difficulty breathing) seek medical care early and call local health authorities in advance.
Stay up to date on COVID-19 developments issued by health authorities and follow their guidance.
Mask usage
Healthy individuals only need to wear a mask if taking care of a sick person.
Wear a mask if you are coughing or sneezing. Masks are effective when used in combination with frequent hand cleaning.
Do not touch the mask while wearing it. Clean hands if you touch the mask.
Learn how to properly put on, remove and dispose of masks. Clean hands after disposing of the mask.
Do not reuse single-use masks.
U.S. Coronavirus Update: Death Toll Hits 69, Virus Spreads to 49 States, More Deaths in New York, Washington State | News