U.S. Coronavirus Update, Map as Death Toll Passes 200, All Americans Will Likely Need to Stay Home for Several Weeks
Cases of the COVID-19 virus in the U.S. have reached nearly 4,300 and soared past 254,000 globally, including 10,400 deaths. At least 205 deaths have been reported in the U.S., including the first fatalities in Oklahoma, Mississippi, and Maryland. More than 87,000 people have recovered from infection to date, according to the latest figures from Johns Hopkins University.
The virus was first detected in China's Wuhan city of the Hubei province and the country claims it has been largely contained, reporting no new domestic cases. More cases have now been reported outside China than within. China has nearly 81,200 cases, with more than 3,100 deaths and more than 70,000 recoveries.
Americans will likely need to stay home for several weeks
Americans will likely need to continue to practice social distancing by staying home for at least "several weeks," the director of the National Institute of Allergy and Infectious Diseases (NIAID), Dr. Anthony Fauci, warned on Friday.
Get your unlimited Newsweek trial >
There are at least 14,322 confirmed cases in the U.S. as of Friday.
More than half of the cases in the country are in Washington state, New York, and California, confirmed a health expert on the COVID-19 virus task force, Dr. Deborah Birx.
More than 50 percent of the U.S. cases are in 10 counties, Dr. Birx added.
A recent spike in cases in California has prompted a "stay at home" order to be issued across the entire state on Thursday.
Get your unlimited Newsweek trial >
Dr. Fauci warned in an interview with the Today show on Friday, "I cannot see that all of a sudden, next week or two weeks from now it's [the practice of social distancing] going to be over. I don't think there's a chance of that. I think it's going to be several weeks."
"If you look at the trajectory of the curves of outbreaks and other areas, at least going to be several weeks," he said.
"I think we should do everything we possibly can do. I mean, in all sectors, because obviously as I've said so many times, when you think you're maybe overreacting, you probably are not acting as forcefully as you should. So as we've always said, we've got to try very much to stay ahead of the curve."
Dr. Birx also noted at a White House press briefing on Thursday, "We are very concerned, and remain concerned, in urban areas where mitigation and social distancing is absolutely crucial. The issue of decreasing spread due to contaminated counters and other things in restaurants and bars, as well as movie theaters, is absolutely critical."
California saw a recent spike in cases, which saw 126 new infections confirmed over a 24-hour period and in some parts of the state, the case rate is "doubling every four days. Moreover, we have community acquired transmission in 23 counties with an increase of 44 community acquired infections in 24 hours," California Governor Gavin Newsom noted in a letter to President Donald Trump on Wednesday.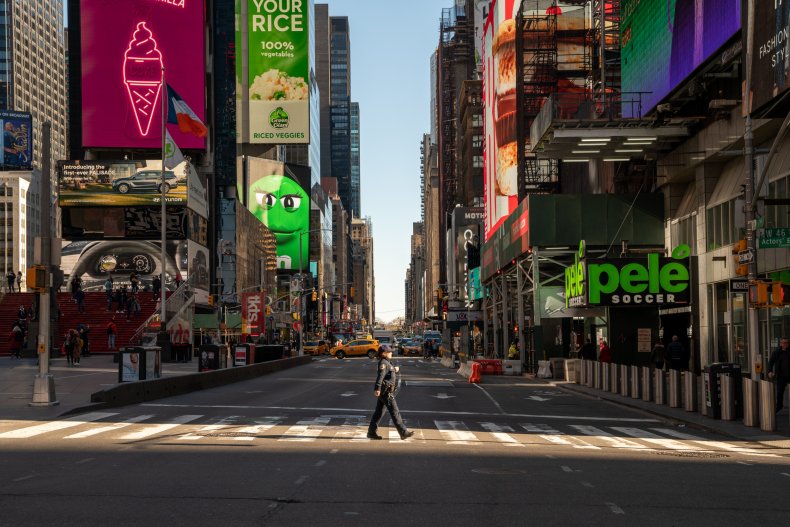 New York issues state mandate for workers to stay home
New York Governor Andrew Cuomo will sign an executive order requiring all workers from non-essential services to stay at home.
Tighter precautionary measures have been introduced to help protect those most at risk, including those aged 70 and over.
All non-essential gatherings of any size have been canceled.
There are now at least 4,152 cases and 38 deaths in New York state, the governor's office confirms.
At least 2,469 cases are in New York City and 342 are in Nassau County.
"I will sign an Executive Order mandating that 100% of workforce must stay home, excluding essential services. This order excludes pharmacies, grocery stores, and others," Cuomo confirmed in a post on his official Twitter account.
The executive order to implement "work-from-home policies" is effective March 20, and businesses that depend on in-office staff must decrease their in-office workforce by 50 percent, the governor confirmed.
He also announced on Friday, "Non-essential gatherings of individuals of ANY size for ANY reason are cancelled at this time."
The governor added, "I am announcing Matilda's Law to protect NYers age 70+ and those with compromised immune systems: -Remain indoors -Pre-screen visitors by taking temperature -Visitors should wear masks - Stay 6 feet away from others We are laser focused on protecting those most at risk."
Cuomo also announced that "New York will implement a 90-day moratorium on evictions for residential and commercial tenants. We will do all we can to help those financially suffering because of the #COVID19 pandemic," on his official Twitter account.
The graphic below, provided by Statista, illustrates the spread of the COVID-19 virus the U.S.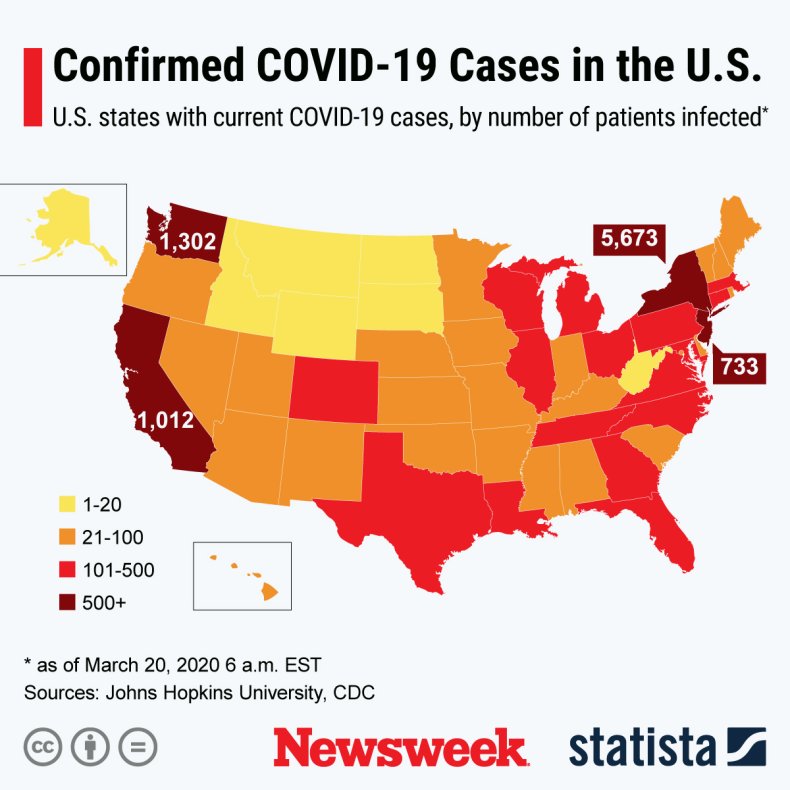 First deaths in Oklahoma, Mississippi, Maryland

The first death in Mississippi was that of a man in his 60s who had chronic underlying health conditions, the state's department of health confirmed. The state has reported 80 cases so far and 30 new cases on Friday, the department confirmed.
Officials from the Tulsa Health Department in Oklahoma confirmed Thursday that a man in his 50s and a resident of Tulsa County, died on Wednesday. He tested positive for the virus on Tuesday.
The latest death, the state's first fatality, was reported to be a case of community spread, meaning the patient had no known link to the virus either through travel or contact with an infected individual. Any others who may have been exposed to the patient have been notified, health officials confirmed.
Maryland's first virus-related death was that of a man in his 60s with underlying health conditions. He had no known travel history, Maryland Governor Larry Hogan confirmed at a press conference Thursday.
Maryland also reported a 5-year-old girl from Elkridge Elementary School was infected, making her the youngest in the state to be infected,Howard County officials confirmed.
The state's health department confirmed there are 149 confirmed cases in the state, which saw an "88% increase in the last 48 hours," Hogan said on Thursday.
The U.S. death toll reaches 205
Washington state has 74 deaths (up from 68 previously).
New York has 38 deaths (up from 20 previously).
California has 18 deaths.
Louisiana has 10 deaths.
Florida has nine deaths.
New Jersey has nine deaths.
Georgia has 10 deaths (up from four).
Texas has five deaths.
Colorado and Illinois each have four deaths.
Oregon, Connecticut, Michigan each have three deaths.
Indiana, Kentucky, Virginia each previously reported two deaths.
Oklahoma, Mississippi, Maryland each reported their first deaths.
Nevada, South Carolina, Kansas, Missouri, Pennsylvania, South Dakota each previously reported a single death.
Data on COVID-19 cases is from Johns Hopkins University unless otherwise stated.
The graphic below, provided by Statista, illustrates the recovery curve compared to the infection curve of the virus.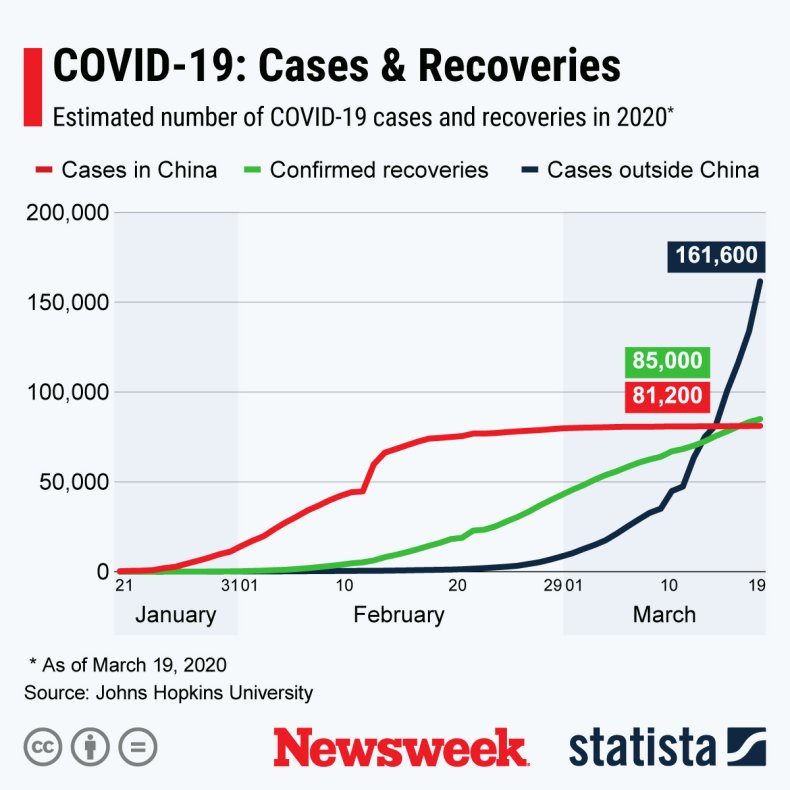 World Health Organization advice for avoiding spread of coronavirus disease (COVID-19)
Hygiene advice
Clean hands frequently with soap and water, or alcohol-based hand rub.
Wash hands after coughing or sneezing; when caring for the sick; before; during and after food preparation; before eating; after using the toilet; when hands are visibly dirty; and after handling animals or waste.
Maintain at least 1 meter (3 feet) distance from anyone who is coughing or sneezing.
Avoid touching your hands, nose and mouth. Do not spit in public.
Cover your mouth and nose with a tissue or bent elbow when coughing or sneezing. Discard the tissue immediately and clean your hands.
Medical advice
If you feel unwell (fever, cough, difficulty breathing) seek medical care early and call local health authorities in advance.
Stay up to date on COVID-19 developments issued by health authorities and follow their guidance.
Mask usage
Healthy individuals only need to wear a mask if taking care of a sick person.
Wear a mask if you are coughing or sneezing. Masks are effective when used in combination with frequent hand cleaning.
Do not touch the mask while wearing it. Clean hands if you touch the mask.
Learn how to properly put on, remove and dispose of masks. Clean hands after disposing of the mask.
Do not reuse single-use masks.
U.S. Coronavirus Update, Map as Death Toll Passes 200, All Americans Will Likely Need to Stay Home for Several Weeks | U.S.