U.S. Correctional Facilities Report Steep Rise in Coronavirus Infection Rate
As the coronavirus continues to spread throughout the United States, jails and prisons are reporting high infection rates that confirm early concerns regarding the ease with which the virus can spread through correctional facilities.
New York City's Department of Correction was identified by the New York Times as one of the country's recent COVID-19 hotspots, with Rikers Island reporting spikes in inmate and employee cases earlier this month. In data released Wednesday by the New York City Board of Correction, 334 inmate cases were reported for an infection rate of 8.24 percent, with two deaths confirmed. In contrast, the infection rate in New York, which has been the hardest-hit state in U.S. thus far, is closer to 1.3 percent.
"This is not a generational public health crisis, rather it is a crisis of a magnitude no generation living today has ever seen," Ross MacDonald, the chief physician at Rikers Island, said in a tweet last month. "I can reassure my patients that I will get them the best possible care, but we expect that 20% of those infected will need our overburdened hospitals and 5% will need ventilators that many other citizens will also need."
According to data released by The Legal Aid Society, all inmate cases reported in New York City were at Rikers Island. However, the New York City Department of Corrections did not respond to Newsweek's request for comment to confirm that information or the number of cases connected to the prison.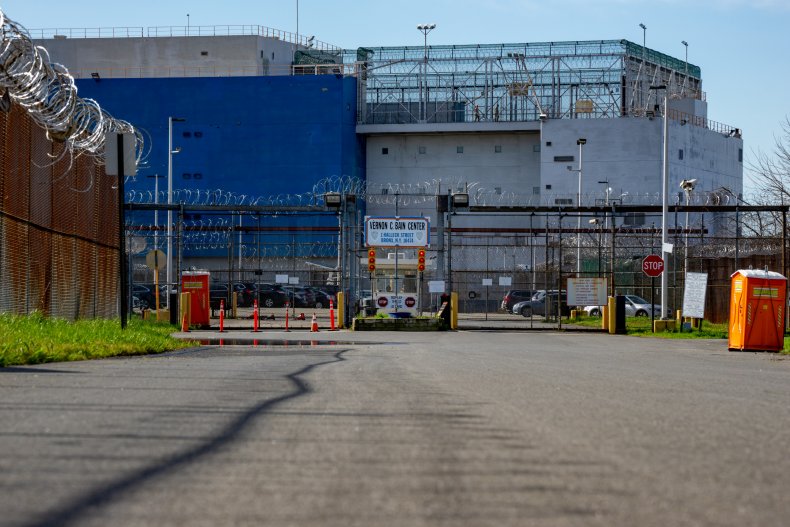 Several states away, Cook County Jail in Chicago had 337 confirmed inmate cases Wednesday for an infection rate of 7.49 percent, with three deaths confirmed.
Another virus hot spot has been identified in recent days in Michigan's Department of Corrections. Twelve inmate deaths and 486 positive cases were confirmed in the state's correctional facilities by Thursday, with an especially high number of cases reported in Parnall Correctional Facility. According to Chris Gautz, the Michigan Department of Correction's public information officer, 162 of 182 inmates tested for COVID-19 at Parnall have been positive and four inmates have died. Sixty-three employees have also tested positive for the virus.
As states across the country began enforcing stay-at-home orders in mid-March, inmate advocates were quick to voice concerns over how those behind bars would protect themselves. Many states have released some nonviolent criminal offenders in an attempt to reduce prison and jail populations. Rikers Island was among those that released inmates, with about 650 going free at the end of March as the number of confirmed cases at Rikers began rising.
In February, the Federal Bureau of Prisons (BOP) launched a plan of attack for navigating the pandemic, which it said included outfitting prisons with tips and tools needed for virus screenings and guidelines for how staff could prevent the virus from spreading. At the state level, many facilities banned inmate visitation in an effort to prevent community spread. Staff members were also encouraged by the BOP to disinfect common areas frequently, wear protective gear and isolate those who exhibited possible COVID-19 symptoms.
Despite these actions, it has proven difficult to prevent rapid spread once the virus takes hold in any one facility. According to a recent Forbes assessment, the virus continues infecting BOP inmates and staff members at an exponential rate, with 449 federal inmates and 280 staff cases reported on Wednesday.
In response to the rapid spread among inmates and correctional facility employees, the Department of Justice is expected to launch an investigation to determine whether the BOP is doing everything it can to mitigate the spread, according to a report by the Associated Press.