U.S. Cotton Sends Coronavirus Nasal Swabs in 'Comforts For Baby' Packaging, Confuses Health Officials
Over the past weekend, Washington state's Department of Health received a shipment of thousands of coronavirus test nasal swabs from U.S. Cotton LLC., but the package was incorrectly labeled as "baby cotton swabs."
"The swabs arrived packaged in boxes that erroneously described them as 'cotton comfort swabs,'" read a statement from Washington's Joint Information Center on Saturday, according to King 5 News in Washington. "These swabs are actually spun polyester swabs, not cotton swabs, and are 'Q-tip style swabs' that according to the federal government can be used for coronavirus testing."
According to the statement, the department received over 20,000 of these swabs, which sparked questions among state government officials.
Shortly after receiving the swabs, Reed Schuler, a senior advisor to Washington Governor Jay Inslee, called the White House coronavirus task force, asking why the state's department of health received the wrong shipment.
"I asked, 'What exactly is this shipment we're getting?' And they said, 'Oh sorry, ignore the packaging. You were supposed to get a memo explaining that shipment,'" Schuler said Friday, according to The Seattle Times.
Following Schuler's call, the task force sent a memo from U.S. Cotton LLC., the company behind the shipment, explaining that the product packaging did not reflect the actual contents of the shipment.
"In our effort to deliver COVID-19 testing swabs as quickly as possible, for those with the greatest need, existing packaging was used," the memo read. "The packaging used (comfort for baby cotton swabs), for a portion of the initial FEMA (Federal Emergency Management Agency) production does not accurately reflect the contents."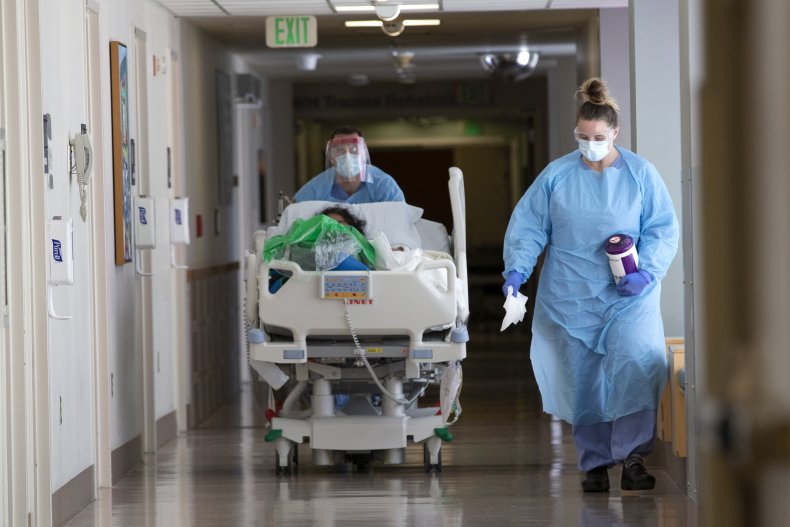 "Be assured that the printed packaging does contain the F.D.A. approved sterilized polyester spun swab for specimen collection of COVID-19," the memo adds. "All future shipments will contain 'blank' inner packaging printed with lot# and date code."
The unusual packaging sent to Washington's Department of Health comes as part of the White House coronavirus task force's effort to increase testing across the country.
"During the month of May, FEMA and HHS will be delivering 12.9 million swabs to states nationwide," President Donald Trump said during a recent press briefing. "We already have them; the delivery will be very quick. We're prepared to provide millions of additional swabs if any state is on a pace to surpass its goal. And their goals are very high. We've set them very high, and we've told them to set them very high."
A similar situation happened in Illinois earlier this month, as the state received a shipment of packages marked "Comforts for Baby: Cotton Swabs." Shortly after, FEMA issued a statement saying that while the packaging seemed wrong, the contents were correct.
"In an effort to answer our country's call to action and expedite the production and delivery of the new spun polyester swab, US Cotton used existing packaging for its polyester swabs, which does not accurately communicate the content of each package. Going forward, the spun polyester swab packaging will be blank," FEMA wrote in a statement to WTTW News in Illinois on Wednesday. "The shipment of 23,400 swabs received by the state of Illinois on Monday did contain the FDA approved sterilized polyester spun swab for the specimen collection of COVID-19."
Newsweek reached out to Washington's Department of Health for further comment but did not receive a response in time for publication.