U.S. Only Country to Say It Should Have COVID-19 Vaccine First in Survey
In a survey of over 130 countries, the U.S. was found to be the only one where people said they should have a coronavirus vaccine first, rather than it being rolled out worldwide.
Some 11,657 people from 137 countries took part in the Life With Corona survey by the International Security and Development Center, a non-profit academic institute based Germany. Participants were asked to imagine a scenario where their country developed a vaccine against the coronavirus, and to pick whether they believed it should be made available there first then elsewhere; to countries with the highest infection rates; or all countries at the same time.
Among countries where more than 150 people completed the survey, the U.S. was the only place people wanted coverage there first, and worldwide second, at 46 percent of respondents.
The global option was the first choice for more than 50 percent of participants in most countries, including Germany, Argentina, and Brazil. In Finland, Brazil and Portugal, over 40 percent of participants wanted special access for their country.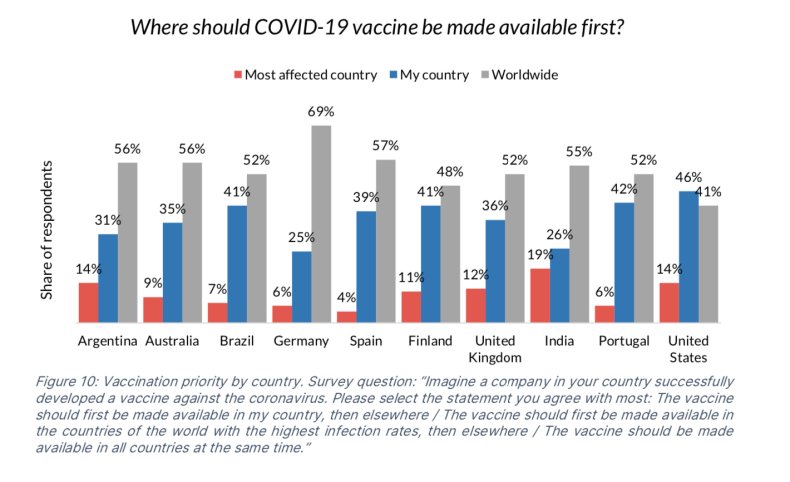 However, a separate poll by Morning Consult for the One Campaign published on Monday had contrasting findings in regards to what is known as vaccine nationalism.
In a poll of 1,986 registered voters in the U.S., 83 percent of Americans either strongly agreed or somewhat agreed that healthcare workers, the elderly and at-risk groups anywhere in the world should get vaccinated first, ahead of healthy people in the U.S.
Asked whether a vaccine should be made available in all countries at the same time, 77 percent either strongly or somewhat agreed. Over half (57 percent) said the vaccine should be distributed internationally in the most effective way possible to beat the pandemic everywhere.
Around nine months since the coronavirus was first recognized in China, almost 200 potential vaccines are being studied, with 41 in clinical trials according to the World Health Organization.
The latest polls on vaccine nationalism come amid a climate of skepticism among many in the U.S. about the coronavirus vaccines that are under development. This is despite the U.S. having led the world for the most confirmed coronavirus cases for months—currently at over 7.2 million of 33.9 worldwide—as well as for deaths—at almost 207,000 deaths of the total 1 million.
A Newsy/Ipsos poll published late last month found 56 percent of Americans would be interested in getting a coronavirus vaccine if it was approved by the U.S. Food and Drug Administration, down from 69 percent two months ago. Thirty four percent said they were not interested.
This article has been updated with information about COVID-19 in the U.S. and the Life With Corona survey.