U.S. Can't Criticize China Over Xinjiang Prison Camps Because it is Still Locking up Migrant Children, State Media Says
China has launched an angry defense of human rights abuses in its western Muslim-majority province of Xinjiang, where more than 1 million people are believed to have been detained in "re-education" camps in what has been described as a cultural genocide.
State-backed newspapers published defensive editorials on the issue this week after a trove of leaked official documents uncovered the inner workings of the camps, where inmates are reportedly forced to abandon traditional cultural and religious practices and beliefs, replacing them with loyalty to the Communist Party and adherence to China's majority Han culture.
Meanwhile, Chinese authorities have established a mass surveillance state across the Xinjiang region. Officials have also ordered the destruction of culturally important buildings like mosques and the reconstruction of towns and cities to make residents easier to track and control.
China has claimed that the "vocational" camps are designed to teach inmates new skills and stamp out violent religious extremism. Hundreds have been killed by Islamist and secessionist cells operating from China's western regions, but foreign governments and human rights groups have argued that Beijing's response is disproportionate.
Beijing has framed international outrage over its Xinjiang human rights abuses as baseless and hypocritical.
In an opinion article published Tuesday, the People's Daily—the Communist Party's official publication—dismissed American criticism of the Xinjiang camps given the mass migrant detentions taking place at the southern border.
Under the pen name Zhong Sheng—often used by the People's Daily to express its foreign policy views—the newspaper noted that a record number of 69,550 unaccompanied migrant children were detained by U.S. authorities between October 2018 and October 2019, representing a 42 percent annual spike.
The graphic below, provided by Statista, illustrates the number of people detained at the U.S. southern border.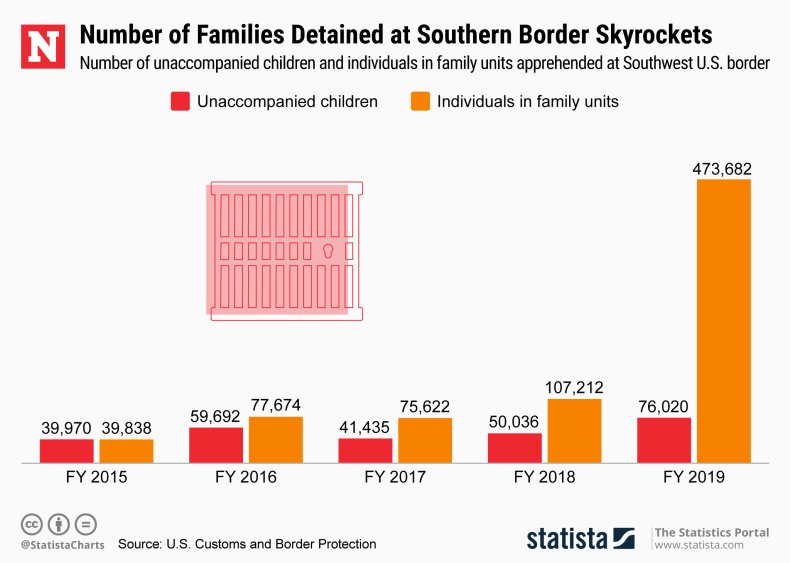 The author noted that the U.S. is the only nation in the world not to have ratified the United Nations Convention on the Rights of the Child. "When countries around the world are stepping up efforts to protect children's rights, the U.S. infringes on children's rights at will, which seems all the more despicable," the article read.
"The U.S. is always making a great fuss over human rights, pointing fingers at other countries and criticizing them for violations of human rights based on distorted facts," it added. "Never has it asked what contribution itself has made to the cause of human rights in the world."
In a clear reference to U.S. condemnation of China's approach to Xinjiang and Hong Kong, the People's Daily article claimed that Washington "tries to stir up troubles and sow discord in an attempt to interfere in other countries' internal affairs and create chaos in the international arena," all "under the guise of human rights."
"America's poor record on human rights revealed its hypocrisy and ruthlessness," the article added. "For the U.S., the international law is nothing more than an excuse" to use when America "intends to seize territories of other countries, overthrow other legitimate governments, or plunder other people's resources."
Chinese Assistant Foreign Minister Chen Xiaodong followed a similar line of attack in thinly-veiled comments made at the inaugural Middle East Security Forum in Beijing on Wednesday, according to the South China Morning Post.
Chen said Beijing would "firmly oppose double standards in anti-terrorism, oppose the linking of terrorism with specific religions, [and] oppose using human rights issues as excuses to smear and slander other countries' efforts on counterterrorism and extremism."