The United States is facing criticism for welcoming Ukrainian refugees after deporting Haitian migrants back to their homeland.
A senior Biden administration official told reporters Thursday that up to 100,000 Ukrainians and others fleeing Russia's invasion of Ukraine will be welcomed to the U.S. through its refugee program and other legal pathways. Since the invasion began in late February, more than 3 million Ukrainians have left their homes.
"By opening our country to these individuals, we will help relieve some of the pressure on the European host countries that are currently shouldering so much of the responsibilities for what is the largest refugee crisis in Europe since the Second World War," the official said.
But many questioned why the U.S. can aid Ukrainians after the administration deported thousands of Haitians who fled Haiti last year after the assassination of President Jovenel Moïse and a 7.2 magnitude earthquake. Viral images in September 2021 showing Border Patrol agents on horses corralling migrants prompted outrage.
"This is good, but also underscores just how badly Haitian migrants were treated and are STILL being treated," New York Times columnist Charles Blow wrote on Twitter. "They're still being deported!"
Representative Andy Levin, a Michigan Democrat, tweeted that "the U.S. can't claim to be a global safe haven for the oppressed & persecuted if we turn away refugees seeking safety because of where they're from."
"Deporting Haitian refugees—and other Black + Brown immigrants—and upholding Title 42 is an appalling policy that[Biden] must stop," Levin added.
Title 42 calls for the removal of individuals entering the country from nations where a contagious disease was present, and was implemented by the Trump administration in March 2020 to expel migrants amid the COVID-19 pandemic. The rule has resulted in thousands of Central American and Haitian migrants being turned back at the U.S.-Mexico border.
Human Rights Watch released a report this week detailing the "chaos" Haitian migrants are returned to when deported. The watchdog group said 25,765 people were expelled or deported to Haiti between January 1, 2021 through February 26, 2022. Of those, the U.S. returned 79 percent or 20,309 people.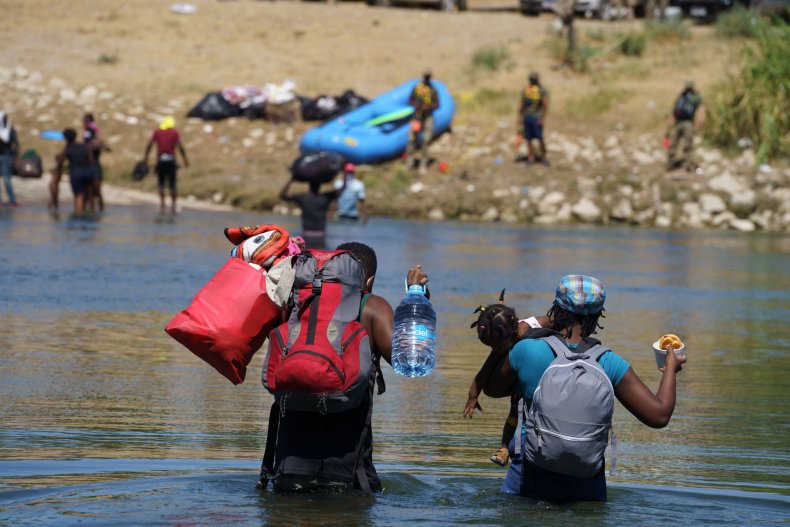 Ukrainians seeking refuge at the border can be exempt from Title 42, Department of Homeland Security Secretary Alejandro Mayorkas told reporters last week, as can other migrants making "credible fear" claims.
Mayorkas said the exemptions are made on a case-by-case basis, as officials "address an individual's claim for humanitarian relief as they are presented to us."
Human Rights Watch said the U.S. "has typically not given people returned to Haiti under Title 42 an opportunity to express their fears of persecution or violence or to apply for asylum, in violation of international law."
Democratic Congresswoman Sarah Jacobs also called on the Biden administration to end Title 42, as well as lift the refugee cap. President Joe Biden has set a limit of resettling 125,000 refugees in the U.S. from all countries this fiscal year.
Sawyer Hackett, co-host of the Our America podcast with former presidential candidate and Obama administration official Julián Castro, also criticized the Biden administration over Title 42.
Newsweek reached out to the White House as well as the Department of Homeland Security for comment but didn't receive a response before publication.
Refugees International said in a statement to Newsweek that it applauds the U.S. decision to accept up to 100,000 Ukrainians. However, the group also advocated for others seeking refuge at the border.
"We believe that those seeking refuge at the U.S. border should be given a chance to seek protection and that expulsion to Haiti is unconscionable especially now, given the violence, political instability, and humanitarian crisis prevailing there," said Yael Schacher, Refugee International's deputy director for the Americas and Europe. "The European response to Ukrainians shows that the United States can do so much more to welcome people seeking safety at its border. We should not pit refugees from abroad against asylum seekers at our border, a key tactic of the previous administration that led to a race to the bottom for both. The goal should be to the other way around: to extend the protection we are according to Ukrainians to other groups as well."
Update 03/24/22, 4:11 p.m. ET: This story has been updated with comment from Refugees International.