First Sharks, Now Crocodiles: Hollywood Beach Put on Lockdown After Reptile Caught Sunbathing in Florida
Beachgoers in Florida are usually more worried about the rare prospect of being attacked by a shark than by a crocodile.
But on Monday, people were shocked to find an unwelcome guest soaking up the sun on Hollywood Beach—which lies between Fort Lauderdale and Miami—after a 6-foot crocodile showed up.
The crocodile was first spotted near the pier at Dana Beach, before drifting southward and coming ashore around Johnson Street, according to a spokeswoman for Hollywood, Joann Hussey, the Sun-Sentinel reported.
Video footage of the crocodile captured it resting on the shore as crowds of curious onlookers gathered behind a cordon set up by police.
Hollywood Mayor Josh Levy got in on the action too, accompanying police on a dune buggy as they tracked the crocodile along the beach. "So when it gets to Hallandale, we're done, right?" Levy joked, referring to the next city south, the Sun-Sentinel reported.
Officers from the Florida Fish and Wildlife Conservation Commission managed to snare the crocodile by the neck and tape its mouth shut. They placed the reptile on a truck and drove it from the beach to cheers from the crowd.
A spokeswoman for the commission, Katie Purcell, said the crocodile would be evaluated, tagged and released into an appropriate habitat.
Read more: The death of a 100-year-old monster crocodile could spark a deadly power struggle in Australia's rivers
American crocodiles are found in coastal areas across the Caribbean, including south Florida. They live in saltwater areas but occasionally end up in freshwater areas of southeast Florida when moving through the canal system.
The reptiles rely on external sources of heat to regulate their body temperature and so often bask in the sun with their mouths open—often misinterpreted as a sign of aggression.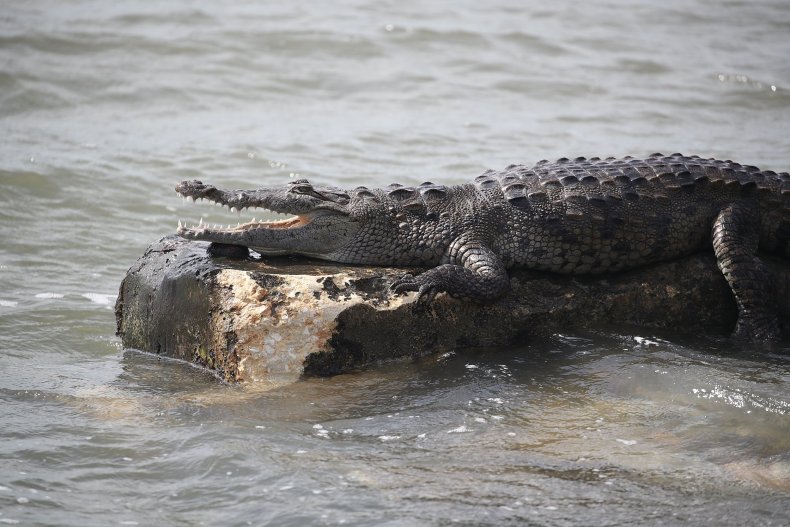 Male crocodiles in Central and South America can reach up to 20 feet in length, making it one of the largest crocodile species in the world. Crocodiles in the United States, however, rarely exceed 13 feet. The reptiles eat mainly mammals, birds and fish, and are highly unlikely to attack humans.
Crocodiles are a protected species in the U.S., a status that has contributed to population growth, from a low of around 300 in the 1970s to between 1,500 and 2,000 today, not including hatchlings.
The reptile's appearance on Hollywood left many locals surprised. Floridians are usually concerned by the occasional shark attacks in their state, even though the University of Florida says that you are 75 times more likely to be killed by lightning than by a shark.
But the crocodile's appearance gave beachgoers something else to think about. "Worry about sharks—now we're worried about crocodiles on beaches. It's kind of crazy," one man told local news outlet WSVN.