U.S. Crypto Crackdown Begins? Bitcoin Exchanges Face Major New York Probe
More than a dozen cryptocurrency exchanges operating in the U.S., including industry giants Coinbase and Bitfinex, are facing a fresh inquiry by New York Attorney General Eric Schneiderman, his office confirmed Tuesday.
A total of 13 firms have been sent lengthy questionnaires demanding clarity about how their businesses operate. Schneiderman—who described the initiative as a fact-finding inquiry—has asked for key company information including the names of executives in charge, what foreign countries they trade in, how they verify customers' identities and their cybersecurity and privacy policies.
The crypto industry experienced a boom last year, with bitcoin's spike in value attracting a plethora of new investors. U.S. exchanges—used to buy and sell the virtual currencies—operate in murky legal territory. Governments around the world are now investigating how the industry complies with financial law.
In March this year, the U.S. Securities and Exchange Commission (SEC) said it would force such exchanges to register with the agency or face legal action and fines. Bitcoin, and other cryptocurrencies, remain both unpredictable and volatile. Exchange hacks have resulted in the loss of hundreds of millions of dollars.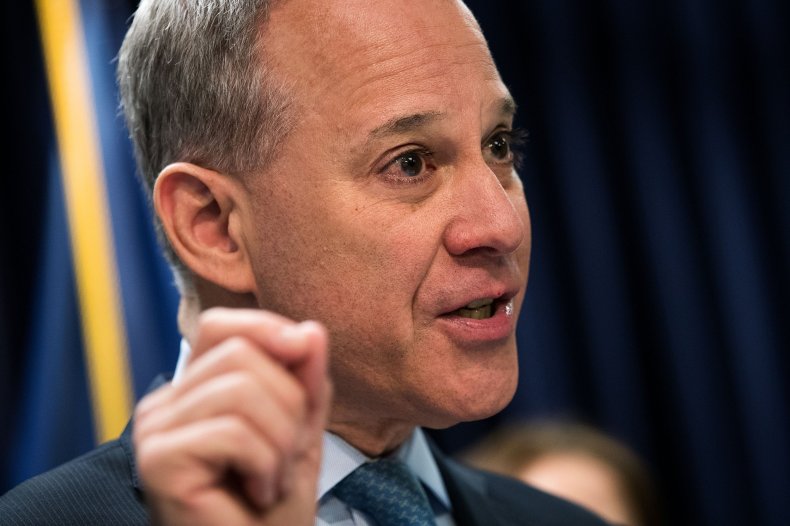 "With cryptocurrency on the rise, consumers in New York and across the country have a right to transparency and accountability when they invest their money," Schneiderman said in a statement on Tuesday.
"Too often, consumers don't have the basic facts they need to assess the fairness, integrity and security of these trading platforms," he added. "[The] initiative sets out to change that, promoting the accountability and transparency in the virtual currency marketplace that investors and consumers deserve."
In addition to company data, the letter asks for the firms' policies on the operation of bots, limitations on use of non-public trading information and what safeguards are in place to protect funds from theft. The notice was sent by senior advisor Simon Brandler and assistant attorney general John Castiglione.
Responses must be returned by May 1, the office said.
The questionnaires have been sent to some of the most popular cryptocurrency trading platforms in the world. The complete list was made up of: Coinbase, Gemini Trust Company, bitFlyer, Bitfinex, Bitstamp, Kraken, Bittrex, Poloniex, Binance, Tidex, Gate, itBit Trust Company and Huobi Global Limited.
A risky game?
"Bitcoin, ether and other virtual currencies have captured the imagination of millions of people worldwide," the office wrote in a press release Tuesday.
"Representing a technological advance, a medium of exchange, and an investment opportunity all at once, virtual currencies are inspiring innovators, entrepreneurs, and investors—and are fueling an increasingly diverse ecosystem of companies and applications," the statement added. "But virtual currency is also a highly speculative sector, featuring significant volatility, instability, and risk."
Bitcoin's price lingered around $8,000 on Wednesday morning, rising again in the wake of a sudden drop which analysts suggested could have been the result of a single significant sell-off. Despite initial concerns the downward trajectory was the result of the Schneiderman inquiry, that news broke hours prior.
Compliance and insurance lawyer Stephen Palley tweeted: "What crypto people often fail to appreciate is that when you do business in the U.S. you have to contend with regulators in each of the 50 states and D.C., not just the Feds."
He added later in the thread: "For those of you outside of the U.S., or anyone who doesn't follow this kinda stuff, Schneiderman is what you might call an activist AG (or at least active). Being in his crosshairs isn't a great thing."