A U.S. military contractor killed in Afghanistan on Monday marks the second known incident in the past week of military contractors dying in the region.
Retired Chief Warrant Officer Four Christian H. McCoy was killed Monday in Afghanistan, one year after hanging up the official service uniform he wore for 30-years in the U.S. military—most of it within the ranks of Army Special Forces.
Newsweek confirmed McCoy's death after speaking to multiple Defense Department sources, interviewing his former wife on Wednesday and obtaining a confidential letter from a major U.S. military defense contractor.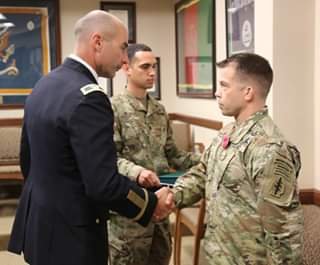 Colonel Bradley D. Moses (left) awards Chief Warrant Officer Four Christian H. McCoy (right) the Legion of Merit Award for retiring with 28 years of outstanding service and exceptional commitment to professionalism in May 2018.
3rd Special Forces Group-Airborne Facebook Page
While details are scarce at the moment surrounding the circumstances of McCoy's death, a Defense Department source, who asked not to be named, told Newsweek that a Mine-Resistant Armored Vehicle was damaged along with two remote-controlled weapon systems, known as CROWs, at the time of McCoy's death on Monday.
Contacted by Newsweek on Wednesday, neither U.S. Special Operations Command nor CACI International, a major defense contracting company out of Arlington, Virginia, returned requests for comment.
Jan M. McCoy, the Green Beret's second wife, told Newsweek on Wednesday they haven't received any details from either the U.S. military or CACI yet as to how McCoy was killed.
In a confidential letter to company employees, Vice President Mark A. Haselton of The Wexford Group, a subsidiary of CACI, said McCoy, "died of wounds suffered during an operation." It's unclear what type of operation McCoy was on, his cause of death or where the incident occurred.
The former Special Forces soldier was a part of a Joint Expeditionary Team (JET), a specialized unit designed to counter the efforts of improvised explosive device manufacturing networks in a region as a part of a larger counterinsurgency operation.
"There are no words to express the sorrow we all feel on this tragic loss. I know each of us recognizes the hazards associated with the work that you do, especially on the JET," wrote Haselton on Tuesday. "As we reflect on this terrible loss, and as we remember Chris's family and help them get through the next few days, weeks and months, please never forget that the work that Chris was doing, and in fact the work that all of you do, has saved countless lives."
The CACI letter said McCoy's body will be flown to Dover Air Force Base in Delaware on Friday with JET members escorting.
McCoy leaves behind a wife; two children, Benjamin McCoy, 20, and Abigail McCoy, 15, from his second marriage; and his oldest daughter, Sydney Stewart, 25, from his first marriage.
The news of McCoy's death marks the second known U.S. contractor to die in America's longest war in the past week. Navy veteran Kevin Yali, 27 was buried on Wednesday, according to NJ.com.
Yali, who completed four deployments in the Navy, deployed as a private contractor to Afghanistan on June 1 and was killed in a mortar attack 18-days later on June 19.
But despite U.S. contractors being former service members, the Pentagon does not typically announce their deaths, unlike uniformed service members such as the two U.S. Army soldiers killed in a fierce close-quarters battle with the Taliban militants on Tuesday in the Tarin Kowt District of the Uruzgan province of Afghanistan.
A spokesperson for U.S Special Operations Command said releasing information about the death of a contractor is the responsibility of the company for which he or she works. DoD does not have the authority to release that information.
The services have the authority and responsibility to release information about the death of a service member. USSOCOM does not. DoD or the service release the information 24 hours after the next of kin notification is complete.
'1000 Percent Military'
When McCoy's son Benjamin was 9 or 10-years-old, his mother, Jan McCoy, let him skip a day from middle school to attend a special event with his father: the Bronze Star ceremony.
McCoy gave the medal, the nation's fourth highest honor, to Benjamin. For McCoy it was the job, not the award, that was the true accolade.
"He was 1000 percent military," Jan McCoy told Newsweek as she laid out family memories from their previous 15-year marriage. The two divorced in 2011.
"He just did his job and if you asked Christian what he did for a living, he would joke and say, 'you know those coffee machines on the Air Force airplanes, I fix those,' or he would tell people he was the post bus driver,' said Jan McCoy.
Born in California, but raised in Colorado, McCoy enlisted into the U.S. Army in August 1988 to be a cryptologic linguist within the U.S. intelligence community after graduating high school. He attended the Defense Language Institute in Monterrey, California where he learned to speak Czech, but later transitioned to Special Forces. He received his Green Beret in September 1993.
Life as a Special Forces soldier affords little time to take stock of all one has lost in service to the country. Birthday parties and wedding anniversaries get lost amid back-to-back deployments and moving from one base to another to attend another warfare school, and then, another.
And McCoy did attend some of the most prominent military schools the Defense Department has to offer: Jump School and Free-Fall School. Ranger School and Sniper School. He passed them all.
McCoy finally retired from the U.S. Army in May 2018. Army Colonel Bradley D. Moses, who is now the chief of staff of the Army's Special Operations Command, awarded McCoy the Legion of Merit for his years of service in uniform.
A year later, Benjamin McCoy, now 20, is an ROTC student entering his junior year at the University of Massachusetts at Amherst—following in his dad's footsteps. But for the moment, the world has stopped. McCoy's children, family and loved ones have begun to grapple with the new, almost insidious reality of life without the Green Beret.
"We're all kind of dumbfounded how he made it through three decades of no problems and then he goes back to Afghanistan as a contractor and within six months this happens ... I'm shocked that he's not in our world anymore," said Jan McCoy. "But you know, he really believed in the Special Forces motto: Free the oppressed."
Editor's Note 12:40 p.m. EDT: This story has been updated with comment from a spokesperson for U.S. Special Operations command, who provided details on DoD policy regarding information about contractor deaths.