US Budget Deficit Will Breach $1 Trillion Two Years Earlier Than Predicted
The federal budget deficit is projected to reach more than $1 trillion for the 2020 fiscal year, a figure that would arrive two years sooner than previously predicted, according to a new report from the Congressional Budget Office (CBO) released Wednesday.
This fiscal year, which ends September 30, will see a deficit of about $960 billion, a figure that CBO says will likely climb to at least $1 trillion for fiscal year 2020. Previously, the non-partisan federal agency that provides budget and economic information to Congress forecasted the deficit to be $896 billion for 2019 and $892 billion for 2020.
The news of a deficit that is ballooning faster than expected comes amid President Donald Trump's consideration—and then reversal—to implement payroll and capital gains tax cuts, a clear sign that, despite rhetoric from Trump himself and senior administration officials, the White House is concerned about the possibility of a recession in the near future. The move would almost certainly further raise the deficit.
However, Trump backtracked Wednesday, stating he's "not looking at a tax cut now. We don't need it. We've got a strong economy." The remarks were a complete reversal from comments he made to reporters less than 24 hours earlier, where he said he's "been thinking about payroll taxes for a long time."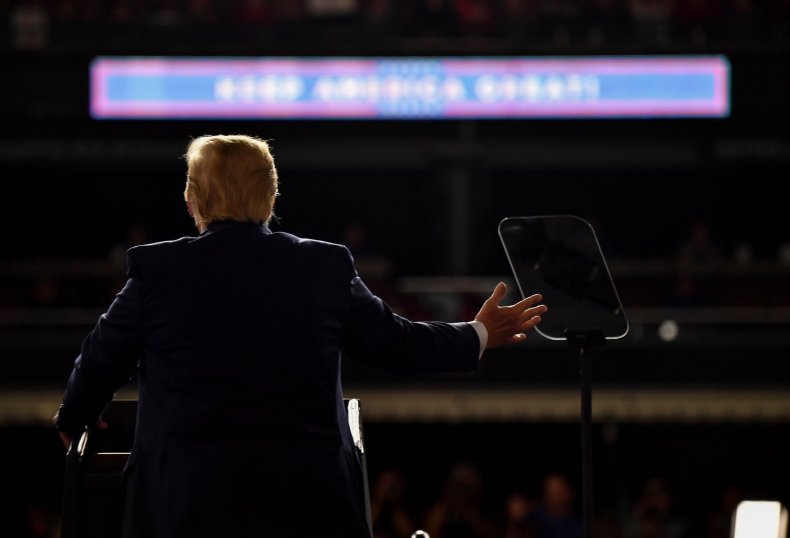 The inflated budget deficit forecast also comes after a massive bipartisan budget deal between Congress and the Trump administration earlier this month that will increase the deficit by raising military and other spending by hundreds of billions of dollars over the next two years, in addition to Trump's 2017 tax cuts having an impact on federal revenue. The CBO has previously projected the new law, which made tax cuts for corporations permanent and for individuals temporary, will add nearly $2 trillion to the deficit by 2028.
Then-candidate Trump in 2016 once promised to the Washington Post he would be able to eliminate the national debt "over a period of eight years."
Trump on Wednesday also continued to berate his handpicked Federal Reserve chair, Jerome Powell, for "[raising interest] rates too fast, too furious."
The CBO report further predicted Trump's tariffs on Chinese goods will deflate U.S. gross domestic product by 0.3 percent in 2020 thanks to an impact on business investments and that there would be a per year average deficit of $1.2 trillion between 2020 and 2029.