U.S. Demands Millions From Iran in 1996 Terror Attack Compensation
An American judge has ordered Iran to pay $104.7 million in compensation to those affected by a 1996 attack in Saudi Arabia that killed 19 U.S. airmen.
The truck bomb went off outside the Khobar Towers apartment complex in eastern Saudi Arabia on June 25, 1996. The accommodation was being used as quarters for Western troops deployed to the country, and more than 400 people of various nationalities were also injured in the blast.
Reuters reported that Iran and the Islamic Revolutionary Guard Corps (IRGC) did not defend themselves against accusations of responsibility, allowing Chief Judge Beryl Howell to enter a default judgement in favor of the plaintiffs.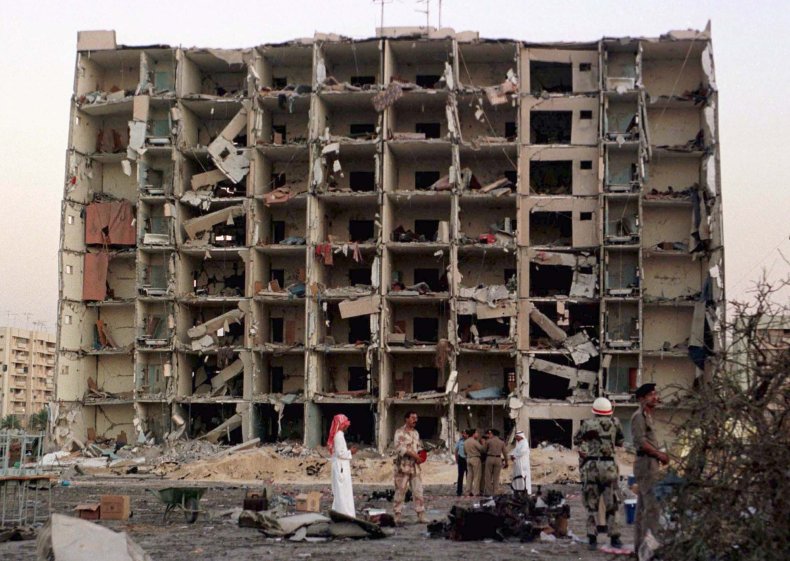 Howell said 15 troops who survived the attack are eligible for compensation for assault, battery and intentional infliction of emotional distress, while 24 relatives of those affected could collect for the emotional suffering of watching their family members in distress.
Nonetheless, it is unclear how any of the plaintiffs will collect. Similar previous orders from U.S. judges have simply been ignored by Iran, and with relations between the two nations already at near-rock bottom it would be almost unthinkable for Tehran to consider payment.
The Khobar Towers attack targeted troops involved in Operation Southern Watch, in which the U.S.-led coalition was enforcing a no-fly zone over southern Iraq in the aftermath of the Gulf War. The Shiite militant group Hezbollah Al-Hejaz—which is backed by Iran and traditionally operated in Saudi Arabia, Kuwait and Bahrain—is believed to have been behind the attack.
Thirteen Hezbollah militants were indicted in June 2001 in a federal court in Virginia over links to the operation, which sheared off the face of an eight-storey apartment building and left a 35-foot deep and 85-foot wide crater in the complex parking lot.
Paul Gaston, a lawyer for the plaintiffs, told Reuters his clients "are very pleased with the decision, and look forward to pursuing collections." Despite the difficulty of collecting the funds, he added, "Having the court ruling gives them some measure of justice."
A federal judge has already ordered Iran to pay compensation for the attack. In 2007, a Washington judge awarded $254.4 million to the family members and estates of 17 Americans who were killed. This was also a default judgement as Iran did not offer a defense. That ruling claimed the bomb was built at a joint Hezbollah-IRGC base in Lebanon's Bekaa Valley and that the attack was approved by Iran's Supreme Leader Ayatollah Khameini.
The difficulty in collecting compensation for such cases prompted the American government to create the U.S. Victims of State Sponsored Terrorism Fund in 2015. Most of the money in the fund has been collected from foreign banks accused of violating U.S. sanctions on business with Iran. According to The Washington Post, more than $1 billion has been collected thus far.