U.S. Demands for More NATO Spending Annoy Russia
U.S. attempts to convince European allies to raise defense spending has caused concern in Russia, which has accused the NATO alliance of preparing for "made-up threats."
President Donald Trump has repeatedly called attention to the fact that the U.S. is the biggest contributor to NATO, and his administration has made it a high priority to convince allies to increase spending. A leaked letter from Defense Secretary James Mattis to his British counterpart, Gavin Williamson, expressed specific warnings about the U.K.'s defense budget, with Williamson facing a fight to preserve it from cuts.
Asked about the letter, Russian Foreign Ministry Spokeswoman Maria Zakharova said that it was "not an isolated action" and that the wider trend of Washington lobbying for more defense spending from European allies was problematic for Moscow.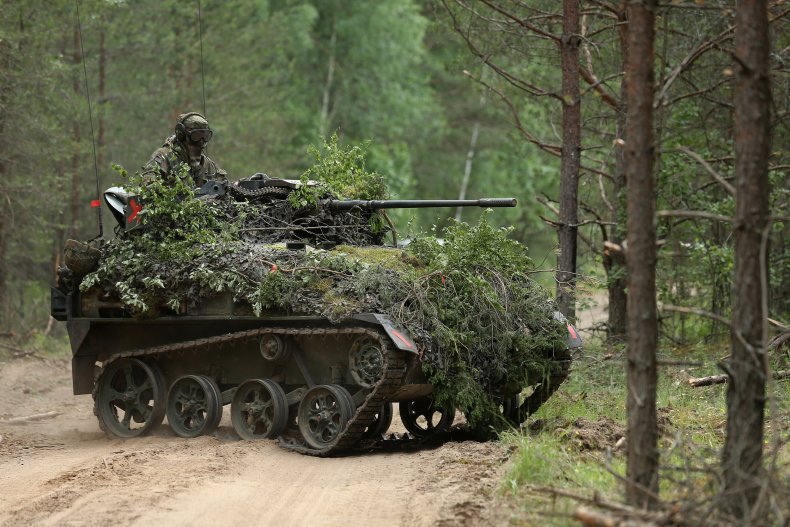 "If we are talking about the trend, then in the face of it, it cannot but worry us," Zakharova said, according to state news agency RIA Novosti. "In particular, what can only worry is the increase of NATO's military budget."
NATO has changed its posture in Eastern Europe since Russia's annexation of Crimea from Ukraine in 2014, introducing at least 4,000 foreign troops in the Baltic states and Poland as a sign of solidarity with the four nations (Estonia, Latvia and Lithuania, along with Poland) most concerned about incursions on their borders with Russia. The U.S. and other large NATO allies have also formed a rapid response force, which would ideally be capable of arriving in an area of an incursion quickly.
Russia has repeatedly used the formation of these forces to argue that NATO's actions are ungrounded, though the Russian military is itself undergoing upgrades across its many branches.
"By defending itself from made-up threats, the alliance is raising constructions from the period of bloc confrontation, as it continues the construction of the U.S. anti-missile shield in Europe," Zakharova said, referring to the Cold War period, when Moscow itself had an international military alliance in Eastern Europe. "It is obvious that the military activity of the alliance is aimed at creating an armed lodgment for applying military pressure on our country."
A NATO official speaking to Newsweek dismissed this, saying that the alliance's actions since 2014 were only responding to "a substantial deterioration in the security environment in recent years." The official cited Russia's actions in Ukraine and also the situations in the Middle East and North Africa.
Related: British defense secretary's speech to Parliament is interrupted by Siri
"Across European allies and Canada, we have seen four consecutive years of real increases in defense spending, and with a projected real increase this year of 3.8 percent," the official added. "This means that, since 2014, European allies and Canada will have spent an additional $87 billion on defense."