U.S. Demands Russian Forces Leave Ukraine After 'Bloodiest Month'
The U.S. has urged Russia to withdraw from eastern Ukraine, only a day after Russian President Vladimir Putin warned of "heavy consequences" if Kiev made any fresh moves.
The conflict in Ukraine's two Donbas regions will enter its fifth year this summer, triggering the current free fall in U.S.-Russia tensions. At the time, public protests toppled Ukraine's pro-Russian government, only for the Kremlin to back a separatist insurgency in the country's east that remains until today. The conflict has killed around 10,000 people and injured more than double that number. The arrival of summer consistently causes surges in violence.
"May was the bloodiest month this year for Ukrainian soldiers defending their country against Russian aggression: ten killed and 91 wounded," Heather Nauert, spokeswoman for the Department of State, wrote on Twitter. "The United States stands with Ukraine and calls on Russia to withdraw its forces from Donbas," she added, using the hashtag #Peace4Ukraine.
Over the past month, Ukrainian authorities reported coming under fire in regular flash points near the front line of Marinka and Mariupol. Police in Donetsk region confirmed on Facebook that the barrage in Marinka killed a 36-year-old civilian man. Authorities reportedly struggled to recover his body amid sniper fire.
Asked about the likelihood of any new attempts by Ukraine to retake the territories while Russia is focusing on hosting the World Cup this summer, Putin said on Thursday, "If this does happen, I think that it will have heavy consequences for the entire Ukrainian state."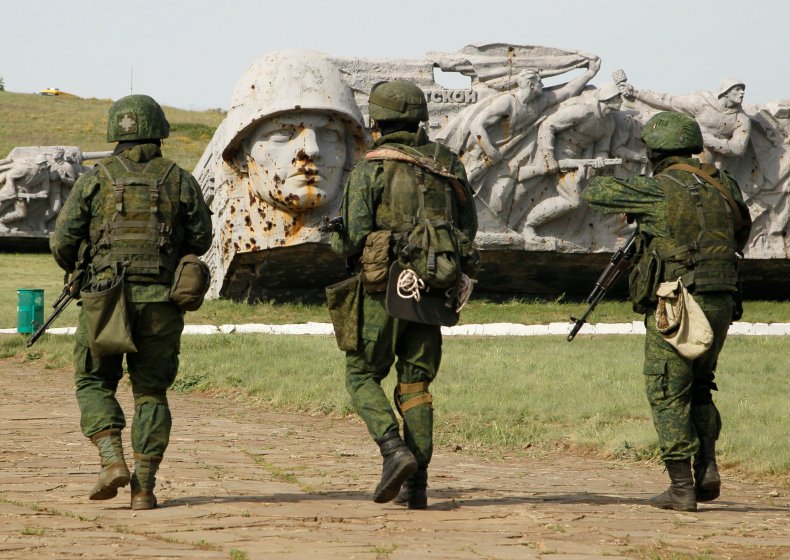 The Kremlin continued to deny that the insurgency on Ukraine's border with Russia got any military backing from Moscow, despite the absence of any other apparent supply route to the separatists. Russian fighters in Ukraine confessed to arriving to the regions as part of a Russian military deployment, only for Moscow to disown them as military personnel.
Ukraine estimated that after almost four years of fighting, the number of Russian tanks in the country's east increased tenfold. In a recent interview, Putin denied supplying the anti-Ukrainian forces, saying that both sides' arsenals were Russian-made. Moscow has never provided a plausible explanation for the amount of military supplies the insurgencies have at their disposal.
To date, Russia has sent 75 convoys of what it claims is humanitarian aid to the occupied regions, without allowing for international observers from the Organization for Security and Co-operation in Europe (OSCE) or recognized humanitarian groups to run checks on the contents. Drawing attention to this consistent but unregulated flow of goods from Russia, U.S. envoy to the OSCE Harry Kamian said governments need look no further for Moscow's alleged avenue for backing the insurgency.
Read more: Ukraine's brand-new tank can take on Russia's best, but can Kiev even afford it?
"Markings or no markings, we have no idea what is actually inside these supposed humanitarian aid convoys, because the Russian Federation will not let the Observer Mission or the SMM inspect them or watch them unload," Kamian said last month. "We do know, however, that these so-called aid trucks did not unload at any hospital, school, NGO or U.N. warehouse.
"These convoys show that Russia is interested in the appearance of aiding local communities, while its actions leave little doubt that the white-truck convoys simply mask the movement of supplies and material for military purposes," he continued.