U.S. Denies Hundreds of Afghan Refugee Applications After Flooded With Over 35K Requests
Thousands of Afghan refugees looking to enter the United States have been filing applications for humanitarian parole, although, so far, immigration officials have denied far more applications than they have accepted.
Victoria Palmer, a spokesperson for U.S. Citizenship and Immigration Services, said since August's U.S. withdrawal from Afghanistan, the agency has received over 35,000 humanitarian parole applications. Usually, the agency only receives about 2,000 applications a year.
According to the UCIS website, humanitarian parole is a way to temporarily enter the U.S., but only if you have an "urgent humanitarian reason" or if there is "significant public benefit" to allowing the person to enter. Palmer stressed that it should not replace traditional channels of entering the country.
Many U.S. immigration attorneys have said that their Afghan clients are being denied humanitarian parole even with evidence showing staying would endanger them. Palmer added that of the 35,000 applications, just over 140 have been conditionally approved so far and about 470 were rejected.
Kyra Lilien, director of immigration legal services at Jewish Family & Community Services East Bay, said she has received over a dozen rejections and no approvals so far.
"Once the U.S. packed up and left, anyone who was left behind has only one choice, and that is to pursue this archaic refugee channel," she said. "It is just so angering that it took USCIS so long to be clear about that."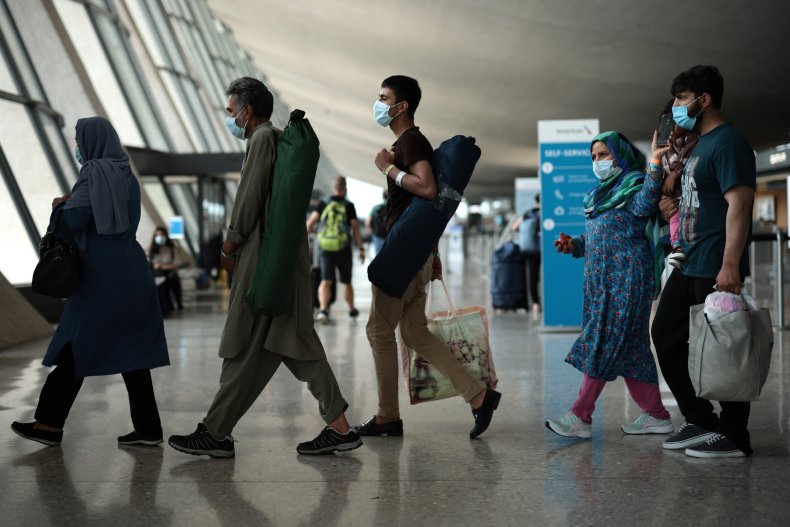 Haseena Niazi had pinned her hopes of getting her fiancé out of Afghanistan on a rarely used immigration provision.
The 24-year-old Massachusetts resident was almost certain his application for humanitarian parole would get approved by the U.S. government, considering the evidence he provided on the threats from the Taliban he received while working on women's health issues at a hospital near Kabul.
But this month, the request was summarily denied, leaving the couple reeling after months of anxiety.
"He had everything they wanted," said Niazi, a green card holder originally from Afghanistan. "It doesn't make any sense why they'd reject it. It's like a bad dream. I still can't believe it."
The U.S. government, meanwhile, continues to help vulnerable Afghans, evacuating more than 900 American citizens and residents and another 2,200 Afghans since the military withdrawal. The state department said it expects to help resettle as many as 95,000 people from Afghanistan this fiscal year, a process that includes rigorous background checks and vaccinations.
Many of them, however, had been whisked out of Afghanistan before the U.S. left. Now, USCIS is tasked with this new wave of humanitarian parole applications and has ramped up staffing to consider them.
The agency said in a statement that requests are reviewed on an individual basis, with consideration given to immediate relatives of Americans and Afghans airlifted out.
And while USCIS stressed that parole shouldn't replace refugee processing, immigrant advocates argue that isn't a viable option for Afghans stuck in their country due to a disability or hiding from the Taliban. Even those able to get out of Afghanistan, they say, may be forced to wait years in refugee camps, which isn't something many can afford to do.
Mohammad, who asked that his last name not be used out of fear for his family's safety, said his elder brother, who used to work for international organizations, is among them. He has been in hiding since the Taliban came looking for him following the U.S. withdrawal, Mohammad said.
On a recent visit to the family home, Taliban members took his younger brother instead and held him more than a week for ransom, he said. Now, Mohammad, a former translator for U.S. troops in Afghanistan who lives in California with a special immigration status, is seeking parole for this brother, too. He hopes a conditional approval letter can get them a spot on one of the U.S. evacuation flights still running out of the country.
"I can provide him housing. I can provide him everything," he said. "Let them come here."
Immigrant advocates began filing humanitarian parole applications for Afghans in August in a last-ditch effort to get them on U.S. evacuation flights out of the country before the withdrawal.
In some cases, it worked, and word spread among immigration attorneys that parole, while typically used in extreme emergencies, might be a way out, said Lilien.
Soon, attorneys began filing thousands of parole applications for Afghans.
The despair has led some immigration attorneys to give up on filing parole applications altogether. In Massachusetts, the International Institute of New England is holding off filing new applications until it hears on those that are pending after receiving a flurry of denials.
Chiara St. Pierre, an attorney for the refugee resettlement agency, said she feels clients like Niazi are facing an "unwinnable" battle.
For Niazi's fiancé, they had provided copies of written threats sent to the hospital where he works as a medical technician and threatening text messages he said came from Taliban members, she said. It wasn't enough.
A redacted copy of the denial letter provided by St. Pierre lists the USCIS criteria released in November but doesn't specify why the agency rejected the application, which had been filed in August.
For now, Niazi says her fiancé is living and working far from Kabul as they weigh their options. They could potentially wait until Niazi becomes an American citizen so she can try to bring him here on a fiancé visa, but that would take years.
"He can't wait that long. It's a miracle every day that he's alive," Niazi said. "I'm feeling like every door is closing in on him."
The Associated Press contributed to this report.