Omicron, the new coronavirus variant of concern, has been detected in the United States just about a week after it was discovered in South Africa.
The first U.S. case was reported on Wednesday in California, according to the U.S. Centers for Disease Control and Prevention (CDC). Last Friday, the World Health Organization designated Omicron a variant of concern because it has attributes that could make it more transmissible, and health experts are worried it could evade the COVID-19 vaccines.
The California and San Francisco departments of public health informed the CDC that a recent case of COVID-19 in a person in California was caused by Omicron. The person returned from South Africa on November 22 and was fully vaccinated.
So far, the person has had mild symptoms and is improving. The individual is self-quarantining, and close contacts have tested negative, the CDC told Newsweek in a statement.
Jeff Zients, the White House COVID-19 Response Coordinator, said in a statement that America is "prepared to meet this challenge with science and speed."
"The President's medical team continues to believe that existing vaccines will provide some level of protection against severe illness from Omicron, and individuals who have gotten boosters have even stronger protection. As such, we urge all adults to get their booster shots and to get themselves and their kids vaccinated, if they haven't already," Zients said.
Ahead of the virus being detected in the United States, President Joe Biden imposed a travel ban on people coming from South Africa. The ban on travel from that country, Botswana, Zimbabwe, Namibia, Lesotho, Eswatini, Mozambique and Malawi began on November 29, but health experts warned it may have come too late.
As has been seen with previous travel bans, banning travel from one area doesn't guarantee a variant won't appear in the United States. Early in the pandemic, former President Donald Trump banned travel from China to try to prevent coronavirus cases in the United States, but a surge in New York turned out to be fueled by travelers from Europe.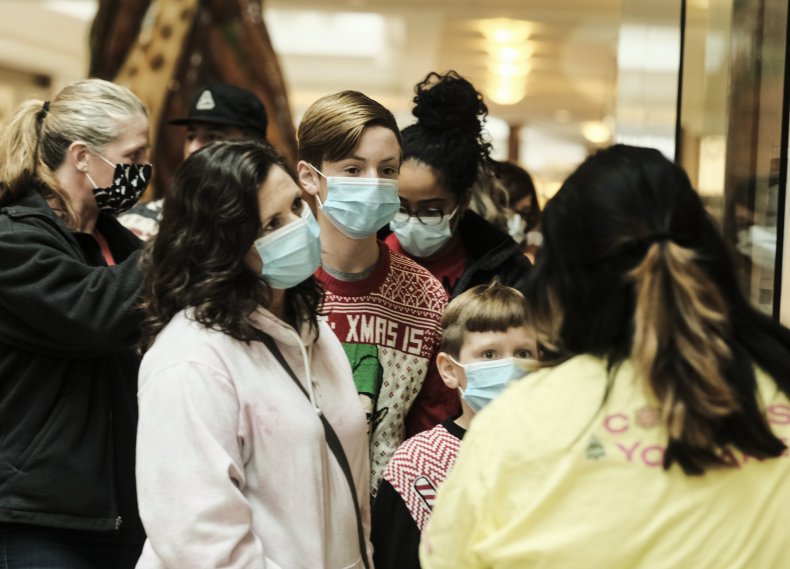 Several European countries have already detected Omicron, and Dr. Anthony Fauci, director of the National Institute of Allergy and Infectious Diseases, said he wouldn't be "surprised" if the variant was already in the United States.
"We have not detected it yet, but when you have a virus that is showing this degree of transmissibility and you're already having travel-related cases that [have] been noted in Israel and Belgium and in other places—when you have a virus like this, it almost invariably, is ultimately going to go essentially all over," Fauci told Weekend Today on November 27.
When Omicron was first detected, experts noticed it had a "large number of mutations" that had the potential to make it more contagious than other variants and possibly evade treatments and vaccines. It could be weeks before the data proves this, but Fauci said it's necessary to "assume that's the case," noting that the suggestion is enough to make people pay "really close attention" and prepare for the seriousness of the variant.
Fauci reportedly recommended instituting the travel ban, according to Politico, but he told Weekend Today that it wouldn't stop the variant from spreading. The goal, he said, was to give the United States more time to better assess the situation and respond accordingly.
In light of the new variant's potential to evade vaccines, Moderna and Pfizer have begun working on a vaccine that specifically targets Omicron. However, Moderna said it could be months before a new vaccine starts shipping out. It's possible the company will decide to give people a higher dosage of its current vaccine to better protect against Omicron in the meantime, and high-risk populations could need a fourth dose.
This article has been updated with comment from the White House.