U.S. Diplomat Says 'Someone Named Giuliani' Claimed to Be Adviser to Mike Pence: Impeachment Testimony
President Donald Trump's personal attorney Rudy Giuliani may have worked as an adviser to Mike Pence, according to a new impeachment inquiry witness transcript.
State Department official David Holmes told lawmakers in a closed door deposition that a "childhood friend" of Ukrainian President Volodymyr Zelenskiy informed him that "someone named Giuliani" claimed to be an adviser to the vice president.
In his opening statement at a closed door deposition last week, Holmes claimed Giuliani had a "direct influence on the foreign policy agenda" in Ukraine, according to a transcript released last night by the House Intelligence Committee.
GOP New York Representative Lee Zeldin asked the impeachment inquiry witness how he knew Giuliani was not "just trying to represent the president as his client" instead of getting directly involved in Ukrainian diplomacy.
Newsweek subscription offers >
"They [the Ukrainians] viewed him as a significant individual in terms of their relationship with the United States," Holmes told lawmakers in response.
When Zeldin continued to press Holmes to explain how he came to the conclusion that Giuliani was "taking a direct role in Ukrainian diplomacy," the official said: "I'm just trying to say, sir, that the Ukrainians viewed him in broader terms than that."
Asked again whether he was saying that Giuliani wasn't representing Donald Trump as a private attorney, Holmes shared details of a conversation he had with Zelenskiy's friend Ivan Bakanov.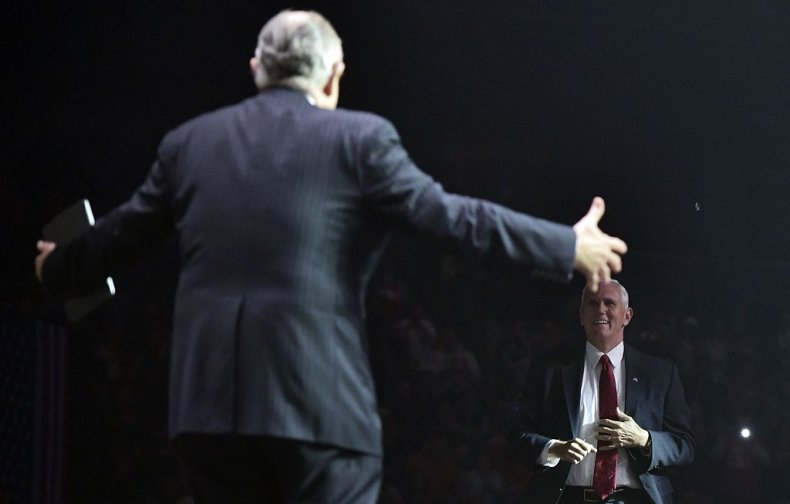 Newsweek subscription offers >
"At one point he, Mr. Bakanov, told me that, you know, someone named Giuliani said he was an adviser to the vice president."
Holmes was quick to note that the conversation was in Russian and said "he could've got the name—" before being cut off. Asked to confirm that Bakanov was referring to Mike Pence, Holmes said: "That's what he said. I don't know what he meant by that. But that's what he said.
"And so they—they seem to think that he [Giuliani] was a significant person in terms of managing their relationship with the United States."
The claim by the political counselor stationed at the U.S. Embassy in Kiev was published days after it was revealed that Jennifer Williams, a special adviser to Pence, had described the July phone call between President Trump and Zelenskiy as "inappropriate" and "unusual."
Her comments about the phone call at the center of the ongoing impeachment inquiry led to President Trump calling her a "Never Trumper" in a tweet posted Sunday.
Elsewhere in the transcript of his testimony, Holmes is recorded telling lawmakers that a "political agenda promoted by Rudy Giuliani and a cadre of officials" had "overshadowed" existing policy of helping Ukraine resist Russian aggression.
The State Department official also told representatives that he had "never seen anything like" a phone call between U.S. Ambassador to the European Union Gordon Sondland and President Trump about Ukraine that he claims to have overheard while at a restaurant with the diplomat.
Holmes claims he heard Trump ask Sondland whether Ukrainian President Zelenskiy was "going to do the investigation," to which Sondland purportedly said: "Oh yeah, he's going to do it."
"I've never seen anything like this, someone calling the president from a mobile phone at a restaurant, and then having a conversation of this level of candor, colorful language," Holmes said.
The transcript of his testimony was released ahead of a public impeachment inquiry hearing with the State Department official and former National Security Council staffer Fiona Hill on Thursday morning.
Further impeachment hearings are being held on Tuesday and Wednesday this week, with Jennifer Williams set to testify in front of cameras this morning.
U.S. Diplomat Says 'Someone Named Giuliani' Claimed to Be Adviser to Mike Pence: Impeachment Testimony | U.S.