Prime Minister Justin Trudeau says that nearly half of the donations flooding into the fundraiser set up for Canadian truckers protesting COVID-19 measures are coming from the United States.
"I've heard that on certain platforms that the number of U.S. donations are approaching 50 percent," Trudeau said during a Friday press conference. "In terms of the presence of Americans in our protests, I can assure you that our police services are monitoring carefully and watching and coordinating with partner agencies around the world." h
Canada's anti-vaccine-mandate protesters have received a surge in support from Americans, including politicians like Donald Trump and Senator Ted Cruz, after their funds were frozen by the crowdfunding platform GoFundMe and the federal government. The geographic breakdown of financial contributions to the Freedom Convoy protesters is being investigated by Canadian officials, who have cautioned U.S. officials, such as Texas Attorney General Ken Paxton, about "potential foreign interference."
"We have observed that funding has been supplied to support the blockades and [the protests] from abroad," Trudeau said.
"It's important to understand that this money should not be supporting unlawful activities," he added. "Funds cannot be used for criminal or illegal activity, and these blockades are illegal. Canadian banks are monitoring financial activity very closely and taking action as necessary."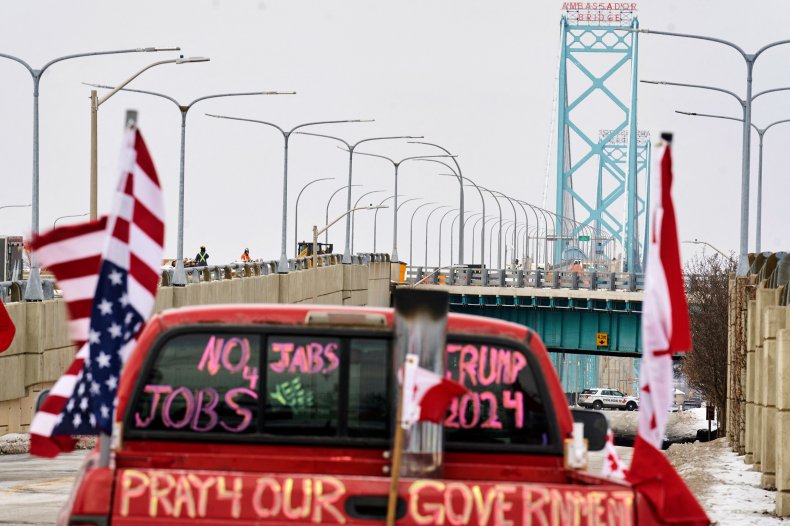 Trudeau said President Joe Biden told him in a phone call earlier in the day that he is aware of the U.S. influence on the ongoing protests up north.
"[Biden] expressed concern not just for the impacts right now but the indication that there is international support from the United States and from elsewhere around the world for these protests," Trudeau said.
"We've seen that the attack, for example, on the Ottawa 911 system came from the United States," he added. "We've seen that almost half of the funding—through certain portals—that is flowing to the barricaders here in Canada is coming from the United States."
On Thursday, Ottawa Police Service Chief Peter Sloly said a "concerted effort to flood" the city's 911 phone system "almost jammed up" the call center.
"They were coming in from the United States," Sloly said during a news conference. "Not exclusively, but significantly from United States addresses."
He criticized those efforts, saying it could endanger lives by interfering with real emergencies people have.
Ottawa police have issued about 1,775 tickets since the protests began on January 28, for infractions like "excessive noise" and the use of fireworks. There are currently 126 active criminal investigations, and at least 25 arrests have been made in connection with the demonstrations.
On Friday, provincial officials moved to make blocking the Ambassador Bridge—which connects Windsor, Ontario, to Detroit—illegal and subject to severe fines. Trudeau said protesters should keep these new orders in mind if they choose to remain at the border crossing.
"The consequences are becoming more and more severe," he said. "You don't want to end up losing your license, end up with a criminal record—which will impact your job, your livelihood, even your ability to travel internationally, including to the U.S."
He added, "We've heard your frustration with COVID, with the measures that are there to keep people safe. We've heard you. It's time to go home now."
Update 02/11/22, 4:15 p.m. ET: This story was updated to add more information and background.