U.S. to Ease Nuclear Tensions With Russia, Cancel 'Minuteman' Missile Tests
The Pentagon is again delaying a test of a nuclear-capable missile to avoid a "misinterpretation or miscommunication" with Russia amid heightened tensions.
The U.S. military on Friday canceled a previously scheduled test flight of the Minuteman III intercontinental ballistic missile, capable of delivering a nuclear warhead to Russia. The postponement is the second time the Pentagon has put off the planned test, signaling the U.S. is continuing to avoid nuclear escalation with Russia.
The Pentagon told Newsweek in an email that the Air Force recently canceled the test flight of the LGM-30G Minuteman III missile.
"The launch had been previously delayed due to an overabundance of caution to avoid misinterpretation or miscommunication during the ongoing Russian invasion of Ukraine and was canceled for the same reason," the Pentagon said in the statement. "Our next planned test flight is later this year. The Department is confident in the readiness of the strategic forces of the United States."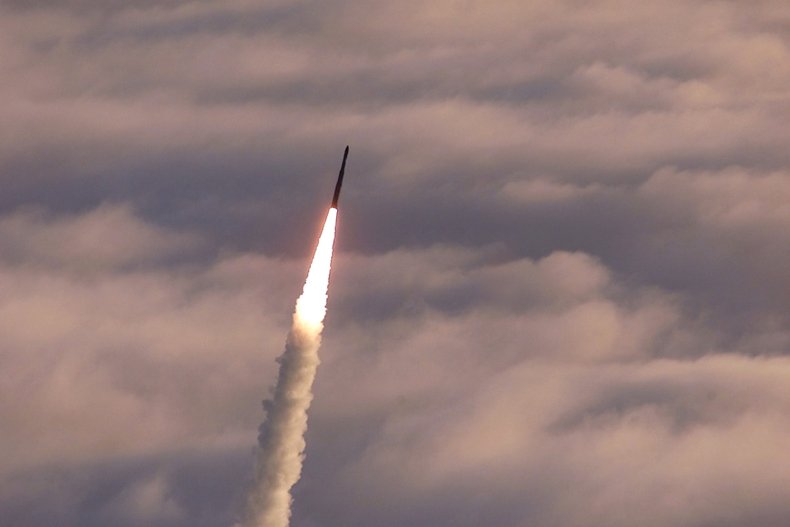 Pentagon officials announced on March 2 that it would delay the launch of the Minuteman III missile after Russian President Vladimir Putin said he would place his country's nuclear forces on high alert during its invasion of Ukraine.
At the time, Pentagon spokesman John Kirby contrasted what he described as the U.S.'s restraint to Putin's "dangerous and irresponsible...unnecessary step."
"We did not take this decision lightly, but instead to demonstrate that we are a responsible nuclear power," Kirby said in March.
The Minuteman III has been "the backbone of the U.S. land-based nuclear strategic force since 1962," according to Missile Threat, a product of the Center for Strategic and International Studies (CSIS). The missile is the only land-based component of the U.S. nuclear triad and has near 100 percent testing reliability.
There are currently an estimated 440 of the missiles in the U.S.'s arsenal, and two or more tests are conducted each year, according to Missile Threat.
Air Force crews test four Minuteman III missiles each year from the Vandenberg Space Force Base in California to ensure its arsenal is functioning. Each of the tests are publicized in advance to avoid the appearance of being in response to a world event. The dummy warheads splash down near Kwajalein Atoll in the Pacific Ocean.
The Air Force previously successfully tested a Minuteman III in August 2021. The missile flew about 4,200 miles and detonated explosives before landing in the ocean.
Previously, the Pentagon has said the launch's postponement will "not affect America's nuclear deterrence in any way."