Another influx of cash from the federal government to help lift the economy out of its Depression-era status may not be necessary, White House economic adviser Kevin Hassett said Monday.
"We're in wait-and-see mode right now," Hassett told reporters at the White House, echoing the position of Republicans on Capitol Hill. "I think it's possible that we'll see a strong enough economy that we don't need [another stimulus]."
What could change that, Hassett said, is if certain industries may require more help, such as restaurants and travel. He indicated that forgivable loans for businesses to retain their employees through the Paycheck Protection Program will likely not be refilled for a third time once the fund runs dry.
"It's not something the government can do forever, but it is something that we could do through June—I would guess that there's enough cash for that," Hassett said. "So, if the economy really is humming in June, if it makes much progress between now and the middle of June as it did between the early April and now, then I think the [program] will be viewed as a success and maybe we won't need to renew."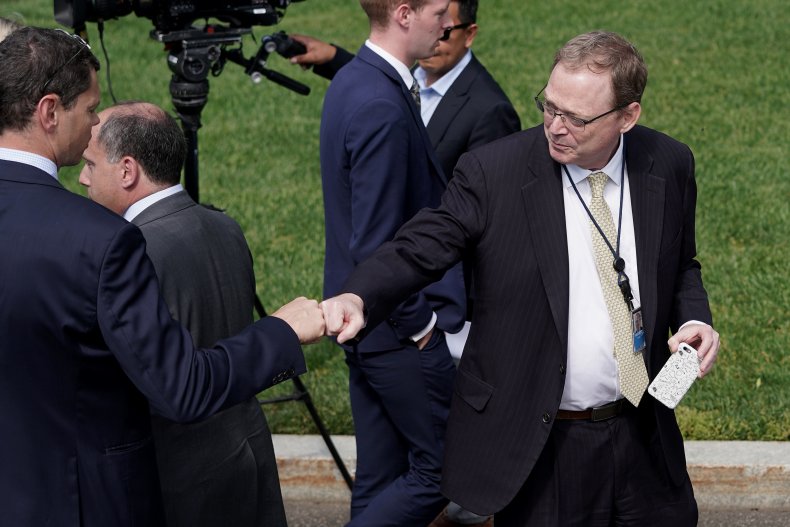 Hassett's remarks come just days after House Democrats passed a second mammoth stimulus—worth $3 trillion—along mostly party lines that includes another round of individual checks, an expansion of unemployment benefits, aid to local and state governments, and hazard pay for essential workers.
However, it is going nowhere fast: Senate Republicans have said the legislation is dead-on-arrival.
Congress has so far appropriated a total of nearly $3 trillion in a series of relief packages. But partisan divisions among lawmakers have led to a standstill on more aid. While Democrats want immediate action and Republicans are pressing "pause," President Donald Trump has wavered on his position. He's referenced the possibility of helping industries like restaurants and travel, as Hassett mentioned, as well as infrastructure spending and providing payroll tax cuts that neither political party is very fond of.
"You have to understand that the bills that we've already passed are about two times the size of the entire New Deal through the entire 1930s, and this is even inflation adjusted," Hassett elaborated. "It's a really, really big, massive engine that's gotten us here, and I think that it's appropriate to at least wait until we see how those go."
The optimistic economic outlook offered by Hassett amid states reopening also comes as more than 36 million have filed for unemployment insurance since the onset of the coronavirus pandemic in March. He predicted the second quarter will be "one of the worst quarters we've ever seen," followed by a "very strong second half of the year."
The real jobless rate, which includes those who have been unsuccessful at finding a job and have stopped looking, was estimated to be 22.8 percent for April—up from 8.7 percent in March. During the Great Depression, unemployment peaked at just under 25 percent.
"The question is, how long does it take to get back to peak? How long does it take us to get back to where we were in January?" Hassett asked. "I think that that's an open question economists have a lot of different views on."