How Well Is the U.S. Economy Doing? Number of Unemployed Americans Close to 50-year Low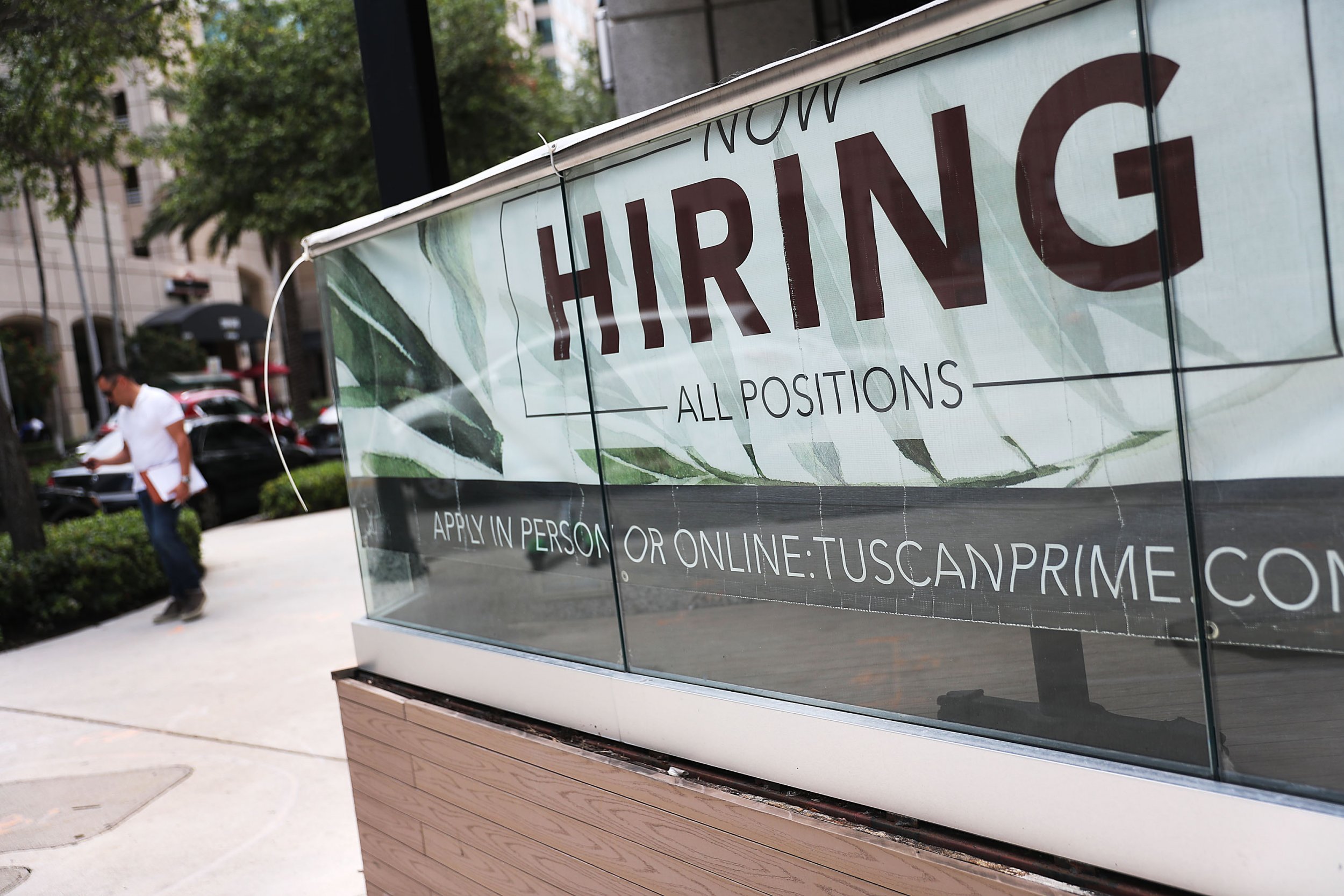 The U.S. economy might be slowing but the labor market remains in rude health—strong and fit—as the number of Americans filing for unemployment benefits continues to decline.
Data released by the Department of Labor on Thursday showed the total number of initial jobless claims dropped by 1,000 to a seasonally adjusted 211,000 in the week ending May 18.
The figure marked a third straight weekly decline and was better than analysts had expected. Economists polled by Reuters estimated claims would climb to 215,000, while a poll from MarketWatch forecast a tally of 215,000.
The monthly average of claims, often thought to be a more reliable indicator of the labor, fell by 4,750, to 220,250.
The latest report from the Department of Labor means jobless claims in the world's largest economy were close to reaching their lowest level in almost 50 years.
Adding to the positive news, data released earlier this month showed wages were on the rise, while the unemployment rate was at its lowest in 49 years.
Last week, a report from the University of Michigan noted American consumers were at their most confident in 15 years.
The institute's sentiment index—a gauge of confidence among consumers—rose from 97.2 to 102.4, surprising economists who had expected the reading to remain unchanged.
However, while strong, the labor market could be severely tested by a slowdown in the economy.
So far, the U.S. economy has outperformed expectations, a trend it maintained during the first three months of 2019, when it grew at a better-than-expected 3.2 percent.
A Quinnipiac University poll released earlier this week found that 52 percent of respondents said they were better off financially than before Donald Trump became president.
Forty-eight percent approved of the president's handling of the economy, while 45 percent disapproved.
However, Reuters reported that economists expect growth to be below 2 percent on an annual basis in the second three months of the year.
The slowdown is attributable to a combination of factors, chief among them the fact the momentum generated by the Trump administration's tax cuts and spending increases is slowly running out of steam.
Additionally, retail sales and factory output both declined last month and the ongoing trade war with China could damage the U.S. economy even further.
The world's two largest economies have been locked in a trade dispute for more than a year. Earlier this month Washington announced a 25 percent punitive tariff on thousands of Chinese products. In turn, Beijing retaliated by imposing tariffs as high as 25 percent on 2,500 U.S. goods worth a combined $60 billion in annual exports.
While Americans were pleased with the economy, the same Quinnipiac University poll found only 40 percent approved of Trump's handling of the country's policy towards China, while 50 percent disapproved.