Why the U.S. Is Not Heading For a Second Great Depression, According to Jerome Powell
The Federal Reserve chairman said he doesn't believe the U.S. is heading for a "Second Great Depression," but warned that the U.S. economy may not recover from the coronavirus pandemic until the end of 2021.
Jerome Powell told CBS News on Sunday night that it "may take a while" for the American economy to bounce back from COVID-19 shutdowns, but added that the U.S. would "get through this" downturn.
He also said GDP could have contracted by as much as 20 to 30 percent in the second quarter of this year, following a sharp fall in the first three months of 2020.
Asked if history would view this era as America's "Second Great Depression" on last night's edition of CBS News' 60 Minutes, Powell said: "No, I don't. I don't think that's a likely outcome at all. There're some very fundamental differences. The first is that the cause here-- we had a very healthy economy two months ago. And this is an outside event, it is a natural disaster, in effect.
"And that's one big difference. In the '20s when the Depression, well, when the crash happened and all that, the financial system really failed. Here, our financial system is strong, has been able to withstand this."
Earlier in his interview with CBS News, the Fed chairman said: "This economy will recover. And that means people will go back to work. Unemployment will get back down. We'll get through this. It may take a while. It may take a period of time.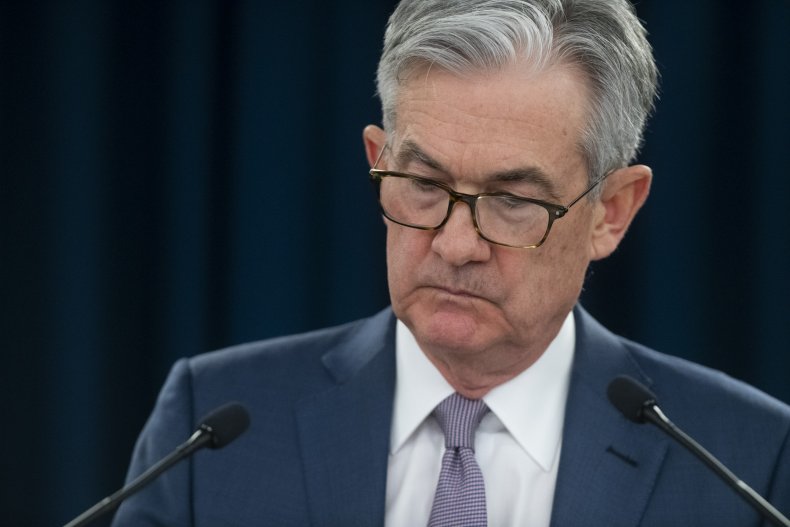 "It could stretch through the end of next year. We really don't know. We hope that it will be shorter than that, but no one really knows."
The Fed chairman added that the country should "be careful" as businesses reopened and Americans started going back to work.
Later asked what numbers he was looking at for GDP shrinkage in the second quarter of this year, Powell warned that the number was going to be "very high" but claimed that he couldn't make a precise guess.
Pressed on whether GDP could contract by as much as 20 percent, he responded: "Easily. You know, could easily be in the twenties or thirties."
"I think there's a good chance that there'll be positive growth in the third quarter," Powell later said. "And I think it's a reasonable expectation that there'll be growth in the second half of the year.
"I would say though we're not going to get back to where we were quickly. We won't get back to where we were by the end of the year. That's unlikely to happen."
Newsweek has contacted the Federal Reserve for further comment. This article will be updated with any response.
Powell issued his predictions for the U.S. economy after it recorded a 4.8 percent fall in GDP during the first quarter of this year. The decline marked the fastest slump in the American economy since the Great Recession of 2007 to 2009.
Should U.S. GDP contract by another 20 or 30 percent in the second quarter of this year, the decline will be more than twice the size of the 8.4 percent drop experienced in the fourth quarter of 2008.