U.S. Economy Will Continue to Grow for Four to Five Years, Treasury Secretary Says, Despite Experts' Concerns
The U.S. economy will continue to experience sustained growth for four to five years, according to President Donald Trump's Treasury Secretary Steven Mnuchin.
Speaking to FOX News Sunday, Mnuchin referred to an estimate released Friday that the U.S. economy grew by 4.1 percent in the second quarter of 2018. He suggested that, despite a lack of evidence supporting his view, this trend could continue for the next several years.
"We can only project a couple of years into the future, but I think we're well on this path for several years, so I don't think this is a one- or two-year phenomenon," Mnuchin said. "I think we definitely are in a period of four or five years of sustained 3 percent growth at least."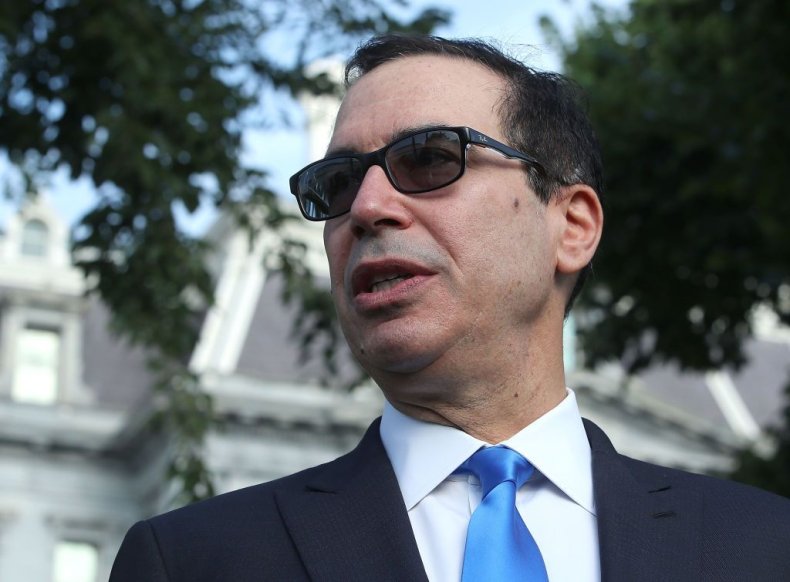 Mnuchin has been keen to establish that the President's economic policies -- broadly criticized -- will be vindicated. But he has been embarrassed before. Most notably when he asked a room of business leaders to raise their hands if they planned to spend lavish corporate tax cuts on hiring, and was met with virtual silence.
And economic experts have urged caution, saying that the growth was attributable to one-time factors including fiscal stimulus and the initial fallout of President Trump's trade wars -- and that a downturn was still eminently possible.
Bloomberg economists Carl Riccadonna and Tim Mahedy pointed out that "the strength of consumer spending in the second quarter is unlikely to continue into the second half of the year".
"Dollar strength will slow exports, and importers will adjust supply lines widening the trade balance," the economists wrote. "Furthermore, residential investment looks to remain weak, due in part to last year's tax reform, and consumer spending will moderate in the second half as the Fed continues to remove policy accommodation."
The Trump administration aims to maintain 3 percent GDP growth, which would be substantially higher than the Federal Reserve's longer-run expectation of 1.8 percent. On Friday, Trump insisted that his goal is attainable, especially considering recent success.
"These numbers are very, very sustainable. This isn't a one-time shot," the president said. "Everywhere we look we are seeing the effects of the American economic miracle." Trump added that the U.S. is experiencing an "economic turnaround of historic proportions," also citing a $50 billion reduction in the trade deficit as "one of the biggest wins."
However, as some politicians and economic experts have long pointed out, economic predictions are more like educated guesses than definite scenarios. A 2016 study by researchers at Cambridge University in the United Kingdom found that medium and long-term forecasting can be just as prone to error as forecasting the short term.
Some economists have also argued that any economic policy will eventually require change, no matter how well it appears to work in the short term.
"Any kind of policy will work for period of time like a charm, but it will lay the seeds for its own demise, because if it is working the way it should then people will take that into consideration when making their plans, which in turn undermines the effectiveness of the policy," Srinivas Thiruvadanthai, Director of Research at The Jerome Levy Forecasting Center, told World Finance in 2015.