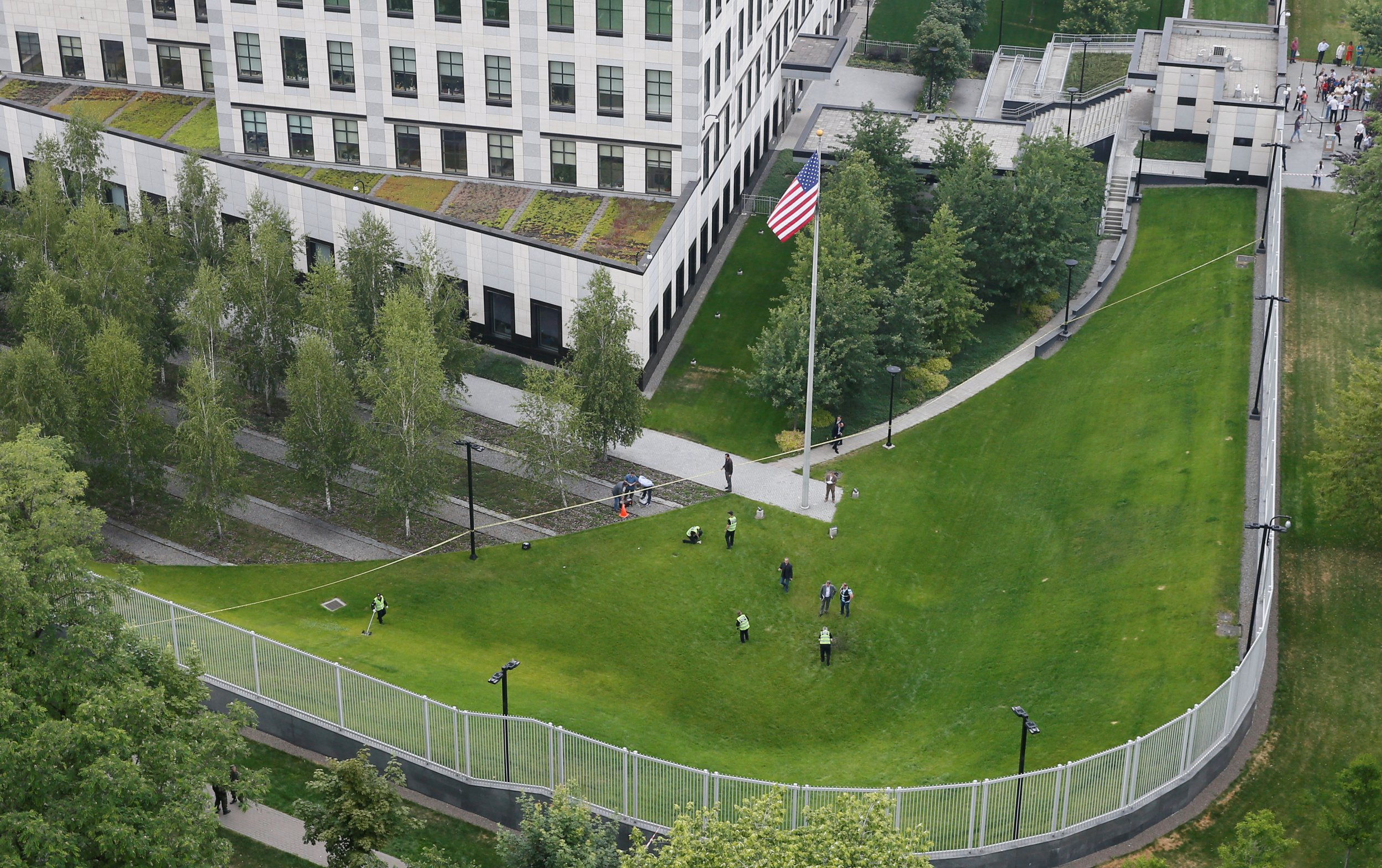 A device exploded overnight on the premises of the U.S. Embassy in Ukraine's capital Kiev, which police are investigating as an act of terrorism.
No one was injured in the explosion that occurred just after midnight and the identity of the assailant was not immediately know. Police have not speculated on the motives behind the act. Kiev police have deployed an investigative team and explosives experts to determine the nature of the device.
Ukrainian Foreign Ministry spokeswoman Mariana Betsa condemned the act on Twitter, warning that it could have threatened the welfare of U.S. diplomats. Ukraine continues to be locked in a low-intensity conflict with a Russian-backed insurgency in the eastern regions of Donetsk and Luhansk since 2014.
The U.S. and Ukraine's European Union partners have pushed for an end to the fighting, and the International Monetary Fund (IMF) has approved a $17.5 billion bailout program to help Ukraine in its reforms against endemic corruption.
Anton Herashchenko, a member of parliament for the Russian-skeptic People's Front said he believed Russia ordered the explosion, although police investigators have not supported this with evidence.
"The goal is very simple," he told the 112 TV network. "It is a good occasion to trick the information space, appear on global news feeds and say that it is unsafe in Kiev. I honestly say that I cannot see other motives."
Read More: Why Ukraine is taking Stalin and his secret police chief to court
A different version of events is floating around in Russian media, where Alexander Golub, a former Ukrainian lawmaker from the pro-Russian Union of Left Forces told Russian state radio Sputnik the "psychosis" of Ukrainian society was to blame. Without referring to Herashchenko's claim, Golub said reasons such events take place is because Kievans lived in "a city of bandits, a country of bandits in which the law enforcement system is not working."
The element of disinformation in Ukraine's conflict with pro-Russian forces has led many experts to label the conflict a "hybrid war" stemming from a new military strategy outlined by Russia's general chief of staff Valery Gerasimov.