The U.S. embassy in Moscow is using coordinates instead of an address on its website after Russian authorities renamed the square outside the building after one of the two separatist regions of Ukraine that Russia recognizes as sovereign.
The embassy's website now lists its location as 55,75566° N, 37,58028° E.
However, the "Embassy and Consulates" section of the website still lists the embassy's previous address: Bolshoy Deviatinsky Pereulok No. 8.
The embassy has been contacted for comment.
Moscow's residents voted in June to rename the square outside the city's U.S. embassy "Donetsk People's Republic Square," according to The Moscow Times.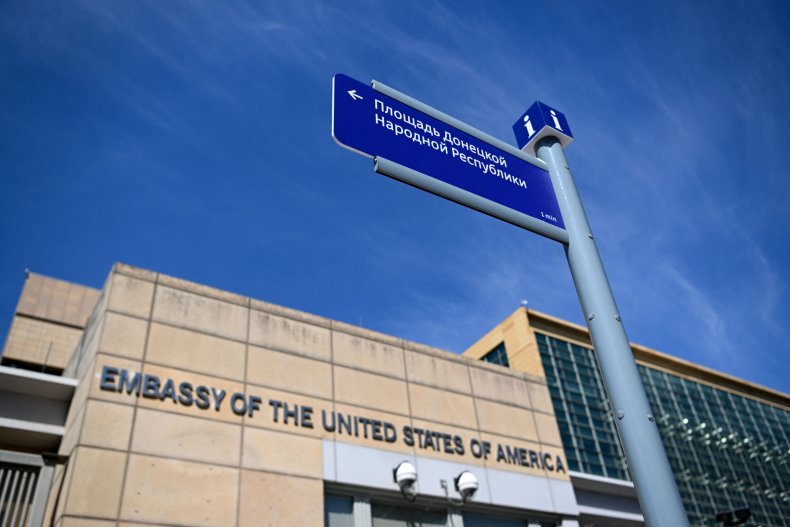 According to the newspaper, the city is also set to rename a square closet to the German embassy "Luhansk People's Republic Square."
That came after protesters put up a sign outside the Russian embassy in Washington, D.C., unofficially renaming the street after Ukrainian President Volodymyr Zelensky.
"The President Zelensky Way street sign is just our way of peacefully protesting [Russian President Vladimir] Putin's atrocities and honoring Ukraine," activist Claude Taylor told The Hill in March.
Luhansk and neighboring Donetsk are two provinces that make up the Donbas region of eastern Ukraine, and pro-Russia separatists had held portions of both since 2014.
Putin recognized the two as independent shortly before launching the invasion of Ukraine on February 24.
Russia has focused its offensive on the Donbas since pulling back from Kyiv and northern Ukraine earlier this year.
On Sunday, Russia's Defense Ministry claimed Russian forces had "liberated" all of Luhansk province.
In a post on its Telegram channel, the ministry said Russia's defense minister Sergei Shoigu told Putin that Russia's forces and members of a local separatist militia "have established full control" over Lysychansk, the last major Ukrainian-held city in Luhansk province.
Ukrainian fighters have spent weeks trying to keep Lysychansk from falling to Russia, as neighboring Sievierodonetsk did a week ago.
Control of Lysychansk would bring Moscow closer to its stated goal of seizing all of the Donbas region.
Ukraine's military did not immediately provide a response on the status of Lysychansk, although Ukrainian officials had on Saturday said the city remained under Ukraine's control.
However, Luhansk governor Serhiy Haidai said Russian forces were gaining a foothold in the city in a post on Telegram early Sunday.
"The occupiers probably threw all their forces on Lysychansk. They attacked the city with inexplicably brutal tactics," Haidai said. "They are suffering significant losses, but they are stubbornly advancing."