U.S. Embassy in Tunisia Suicide Attack Kills at Least One Person, Local Media Reports
At least one member of Tunisia's security services has been killed in a suicide attack on the U.S. embassy in Tunis, Tunisia, according to local media reports.
Local radio station Radio Mosaique was among the first to report Friday's attack, in which a suicide bomber on a moped blew himself up near a police car outside the American embassy. A second attacker was also killed trying to carry out the attack, Reuters reported citing the Interior Ministry.
Initial reports said at least five people had been wounded in the explosion, which damaged nearby vehicles and left debris strewn across roads.
Radio Mosaique said the first fatality was a lieutenant named Tawfiq Al-Misawi, who was from the city of Sidi Bouzid in the center of the country.
Newsweek subscription offers >
Citing unnamed sources, Radio Mosaique said the two attackers had previously been jailed for terrorism offenses in 2014 but had completed their sentences, been released and put under a foreign travel ban. The station named the attackers as Slim Znadi and Habib Laaka.
A nearby shopkeeper named Amira told Reuters there was "a very powerful explosion" after which "we saw the remains of the terrorist lying on the ground after he went on the motorbike toward the police."
The embassy confirmed the attack on Twitter, explaining: "Emergency personnel are responding to an explosion that occurred near the U.S. Embassy in Tunis. Please avoid the area and monitor local media for updates."
Newsweek spoke to an official inside the embassy soon after the attack, but they declined to comment.
Newsweek subscription offers >
Tunisia has suffered multiple attacks by Islamic extremists, some linked to the Islamic State militant group. The motive behind Friday's attack is not yet clear and no group has claimed responsibility.
Last summer, for example, ISIS claimed responsibility for multiple bombings in Tunis, one of which killed a policeman near the French embassy. Two separate attacks on a beach resort and museum in 2015 killed dozens of Western tourists and gutted the country's tourism industry.
The U.S. embassy in Tunis was attacked in 2012 by crowds of people protesting a film that was critical of the Prophet Mohammad. At least two people were killed and 29 wounded when police opened fire in an effort to drive the protesters back.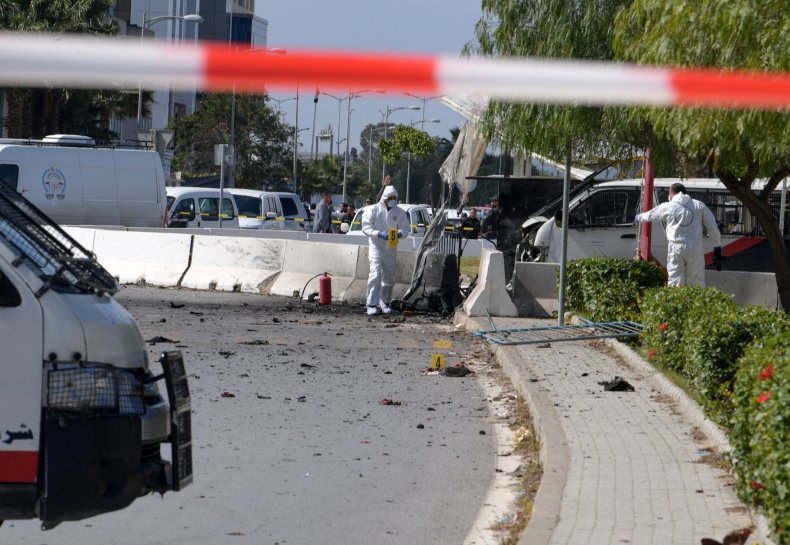 U.S. Embassy in Tunisia Suicide Attack Kills at Least One Person, Local Media Reports | World