U.S. Embassy Warns Americans to 'Keep a Low Profile' During Anti-Trump Protests in London
The U.S. Embassy in London has advised American citizens to keep a low profile during protests against President Donald Trump's visit to the U.K. later this week.
In an alert sent out Tuesday, the embassy warned U.S. citizens to "exercise caution" if unexpectedly in the vicinity of gatherings that "may become violent."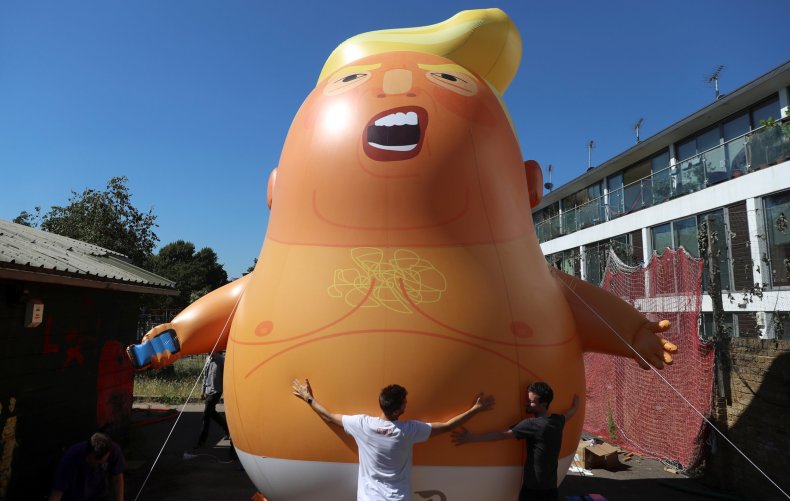 "Beware of your surroundings," it advised, "keep a low profile" and monitor media and police for updates.
London's Metropolitan Police has not immediately responded to a request for comment.
Tens of thousands of protesters are expected to gather in London from July 12 to 14, during Trump's first visit to the U.K. as president.
On Friday, an "angry Trump baby" will be flown over Westminster from Parliament Square, outside the Houses of Parliament, after London Mayor Sadiq Khan, a target of criticism from Trump, gave permission.
Organizers say that Trump should prepare for a "carnival of resistance" after he touches down in London on Thursday, following the NATO summit in Brussels, with dozens of groups organizing protests in the U.K. capital.
British citizens are not the only ones expected to take to the streets of London to protest against the president, with hundreds of U.S. citizens in London pledging to attend on a messaging board for American expats in the city.
Dozens of American citizens gathered outside the U.S. embassy to protest against Trump's immigration policies in June.
"We are pleased the U.S. Embassy acknowledges London's carnival of resistance," said a spokeswoman for the the Stop Trump Coalition, one of the group's organizing demonstrations Friday.
"Our protest will be loud, fun, multicultural and bring people together. We represent everything the Trump administration is against and we are proud of that."
Women's March London will march through central London and culminate in Parliament Square, while on the Bring the Noise rally, protesters are encouraged to bring along and bang pots and pans. A second London demonstration will be led by Stop Trump, which is made up of trade unions, environmental groups and other activists and will culminate at Trafalgar Square.
British Prime Minister Theresa May has faced criticism for allowing the invitation for Trump's to visit to stand amid controversy over issues including the Trump administration's immigration policy, the 'Muslim ban,' and refusal to criticize white nationalists after last August's Charlottesville rally.
Trump will largely avoid London for the visit, which includes a visit to Windsor castle to see the Queen instead of her Buckingham Palace London residence.
Before embarking on Air Force One for the trip to Europe on Tuesday, Trump described the U.K. as in "turmoil" and offered praise for Boris Johnson, whose resignation as foreign secretary has rocked the British government. He would not say if he thought May should remain in office.