U.S. Faces Inflation Timebomb Poised to Explode Just Before the Holidays
After two difficult years for the global economy and in the midst of an energy crisis fueled by the Russian invasion of Ukraine, U.S. diesel inventories are currently "unacceptably low," National Economic Council Director Brian Deese said on Bloomberg TV last week.
This supply crunch is raising concerns among analysts and energy experts of an incoming slowdown of the U.S. economy, which could be exacerbated by the national strike planned by railroad workers for mid-November.
And in May and June, diesel and gas prices reached record highs, threatening to bring shipping and logistics to a grind and harming drivers' at the pump.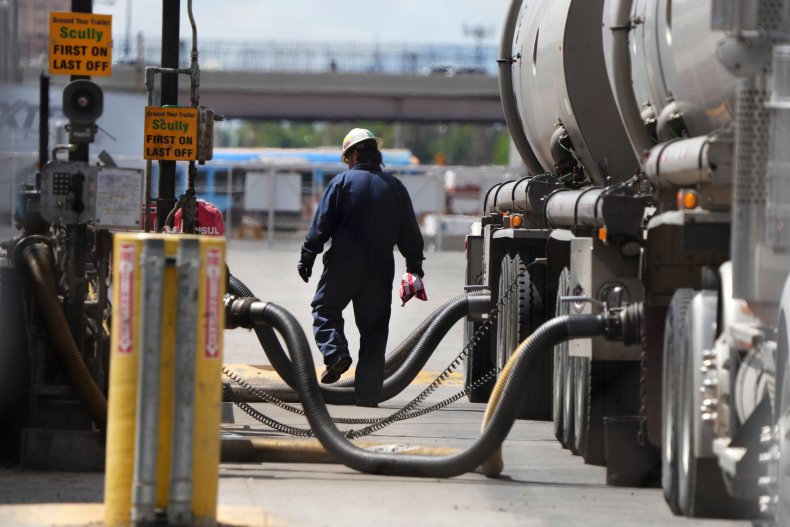 "Supply chain costs skyrocketed in the past two years, driven by surging demand and tight supply. In January, shippers had to pay more than $3.4/mile on average for a dry van truckload on the spot market, almost double what they were paying before the pandemic," Mazen Danaf, senior economist at Uber Freight, told Newsweek.
"This year, the freight market softened substantially, as supply caught up with demand. However, shippers were not able to reap the benefits of the softening market, due to high diesel costs," Danaf said. "Fuel costs are usually passed as a surcharge for shippers, especially in contracted freight."
These higher prices might harm the sectors that rely on diesel the most: farming, construction, heating and transportation. In turn, this might lead to a significant slowdown of the U.S. economy—and a continued surge of inflation.
"While many hoped that easing supply chain constraints would help in taming inflation, it did not have the effect we expected due to high fuel costs," Danaf said.
"Even though supply has recovered and demand has stagnated, it still costs a lot to move contracted freight—about twice than pre-pandemic levels—despite the fact that linehaul (the movement of freight or goods across different modes of transport by land, air, waterway, between distant cities, ports and warehouses) rates, which exclude the fuel surcharge, are only 20-35 percent higher than the pre-pandemic."
The impact of higher diesel prices, said Danaf, "is definitely felt by the end consumers, because shipping costs have been one of the main drivers of inflation in the past year."
The railroad union strike that President Joe Biden averted this summer, sparing the U.S. economy from its devastating impact, is now planned for November 19, after an agreement between unionists of the Brotherhood of Maintenance of Way Employees Division of the International Brotherhood of Teamsters (BMWED) and the National Carriers' Conference Committee (NCCC) failed to be reached.
Danaf said he hopes a strike will be avoided, "because it will have devastating effects on the economy."
A railroad strike of the size planned for mid-November could bring the supply chain to a halt and cost the U.S. up to $2 billion a day, CNBC reported.
"We estimated that even though the freight market has softened, a rail strike could result in significant increases in trucking spot rates, and high diesel prices will definitely make that worse," Danaf said.
The combination of a diesel shortage and a railroad strike would be the worst-case scenario for the economy, with the potential to cause inflation to spike even further right before Thanksgiving and the holiday season.
But there are ways the strike, at least, could still be averted.
Congress could intervene to prevent the strike under the Railway Labor Act, which allows lawmakers to order trains to operate as usual. On the other hand, unionists could decide not to strike if a satisfactory deal that meets workers' demands is reached before the date.