U.S. Favorability Decreases in Russia and China Following Biden's Projected Victory
Following Joe Biden's projected victory in the 2020 presidential election, the U.S. saw its favorability rating decrease in both China and Russia, according to a new poll.
Conducted by Morning Consult, the study found the U.S.'s favorability rating decreased by three points among those polled in Russia and by one point in China.
According to the poll, prior to the 2020 election, 42 percent of respondents in Russia said they have a favorable view of the U.S., while 41 percent said the opposite.
After several news networks projected Biden to win the election over President Donald Trump, 39 percent of Russians said they have a favorable view of the U.S., compared to 45 percent who said the opposite.
In China, 16 percent of respondents said they had a favorable view of America while 70 percent said they had an unfavorable view prior to the election.
In the days following Election Day, 15 percent of respondents in China expressed favorability towards the U.S. compared to 75 percent who said otherwise.
According to the poll, America's net favorability fell seven points in Russia and six points in China following Biden's projected win.
Morning Consult oversaw two separate surveys. One polled 196,994 adults across 15 countries from October 3 to November 2 prior to the election, with a margin of error of 1 and 2 points for each country. A second poll was conducted among 15,842 adults residing in those 15 nations from November 8 to November 10 following the election, with a margin of error between 1 and 6 points.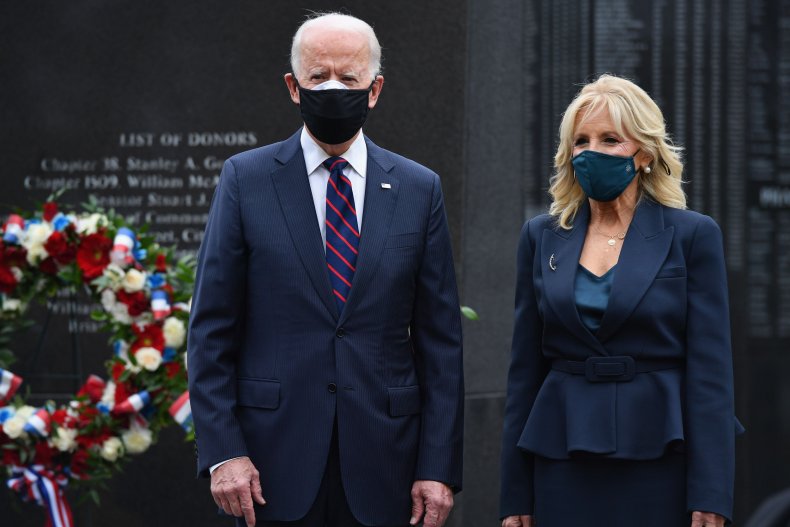 Following Biden's projected victory the election this past Saturday, a number of foreign leaders have come out and congratulated the former vice president—with the exception of Russian President Vladimir Putin. China was one of the latest countries to extend wishes to Biden and his running mate Kamala Harris.
"We respect the American people's choice," Chinese Foreign Ministry spokesman Wang Wenbin said during a press conference on Friday. "We congratulate Mr. Biden and Ms. Harris."
Meanwhile, the Morning Consult study also found America's favorability rating increase across 12 other countries who were surveyed.
The U.S. saw its largest net favorability increase of 33 points in France. Forty-one percent of respondents in France said they have a favorable view of the U.S. following the election, an increase of 16 points, and 37 percent said they have an unfavorable view, a decrease of 17 points.
After France, America saw its biggest improvements in favorability ratings come in Germany, which had a net change of plus 29 points; Italy, with a net change of plus 21 points; and Spain, with a net change of plus 17 points.
The poll's results come amid election turmoil as the president has continued to make claims of widespread voter fraud with seemingly no evidence to support them.
Newsweek reached out to Biden's transition team for comment, but did not receive a response in time for publication.