U.S. Deficit Skyrockets 26 Percent Since 2018, Economists Blame Trump Tax Cuts for Massive Spending Gap
With economists pointing towards the Trump tax cuts as a primary fault, the U.S. federal deficit for fiscal year 2019 hit $984 billion, a 26 percent increase from 2018.
The U.S. budget deficit has now more than doubled since 2015, as data from the Treasury Department and the Office of Management and Budget showed. The skyrocketing $984 federal deficit fell just shy of hitting the $1 trillion mark previously predicted for 2019 by the Trump administration, but this number is still about $300 billion more than the Congressional Budget Office predicted prior to President Donald Trump's 2017 Tax Cuts and Jobs Act.
The expanding gap between revenues and spending hit its widest point in seven years in 2019, with military spending, foreign interest payments and Medicare accounting for the brunt of the widening divide.
The deficit is around $300 billion in excess of what the CBO agency projected it would be prior to the Trump tax cuts in June 2017. The Treasury Department reported tax revenues amounted to $230 billion for fiscal year 2019, a 12 percent increase. Individual tax revenues bumped up 2 percent to $1.7 trillion. Year-over-year federal spending increased 8 percent by the end of September to $4.4 trillion while receipts totaled $3.4 trillion, a 4 percent increase.
The U.S. unemployment rate this year fell to its lowest point since 1969, and as CNBC noted Friday, deficits traditionally shrink during times of economic growth, something the Trump administration was quick to point out this week.
"President Trump's economic agenda is working: the Nation is experiencing the lowest unemployment rate in nearly 50 years, there are more jobs to fill than there are job seekers, and Americans are experiencing sustained year-over-year wage increases," remarked U.S. Treasury Secretary Steven Mnuchin in a Friday press release.
The U.S. federal government collected about $71 billion in tariffs and customs duties, a 70 percent increase from the previous year.
"Americans from all walks of life are flourishing again thanks to pro-growth policies enacted by this Administration," wrote Acting OMB Director Russ Vought. "By providing a responsible fiscal path forward and pursuing pro-growth reforms, President Trump's agenda will make America's economic expansion enduring. That's why the President's Budget included more deficit reduction than any administration in history—saving $2.8 trillion over 10 years."
CBO projections show the federal government hitting the trillion-dollar deficit level in the current 2020 fiscal year.
Responding to the Treasury's spending report Saturday morning, Nobel Prize-winning economist and New York Times columnist Paul Krugman posted a graphic showing revenue loss as the primary source of the deficit overshoot. "It's the tax cuts, stupid," he remarked.
Pro-Trump media personality Bill Mitchell responded to economists blaming the Trump tax cuts, remarking on Twitter Saturday the deficit is "NOT because of tax cuts...It's because Trump is rebuilding defense."
The Trump administration has long insisted the Tax Cuts and Jobs Act will "pay for itself," but even Republicans who worked on drafting the tax plan have floated doubts about such predictions. The former Republican chairman of the House Ways and Means Committee, Republican congressman Kevin Brady, told the Peter G. Peterson Foundation earlier this year that "it's hard to know" what percentage of the Trump tax cuts will pay for itself.
Prior to passage of the Tax Cuts and Jobs Act, the Joint Committee on Taxation, a non-partisan fiscal group commissioned by Congress, predicted the legislation would add $1.5 trillion to the federal deficit over a decade.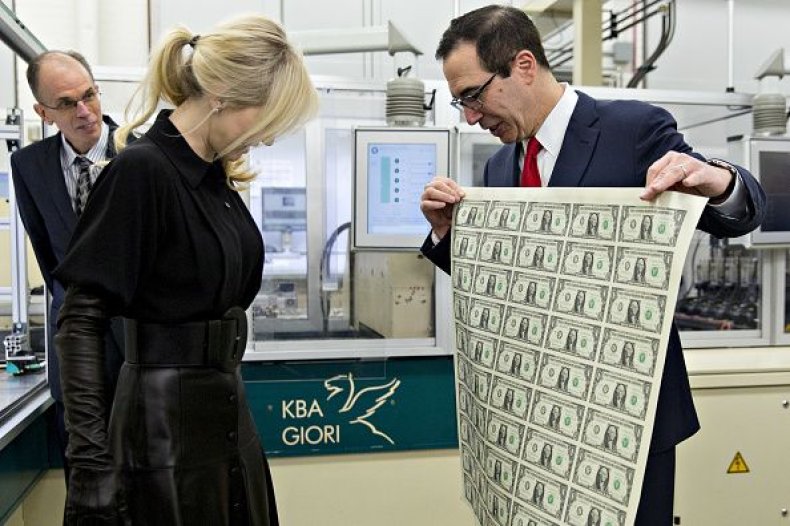 Former U.S. Labor Secretary Robert Reich remarked last week, in response to an NBC News report on Sallie Mae corporate overspending: "Funny how Trump and Republicans can find the money to give corporations and billionaires massive tax cuts, but when it comes to cancelling student debt, that's a bridge too far."