U.S. Fights Japan in 'World's First' Giant Robot Duel: How to Watch
It's on. The highly anticipated giant robot fight between the U.S.-based robotics company MegaBots and Japan's Suidobashi will be available for viewing Tuesday.
MegaBots will be releasing footage of the duel, advertised as the "world's first giant robot fight," on their Twitch channel, starting at 7 p.m. PDT (10 p.m. EDT.)
The battle will not be live-streamed. The fight already took place in early September in Japan and saw the chainsaw-wielding 16 feet-tall Megabots' Eagle Prime face off against Suidobashi's 13 feet-tall Kuratas.
The teams had their internally piloted gladiators battle in "multiple rounds of fighting" spread out over several days in an abandoned steel mill in Japan, as MegaBots told The Verge, to allow time to repair the robots. The winner was decided on the basis of which robot team could disable the opponent or force it into surrender. No spectator participated in the fight, but commentary was provided by MMA Mike Goldberg and robotics expert Saura Naderi.
The American company launched the challenge in July 2015 to Suidobashi's Kogoro Kurata, the designer and artist behind the Kuratas robot. "Just building something huge and sticking guns on it, it's super American," he said agreeing to battle, adding, "We can't let another country win this. Giant robots are Japanese culture."
The absence of a live stream of the event shows the constraints of organizing battles involving 16-foot-tall giants like Eagle Prime. "If you go into this thinking it's going to be a Transformers movie, you're definitely going to be disappointed.… " MegaBots team said at a Reddit AMA Monday.
"There's so many fictional depictions of giant robots, and so many different subcultures, that it's pretty impossible to not disappoint some cross-section of that fan base. What underlies those universes, is that you are piloting a humanoid robot capable of combat. That is what is truly fun about this," they added.
While in fictional depictions, robots fight wars, current military applications of robotics in warfare do not directly involve the battlefield, but other missions, such as bomb disposals and operations to extract wounded soldiers from the battlefield, usually remotely-controlled.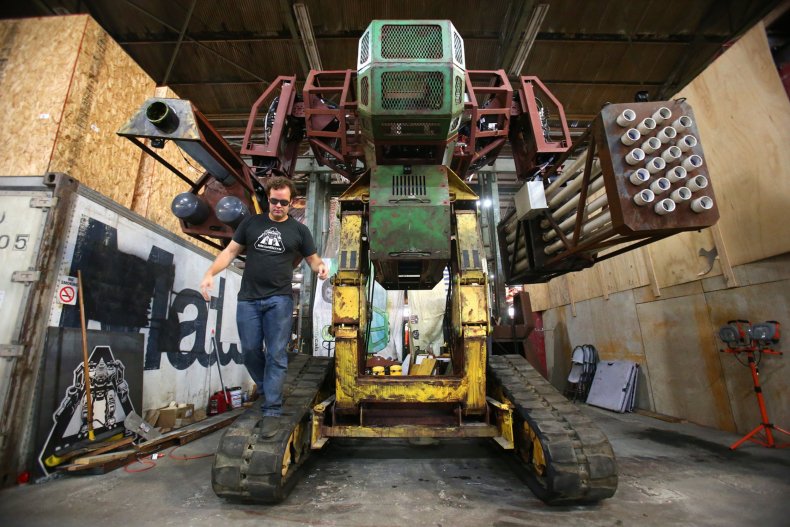 MegaBots' aspirations have little to do with innovating warfare, thinking instead about the future of sports as they hope to turn piloted giant robot fighting into a profitable league.
"I believe that the MegaBots league that we're building will become one of the top three sports in the world within 10 years in terms of global audience, revenue, and engagement," Brinkley Warren, co-founder of MegaBots, told CNBC in 2015.
Noel Sharkey, professor of AI and Robotics and professor of Public Engagement at the University of Sheffield, as well as head judge in the British TV show Robot Wars, tells Newsweek the potential exists. "There are official robot wars leagues, but they do not have the full structure of a sport," he said.
A key element of organizing the fights into a sport is finding a permanent location where the matches can be held, ensuring spectators' safety. "But that will come. It's very popular," Sharkey said. According to him, once technology allows for it, it's the fights which pit human-driven robots against their AI counterparts that will make for the most compelling matches.
For now, MegaBots can focus on fighting other like-minded teams. Chinese engineers developed a gladiator robot named the Monkey King—after a mythological fearless, undefeated warrior—and the MegaBots team said they received other requests from groups interested in competing.